Quasi mille miglia a celle a combustibile
• Cinque Mercedes-Benz Classe B F-CELL ad emissioni zero hanno completato il percorso da Los Angeles al nord della California, rifornendo solo in stazioni di idrogeno pubbliche
• "California Hydrogen Highway" ha collegato i due punti
• I clienti di Mercedes F-CELL hanno accumulato oltre 2 mila miglia dal 2010
Fonte: Daimler AG
Los Angeles, California. USA. 26 ottobre 2015. I clienti di Mercedes-Benz Classe B F-CELL si sono avventurati per la prima volta la settimana scorsa al di là del sud della California, rifornendo solo nelle stazioni di idrogeno pubbliche esistenti lungo il percorso da Los Angeles a San Francisco. L'apertura di una nuova stazione di idrogeno a Coalinga lungo il corridoio della I-5 ha reso possibile questa opportunità.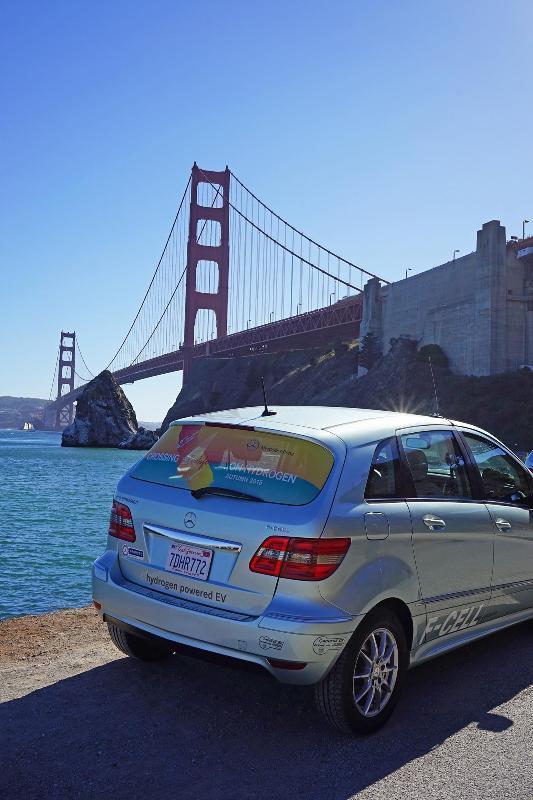 Un team di conducenti su cinque Classe B F-CELL ricaricate in quattro stazioni di rifornimento di idrogeno permanenti situate a Burbank, Coalinga, West Sacramento e Emeryville, ha accumulando quasi mille miglia (1609 km). nel corso del loro viaggio di tre giorni.
Tre clienti di F-CELL sono stati accompagnati da un team di Ricerca e Sviluppo Mercedes-Benz Nord America con sede a Long Beach. Lo scopo di questo viaggio unico è stato quello di evidenziare la crescita della rete di stazioni di idrogeno e per dimostrare che la visione della California Hydrogen Highway sta diventando realtà.
Loki Efaw, uno dei primi ad adottare un veicolo a fuel cell che è stato un pilota di F-CELL a partire dal 2011 crede che le celle a combustibile sono il futuro:
"Io non voglio una macchina che solo mi porta al lavoro e poi mi fa tornare prima di dover collegarla, voglio una macchina che posso guidare e guidare. Ed il cui rifornimento richiede solo pochi minuti. Ecco come dovrebbe essere, ed è per questo che un successivo incremento delle stazioni di idrogeno è assolutamente necessario. Questo viaggio è la prova".
La rete di stazioni di idrogeno attuale è limitata a 10 stazioni e dovrebbe crescere in modo significativo nel corso del prossimo anno. Più di 40 stazioni pubbliche di vendita al dettaglio di idrogeno sono progettate per essere inaugurate nel 2016.
Tyson Eckerle, Zero Emission Vehicle Infrastructure Project manager presso l'Ufficio del Governatore della California di Economia e Sviluppo Economico, si è iscritto al viaggio su strada per osservare i progressi in prima persona:
"E 'incredibilmente eccitante per lo stato collegare i due mercati. E' stato un vero piacere arrivare a roadtrip con i conducenti reali e conoscere i mezzi a celle a combustibile vedendo come possono rientrare nella loro vita, tanto più che la rete si espande. Grazie a Mercedes-Benz, ed ai proprietari della stazione Linde, First Element Fuels ed Hydrogen Frontier per il loro lavoro nella costruzione della rete".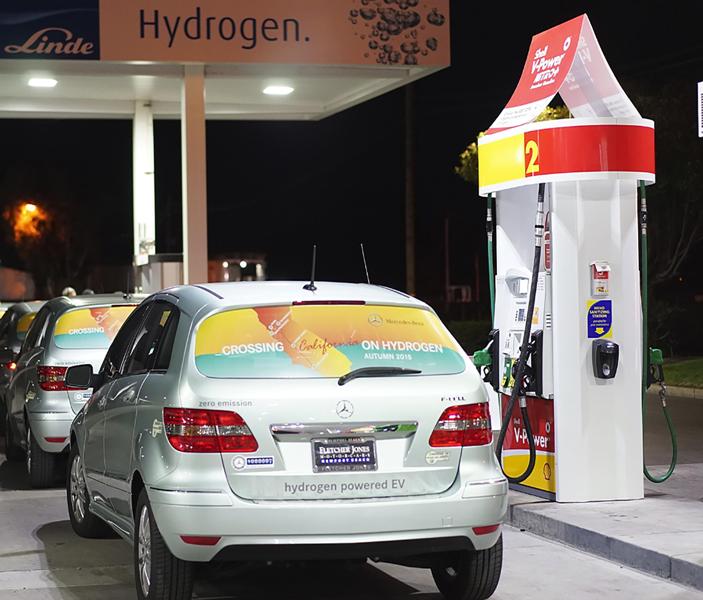 La potenza elettrica di azionamento della Mercedes-Benz Classe B F-CELL viene generata direttamente a bordo della vettura dalle celle a combustibile da una reazione tra l'ossigeno dell'aria e l'idrogeno. Non vi è alcuna emissione di sostanze inquinanti, solo vapore d'acqua pura. Grazie all'alta pressione del sistema di serbatoio a 700 bar, la macchina ha una lunga autonomia operativa di circa 250 miglia (400 chilometri) e può essere rifornita nel breve tempo di meno di tre minuti. La macchina combina la mobilità ad emissioni zero locale a lunga distanza e l'idoneità per l'uso quotidiano con i buoni dati sulla performance.
Prodotta in serie, la Mercedes-Benz Classe B F-CELL è già stata in uso quotidiano dai clienti nei mercati europei e americani dal 2010.
Il chilometraggio totale della flotta di cella a combustibile Daimler, che ora conta con più di 300 veicoli, tra cui numerosi veicoli di ricerca, ha raggiunto più di 7,4 milioni di miglia (dodici milioni di chilometri). La quantità di circa 70 veicoli, la flotta di F-CELL negli Stati Uniti ha ora coperto circa 2 milioni di miglia (3,2 milioni di chilometri).
Lo sviluppo della nuova generazione del veicolo elettrico Mercedes-Benz a celle a combustibile è sulla buona strada e la società prevede di lanciare il modello entro il 2017.
In English
Crossing California on Mercedes powered by Hydrogen
Nearly 1,000 fuel cell electric miles
Five Mercedes-Benz B-Class F-CELL complete emission-free drive from Los Angeles to Northern California while only filling up at public hydrogen stations
"California Hydrogen Highway" is connecting the dots
U.S. F-CELL customers have accumulated over 2 million miles since 2010
Source: Daimler AG
Los Angeles, California. USA. October 26th 2015. Mercedes-Benz B-Class F-CELL customers ventured beyond Southern California last week for the very first time, while only filling up at existing public hydrogen stations along the route from Los Angeles to San Francisco. The opening of a new hydrogen station in Coalinga along the I-5 corridor made this opportunity possible. A team driving five B-Class F-CELL refilled at four permanent hydrogen fueling stations located in Burbank, Coalinga, West Sacramento and Emeryville, accumulating nearly 1,000 miles over the course of their three day trip. Three F-CELL customers were accompanied by a team from Mercedes-Benz Research and Development North America based in Long Beach. The purpose of this unique road trip was to highlight the growing hydrogen station network and to show that the vision of the California Hydrogen Highway is becoming reality.
Early adopter Loki Efaw who has been an F-CELL driver since 2011 believes fuel cells are the future:
"I don't want a car that only takes me to work and back before I have to plug it in. I want a car that I can drive and drive. And the refuelling only takes a few minutes. That's how it should be, and that's why a successive build-up of hydrogen stations is absolutely necessary. This trip is the evidence."
The current hydrogen station network is limited to 10 stations and is in position to grow significantly over the next year. More than 40 public retail hydrogen stations are planned to be opened in 2016. Tyson Eckerle, Zero Emission Vehicle Infrastructure Project Manager in the California Governor's Office of Business and Economic Development, joined the road trip to observe the progress firsthand:
"It is incredibly exciting for the state to connect the two markets. It was a real pleasure getting to roadtrip with real drivers and learn how well Fuel Cell Vehicles can fit into their lives, especially as the network expands. Thanks to Mercedes-Benz, the station owners Linde, First Element Fuels and Hydrogen Frontier for their work in building up the network."
The electric power driving the Mercedes-Benz B-Class F-CELL is generated directly on board in the fuel cell stack by a reaction between the oxygen in the air and hydrogen. There is no emission of pollutants, only pure water vapour. Thanks to the 700-bar high-pressure fuel tank system, the car has a long operating range of around 250 miles (400 kilometers) and can be refuelled in the short time of less than three minutes. The car combines local emission-free mobility with long-distance and day-to-day suitability and good performance figures. Produced under series production conditions, the Mercedes-Benz B-Class F-CELL has already been in day-to-day use with customers in the European and American markets since 2010. The total mileage of the Daimler fuel cell fleet, which now numbers more than 300 vehicles including numerous research vehicles, has now reached more than 7.4 million miles (twelve million kilometers). Numbering around 70 vehicles, the F-CELL fleet in the USA has now covered about 2 million miles (3.2 million kilometers).
The development of the new generation Mercedes-Benz fuel cell electric vehicle is on track and the company plans to launch the model by 2017.
no images were found