Hyundai Motor rivela le innovazioni tecniche alla base del suo evoluto sistema ibrido
Leggera, l'architettura ad alta resistenza garantisce divertimento, efficiente risposta del drivetrain di prossima generazione che permette un'importante economia di combustibile e la possibilità di equipaggiarla con trazione elettrica, ibrida plug-in e ibridi disponibili in un unico tipo di carrozzeria, un'anteprima mondiale
Fonte: Hyundai Motor
7 gennaio 2015 – Dopo la sua presentazione ai media nazionali nel Hyundai Motors Namyang R&D Center in Corea del Sud, sono stati confermati i dettagli della Ioniq – la prossima generazione di veicoli ibridi.
Rag Jung, capo progetto Management Division di Hyundai Motor R&D Center, ha detto:
"Ioniq incarna il nuovo modo di pensare di Hyundai Motor e le ambizioni audaci per il futuro. Questo ibrido dedicato di classe mondiale sarà il punto di partenza della nostra mobilità del futuro".
Ingegneria leggera da un disegno dedicato
1122545_IONIQ infographic_All New Architecture
Costruito su un telaio creato appositamente per portare per la prima volta al mondo tre motorizzazioni efficienti di ultra basse emissioni, Ioniq vanta il 53% dei materiali ad alta resistenza avanzata in acciaio abbinato sapientemente con alluminio leggero. Il nuovo modello salva 12.6kg (45%) del peso nella colata non strutturale della carrozzeria in alluminio, come ad esemipio i componenti del cofano, il portellone posteriore e le sospensioni. Dove è necessaria struttura di crash o di assorbimento di energia, la struttura è dotata di acciaio avanzato ad alta resistenza in grado di sopportare notevoli forze di collisione.
Il nuovo modello è stato creato con caratteristiche di guida dinamica e maneggevolezza, una caratteristica che imposta Ioniq oltre ad altri veicoli ibridi. Il posizionamento delle batterie della vettura in basso e in avanti permette di raggiungere un basso centro di gravità che gli consente di essere altamente reattivo e stabile in curva. La Ioniq possiede anche un braccio inferiore della sospensione dual multi-link montato nella parte posteriore.
All'interno della Ioniq: il sistema ibrido evoluto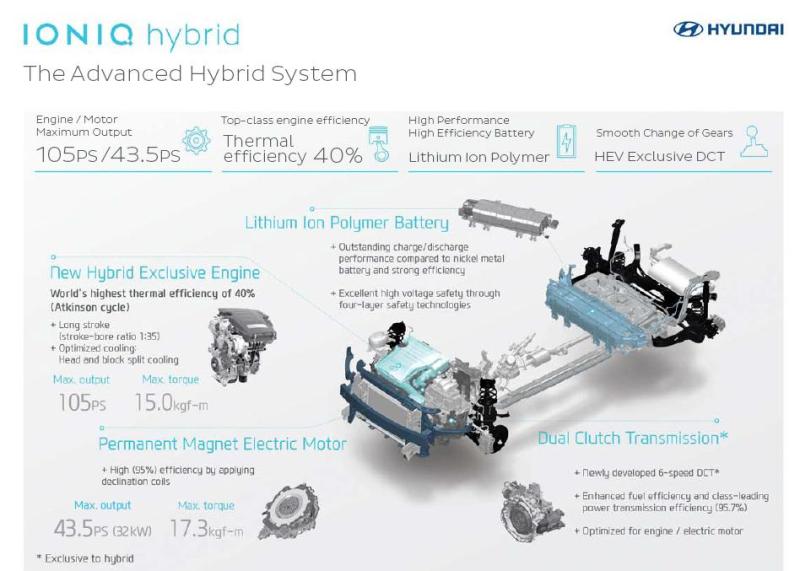 1122549_IONIQ infographic_The Advanced Hybrid System
La gamma completa Ioniq sarà caratterizzata da una scelta di propulsori elettrico, ibridi plug-in e ibridi, una prima mondiale per un singolo modello. All'inaugurazione in Corea, sono stati indicati i dettagli della prima versione che arriverà sul mercato – l'ibrida.
Con la massima efficienza teermica al mondo (40%), il nuovo 1.6 litri Kappa GDi sviluppato in esclusiva per i motori ibridi di Hyundai Motor, si combina con il motore elettrico a magneti permanenti per fornire una potenza massima di 105PS e 47ps rispettivamente – motore termico e motore elettrico rispettivamente.
All'interno del motore, si raggiunge l'efficienza termica del 40%, mentre la testa e il blocco sono suddivisi per un raffreddamento ottimizzato. Inoltre, gli iniettori diretti ad alta pressione da 200 bar a 6 buche migliora ulteriormente il consumo di carburante e le emissioni di CO2.
Accanto a questo, le batterie agli ioni di litio polimeri offrono una capacità di ricarica eccezionale ottimizzando le prestazioni in uscita dal motore ad alta tensione e consentendo una rapida rigenerazione. Il controllo della distribuzione di energia è un'esclussiva trasmissione ibrida Dual Clutch Transmission (DCT), che presenta un'esperienza di guida dinamica unica per Ioniq. L'efficienza della trasmissione di potenza ai vertici della categoria del 95,7% fornisce una risposta rapida, prestazioni di accelerazione e cambi marcia liscie per deliziare i conducenti con la gestione e l'efficienza del ibrido.
In English
Hyundai Ioniq: a leap forward for hybrid vehicles
Hyundai Motor reveals technical innovations underpinningits evolved hybrid system
Lightweight, high-strength architecture delivers a fun, responsive drive Next generation drivetrain efficiencies achieve class-leading fuel economy Electric, plug-in hybrid and hybrid powertrains available in a single body type, a world first
Source: Hyundai Motor
January 7, 2015. Following its unveiling to domestic media at Hyundai Motor's Namyang R&D Center in South Korea, details have been confirmed of the Ioniq – the next generation of hybrid vehicles.
Rag Jung, Head of Project Management Division at Hyundai Motor R&D Center said:
"Ioniq embodies Hyundai Motor's new thinking and bold ambitions for the future. This world-class dedicated hybrid will be the starting point of our future mobility."
Lightweight engineering from a dedicated design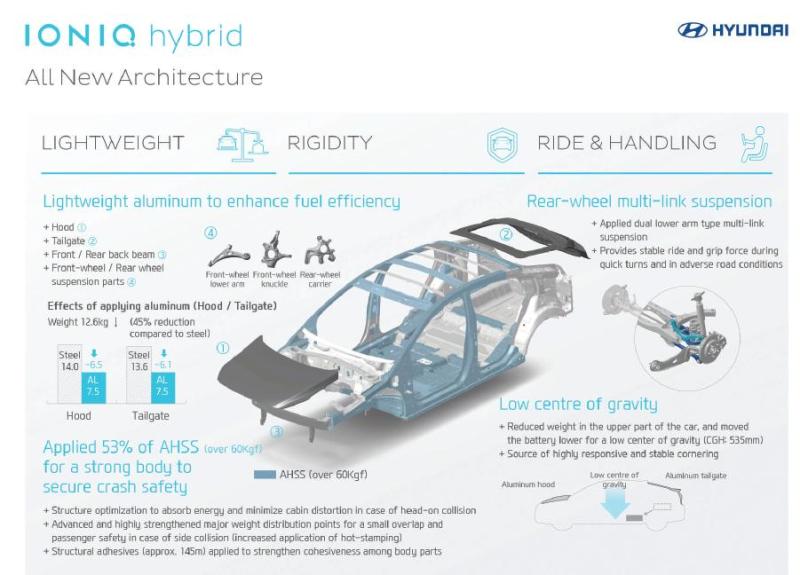 1122545_IONIQ infographic_All New Architecture
Built on a chassis created specifically to carry the world's first choice of three efficient and ultra-low emission powertrains, the Ioniq boasts 53% Advanced High Strength Steel combined cleverly with lightweight aluminum. The new model saves 12.6kg (45%) of weight by casting non-structural bodywork from aluminum, such as the hood, tailgate and suspension components. Where crash structure or energy absorption is necessary, the structure features Advanced High Strength Steel that can withstand significant collision forces.
The new model was created with dynamic ride and handling at its core, a characteristic that sets the Ioniq apart from other hybrid vehicles. Positioning the car's batteries low and forward achieves a low center of gravity that enables highly responsive, stable cornering. The Ioniq furthers its handling prowess with dual lower arm multi-link suspension fitted at the rear.
Inside Ioniq: the evolved hybrid system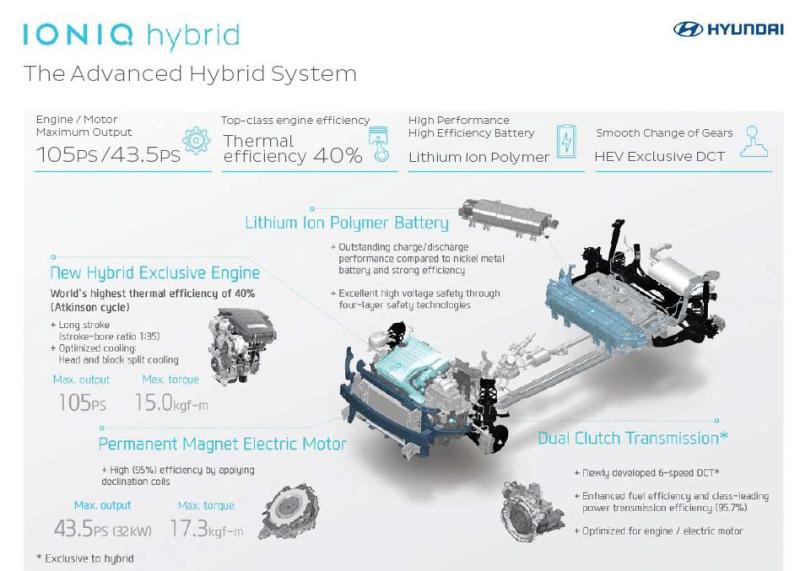 The full Ioniq range will feature a choice of electric, plug-in hybrid and hybrid powertrains, a world first for a single model. At the unveiling in Korea, details were shared for the first version to come to market – the hybrid.
With the world's highest thermal efficiency (40%), the new 1.6-liter Kappa GDi engine developed exclusively for Hyundai Motor's hybrid engines, combines with the permanent magnetic electric motor to deliver maximum outputs of 105ps and 47ps –engine and motor respectively.
Within the engine, class-leading thermal efficiency of 40% is achieved, while the head and block is split for optimized cooling. Plus, the 200 bar high pressure 6-hole direct fuel injector further improves fuel consumption and CO2 emissions.
Alongside this, the Lithium Ion Polymer Battery delivers outstanding charge and discharge performance, optimizing output from the high voltage motor and allowing for rapid regeneration. Controlling power distribution is a hybrid-exclusive Dual Clutch Transmission (DCT), which presents a dynamic driving experience unique to IONIQ. Class-leading power transmission efficiency of 95.7% delivers a prompt response, acceleration performance and smooth gear changes to delight drivers with handling alongside the hybrid's efficiency.
no images were found