Fonte: Formula E
Donington Park, Gran Bretagna. 17 Agosto 2015. Il test ufficiale di apertura di pre-stagione a Donington questa settimana è stata la prima occasione per confrontare i nuovi propulsori introdotti per la seconda stagione. Uno degli otto nuovi produttori è Mahindra, che ha sotto contratto la McLaren per la fornitura di una versione riveduta del motore per la sua M2Electro, che fece il suo debutto in pubblico questa settimana nelle mani di Bruno Senna e del nuovo acquisto Nick Heidfeld.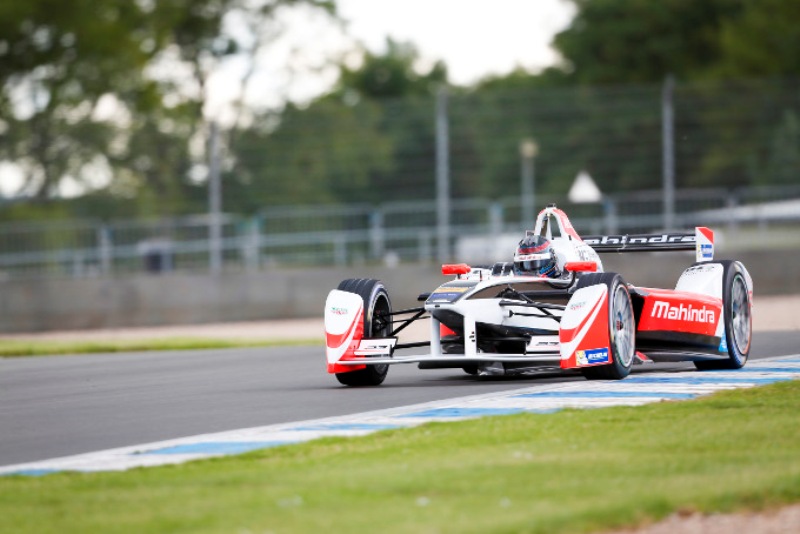 Era solo la seconda volta che Heidfeld aveva testato la Mahindra dopo la sua stagione di passaggio chiusa con il team Venturi.
"Le macchine non sono così diverse come si può immaginare anche perchè la base è la stessa", ha detto. "Spero di aver fatto la scelta giusta, ma io sono convinto dopo aver parlato con Mahindra e Dilbagh Gill, team principal di Mahindra Racing che sono sulla strada giusta.

"Hanno preso alcune buone decisioni e cambiamenti per la seconda stagione e io sono felice di essere qui, perché come è successo l'anno scorso, ancora non sappiamo cosa aspettarci".
Mahindra ha portato a Campos, che ha contribuito alla vittoria del titolo di Nelson Piquet Jr con NEXTEV nella prima stagione, a eseguire le sue auto. L'esperienza che Campos ha portato alla squadra ha impressionato Heidfeld, che ha registrato il settimo tempo il primo giorno, nonostante non aveer tentato una simulazione di qualifica e poi ha segnato il quarto tempo più veloce nella seconda giornata, stabilendo un miglior giro a meno di mezzo secondo sul nuovo record della pista di Sebastien Buemi.
Mentre Mahindra sta usando in questa stagione un cambio Hewland a quattro marce, le nuove norme hanno consentito una vasta gamma di soluzioni della trasmissione.
In English
Heidfeld: "It's cool to see so many different approaches"
Source: Formula E
Donington Park, England. August 17th, 2015. The opening official pre-season test at Donington this week was the first opportunity to compare the new powertrains introduced for season two. One of the eight new manufacturers is Mahindra, which has contracted McLaren to supply a revised version of its motor for its M2Electro, which made its public debut this week in the hands of Bruno Senna and new signing Nick Heidfeld.
It was just the second time Heidfeld had tested the Mahindra after his closed season move from Venturi.
"The cars are not so different as you can imagine as the base is the same," he said. "I hope I made the right decision, but I'm convinced after speaking to Mahindra and Dilbagh [Gill, Mahindra Racing's team principal] that they are in a good way.

"They've made some good decisions and changes for season two and I'm excited to be here because like last year again we don't know what to expect."
Mahindra has brought in Campos, which helped Nelson Piquet Jr take the title with NEXTEV in season one, to run its cars. The experience Campos has brought to the team has impressed Heidfeld, who was seventh fastest on day one despite not attempting a qualifying simulation and then went fourth quickest in day two, setting a best lap less than half a second down on Sebastien Buemi's new lap record.
While Mahindra is using a four-speed Hewland gearbox this season, the new rules have allowed for a wide variety of transmission solutions.
"I think we have everything from no gears up to four gears and some people have two engines and some have one," said Heidfeld. "When the regulations are opened it's very interesting – unlike other series where the regulations are the same for a long time and everybody arrives at the perfect solution. Here it's open and it's new and it's cool to see so many different approaches."
Heidfeld completed one pre-season test with Venturi before switching to Mahindra, but he doesn't feel there is an enormous difference between the two manufacturers' approaches as both are still using four-speed gearboxes.
no images were found