Nessun 7.49t. è più frugale con una capacità di carico superiore
• Aziende trasportatrici di merci utilizzano Fuso Canter Eco Hybrid per la prima volta
• Fino al 23 per cento in meno del consumo di carburante con un elevato carico utile
• Ancora più forte insieme: diesel ed il sistema di azionamento elettrico insieme raggiungono 150 kW
Fonte: Fuso
Stoccarda, Germania e Grimsby, Gran Bretagna. 22 gennaio 2016. Nel settore del trasporto merci, le società di trasporti britanniche sono alla ricerca della fiducia nella tecnologia ibrida efficiente e rispettosa dell'ambiente proprio come quelle offerte da Fuso. L'azienda "Evans European Transport", specializzata nel trasporto refrigerato con sede a Grimsby, alla foce del fiume Humber dove sbocca nel Mare del Nord, ha pubblicato recentemente una rapporto sulla loro fiducia nella performance del Fuso Canter Eco Hybrid per il trasporto degli alimenti.
Dopo diverse settimane di uso si possono trarre le prime conclusioni in confronto degli altri camion da 7.49 tonn. della flotta che sono adibiti al trasporto alimenti refrigerati e dotati di un motore diesel convenzionale come il loro sistema di azionamento.
L'amministratore delegato Colin Evans commenta:
"Il Fuso Canter Eco Hybrid è molto più efficiente quando è sulla strada rispetto i suoi cugini diesel – non solo per quanto riguarda il consumo di carburante, ma l'obiettivo interessa anche il carico utile trasportato."
3,5 tonnellate di carico utile è il massimo
Nonostante il peso aggiuntivo del motore elettrico e la batteria agli ioni di litio sopra l'unità ed il sistema di refrigerazione, il carico utile del Fuso Canter Eco Hybrid 7C15 è quasi di 3.5 t. Ciò corrisponde a oltre una tonnellata più dei concorrenti nella flotta diesel Evans.
Colin Evans è impressionato: "Questi sono i guadagni sorprendenti, qui salviamo non solo i nostri costi aziendali, ma alleviamo anche l'onere per l'ambiente per il quando si tratta di riduzione delle emissioni di CO2."
Canter Eco Hybrid è gentile con l'ambiente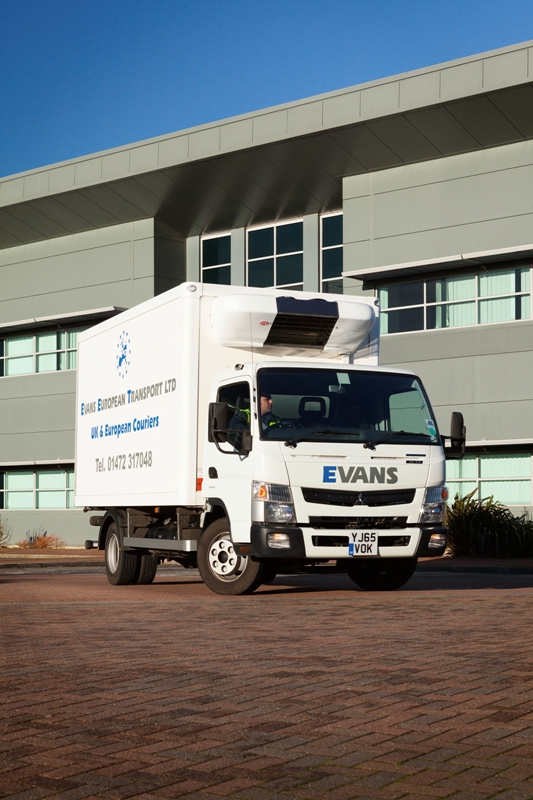 L'unità Canter con trazione ibrida consente di risparmiare fino al 23 per cento è carburante rispetto al modello Canter convenzionale con un prezzo moderato e raggiungere il punto di pareggio nel giro di pochi anni. I driver possono svolgere la loro parte anche in questo: sul cruscotto l'autista può visualizzare lo stato di carico corrente della batteria del sistrema ibrido. Inoltre, il display "energy" permette di vederlo bianco quando l'energia viene utilizzata o recuperata. Questo significa che lo stile di guida può essere migliorato continuamente ed in tempo reale.
Il dispositivo di partenza / stop, puramente elettrica e la trasmissione a doppia frizione "Duonic" utilizzata nel Canter offre contemporaneamente la tecnologia migliore e più robusta. Con questo sistema di azionamento, non vengono prodotti gas di scarico e nemmeno rumore, essendo naturale una distribuzione a breve raggio nelle aree urbane.
Ancora più forte insieme:
Diesel e sistema di azionamento elettrico che insieme raggiungono 150 kW
Il modernissimo quattro cilindri turbodiesel con cilindrata di 3,0 litro, 110 kW (150 CV) e una coppia massima di 370 Nm nasce dal Canter con motore diesel convenzionale. Il motore BlueTec 6 corrisponde al livello di emissioni Euro VI, con controllo delle emissioni dei gas di scarico combinato di ricircolo, tecnologia dei motori SCR con iniezione di AdBlue e un filtro antiparticolato. Il motore elettrico è della potenza di 40 kW, la coppia massima è di 200 Nm. L'energia per il motore elettrico è fornita da batterie agli ioni di litio. La sua capacità è di 2 kWh, il peso di soli 63,5 kg.
Fuso concede una garanzia esplicita di dieci anni su tutti i componenti fondamentali della batteria. Il peso di tutti i componenti ibridi ha stato aumentato il peso complessivo pari a circa 150 kg. Questo significa che il carico utile del Canter Hybrid con cassone è di quasi 3,5 t, e la capacità di carico del modello da 7.49 tonnellate mentre quella della cabina con il solo telaio è fino a 4,8 t. Questo rende il Canter best-in-class rispetto ai tradizionali modelli da 7,49 tonnellate.
Fuso: oltre 20 anni di esperienza con la tecnologia ibrida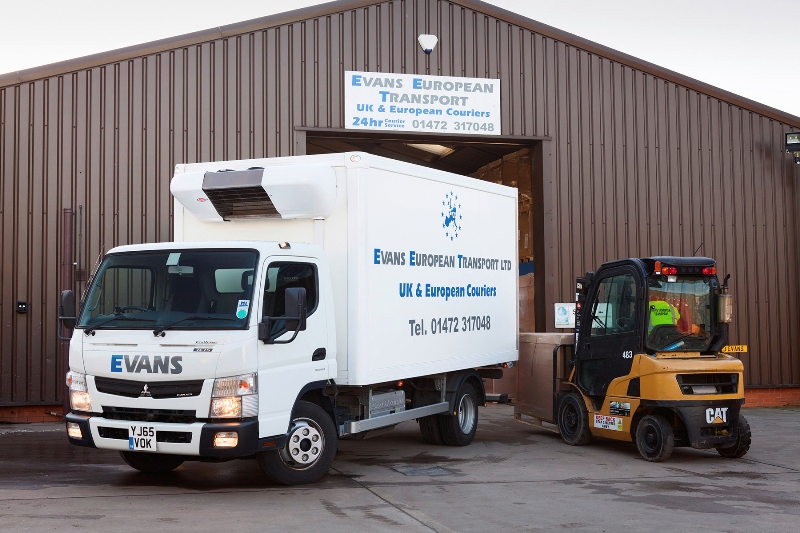 Colin Evans segnala che il Fuso Canter Eco Hybrid è il primo veicolo nella sua flotta con un sistema di propulsione alternativa. Si fida del powertrain Fuso collaudato con oltre 20 anni di esperienza ibrida. Torna al 2010, quando al termine di una prova di 350,000 km con la sua flotta a Londra è risultato chiaro que la tecnologia ibrida lavorava senza problemi ed in modo costante.
Già nel 2006 la produzione di serie del Fuso Canter Eco Hybrid è stata avviata per il mercato giapponese. Al Salone IAA di Hannover del Settembre 2012 è stata lanciata per la prima volta nel mercato europeo e ha iniziato ad essere prodotto a Tramagal, Portogallo. Dall'inizio della produzione oltre 2000 unità sono state vendute in Giappone, Australia ed Europa.
Durante questo periodo la generazione che copre quasi dieci anni di Fuso Canter Eco Hybrid ha già vinto numerosi premi, tra cui quello giapponese "Car of the Year Special Award 2013", il "Premio europeo dei trasporti per la sostenibilità 2014" il premio "per il trasporto e la distribuzione a corto raggio fino a 12 t. nel 2012 e nel 2014 il prestigioso premio "Irish Green Commercial of the Year ".
In English
Fuso Canter Eco Hybrid
No 7.49-tonner is more frugal or has a higher load rating
Haulage operator uses Fuso Canter Eco Hybrid for the first time
Up to 23 percent less fuel consumption with high payload
Even stronger together: diesel and electric drive system together achieve 150 kW
Source: Fuso
Stuttgart, Germany and Grimsby, Great Britain. 22nd January 2016.  In the British haulage sector a further transport company is placing its trust in the efficient and environmentally friendly hybrid technology from Fuso. The company "Evans European Transport", which specialises in refrigerated transport and is based in Grimsby at the mouth of the Humber where it flows into the North Sea, recently placed its trust in the performance of the Fuso Canter Eco Hybrid for food transport.
After several weeks of use an initial conclusion can be drawn in comparison with the other 7.49-tonners in the fleet which are also used for transporting refrigerated foodstuffs, but have a conventional diesel engine as their drive system.
Managing director Colin Evans comments: "The Fuso Canter Eco Hybrid is considerably more efficient when out on the road than its diesel colleagues – not only with regard to fuel consumption, but also where the payload is concerned."
3.5-tonne payload is tops
In spite of the additional weight of the electric motor and lithium-ion battery plus the box body and refrigeration unit, the payload of the Fuso Canter 7C15 Eco Hybrid is nearly 3.5 t. This corresponds to over one tonne more than its diesel competitors in the Evans fleet. Colin Evans is impressed:
"These are astonishing values, which not only save our company costs, but also relieve the burden on the environment when it comes to the CO2 emissions."
Canter Eco Hybrid is kind to the environment and pays off
The Canter with hybrid drive saves up to 23 percent on fuel compared with the conventional Canter model and with a moderate price increase it pays off within a few years. The drivers can play their part in this too: on the instrument panel a hybrid display shows the driver the current load status of the battery. In addition, the energy display makes it possible to see when energy is being used or recuperated. This means that the driving style can be continuously improved.
With its start/stop device, purely electric moving off and the "Duonic" dual clutch transmission the Canter utilises the finest and simultaneously robust technology. With its drive system, which is as low on exhaust gases as it is on noise, it is a natural in short-radius distribution in urban areas.
Even stronger together:
Diesel and electric drive system together achieve 150 kW
The ultramodern four-cylinder turbodiesel with 3.0 l displacement, 110 kW (150 hp) output and a maximum torque of 370 Nm originates from the Canter with conventional diesel drive.
The BlueTec 6 engine corresponds to the Euro VI emissions level, its emission control combines exhaust gas recirculation, SCR engine technology with AdBlue injection and a particulate filter. The electric motor has an output of 40 kW, the maximum torque is 200 Nm. Energy for the electric motor is provided by lithium-ion batteries. Its capacity is 2 kWh, the weight a mere 63.5 kg. Fuso grants an explicit warranty of ten years on all the fundamental battery components. The increased weight of all the hybrid components amounts to merely around 150 kg. This means that the payload of the Canter Hybrid with a box body is nearly 3.5 t, and the load-bearing capacity of the 7.49-tonne model as a chassis with cab is up to 4.8 t. This makes the Canter best-in-class when compared with conventional 7.49-tonne models.
Fuso: over 20 years of experience with hybrid technology
For Colin Evans the Fuso Canter Eco Hybrid is the first vehicle in his fleet with an alternative drive system. He trusts the well-proven Fuso powertrain engineering with over 20 years of hybrid experience. Back in 2010, at the end of a 350,000 km fleet test in London it was clear that the hybrid technology is an unproblematic and stable worker.
As early as 2006 series production of the Fuso Canter Eco Hybrid commenced for the Japanese market. At the International Commercial Vehicle Show in Hanover in September 2012 it was unveiled for the first time for the European market, and production started in Tramagal, Portugal. Since the start of production more than 2000 units have been sold in Japan, Australia and Europe.
During this production period spanning nearly ten years Fuso Canter Eco Hybrid has already won many prizes, including the Japanese "Car of the Year Special Award 2013", the "European Transport Prize for Sustainability 2014" for short-range distribution transport up to 12 t perm. GVW plus in 2012 and 2014 the prestigious "Irish Green Commercial of the Year" award.
no images were found