La stagione della prima serie di gare elettriche del mondo si apre a Hong Kong la domenica prossima
Audi partner ufficiale del team ABT Schaeffler Audi Sport
Allan McNish coordina il progetto Formula E per Audi Sport
Fonte: Audi Motorsport
Ingolstadt, Germania e Hong Kong. 6 Ottobre 2016. Mentre la squadra Audi DTM si sta preparando per un finale emozionante nel circuito di Hockenheim, la nuova stagione di Formula E comincia Domenica 9 Ottobre con le auto da corsa elettriche del Team ABT Audi Sport Schaeffler che si sfideranno nella metropoli cinese di Hong Kong, per la prima volta sotto la bandiera dei quattro anelli.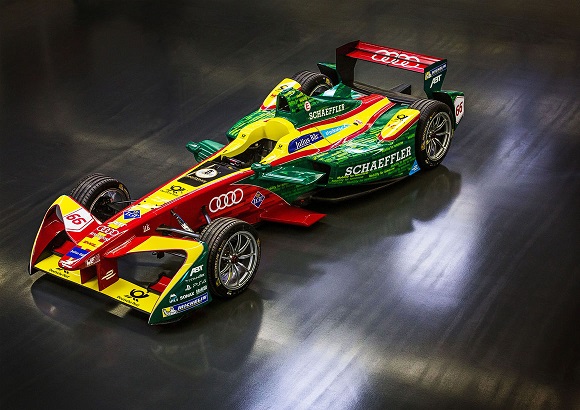 Sulla strada di diventare un team ufficiale della fabbrica, Audi sta usando la stagione 2016/2017 per conoscere meglio la prima serie di corse completamente elettriche del mondo e per la preparazione della stagione 2017/2018. L'ex pilota di Formula 1 e vincitore di Le Mans Allan McNish ha provvisoriamente assunto la responsabilità di coordinare il progetto Formula E in Audi Sport a Neuburg, e sarà in loco presso l'apertura della stagione a fianco del vice capo di Audi Motorsport, Dieter Gass.
Il team ABT Schaeffler Audi Sport ha preparato intensamente la nuova stagione di Formula E, ed ha testato a fondo la vettura da corsa elettrica ABT Schaeffler FE02. Dopo il completamento dei test ufficiali a Donington Park il 7 settembre, i test virtuali sono stati all'ordine del giorno. Entrambi i piloti del team, Daniel Abt e Lucas di Grassi, hanno provato al simulatore della pista di tre chilometri lungo nel porto di Hong Kong ed hanno consegnato informazioni preziose per configurare la macchina e il software per gli ingegneri del team.
"Simile al DTM, le auto da corsa di Formula E sono omologate e non possono essere modificate durante la stagione", dice il capo di Audi Motorsport Wolfgang Ullrich. "Allo stesso tempo, il software, che è così importante per la gestione dell'energia in Formula E, può essere costantemente lavorato. In questo campo, abbiamo molta esperienza dal FIA World Endurance Championship, che possiamo utilizzare per sostenere la squadra."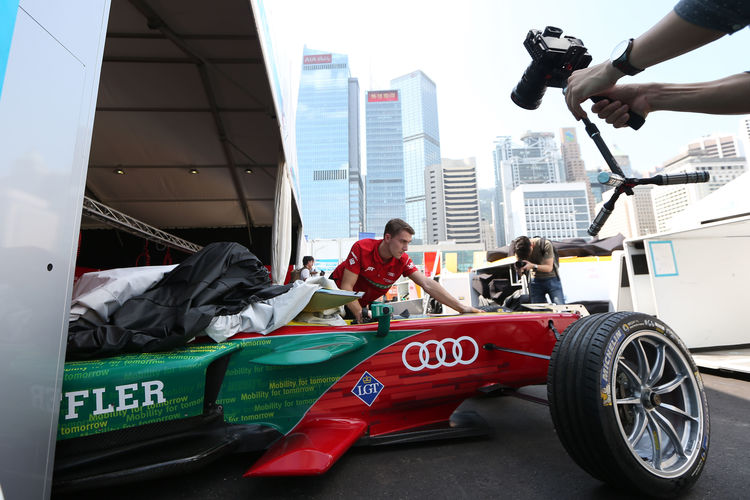 A metà settembre, l'organizzazione della Formula E ha caricato i quattro auto da corsa del team su un aereo e spedite a Hong Kong. Sono state consegnate nel circuito di questa mattina. In totale, la squadra ha inviato circa otto tonnellate di materiale per il tour mondiale della Formula E.
Il primo passo è ora quello di allestire i pits temporanei nel paddock della pista, che si trova vicino al famoso Star Ferry Terminal nel porto di Hong Kong. Successivamente, il team inizierà a lavorare sulle auto da corsa e presentarle alla FIA per le verifiche tecniche, ivi compresa la chiusura dei motori, inverter, trasmissioni e altri componenti.
Sabato 8 ottobre dalle 15:00 alle 15:30 è prevista una breve sessione di shakedown in pista. Domenica 9 ottobre, ci saranno due sessioni di prove libere, così come le qualifiche, che sono divise in quattro gruppi, seguiti da una "Super Pole" – a cronometro individuale per determinare il più veloce dei primi cinque. La prima gara della nuova stagione di Formula E inizia alle ore 16:00 (10:00 CEST). L'apertura della terza stagione di Formula E sarà trasmessa in televisione in tutto il mondo in 120 paesi, e centinaia di rappresentanti dei media sono stati accreditati.
Nel sito fanboost.fiaformulae.com, gli appassionati di automobilismo possono aiutare Daniel Abt e Lucas di Grassi nella gara con il loro voto sul cosiddetto "FanBoost.". Attraverso il voto, tre piloti ricevono ciascuno della potenza extra per un breve periodo di tempo, fino a 200 kW (270 CV). In condizioni di gara normali, la potenza della ABT Schaeffler FE02 è di 170 kW (231 CV).
Come introduzione alla Formula E, Audi Hong Kong invita il team ABT Schaeffler Audi Sport ad un ricevimento il Venerdì sera 7 ottobre, nello showroom presso il Centro Ammiragliato molto vicino alla pista.
In English
Formula E under the banner of the Four Rings for the first time
FIA Formula E 2016/2017, Hongkong
Season of the world's first electric racing series opens in Hong Kong on Sunday
Audi official partner of ABT Schaeffler Audi Sport
Allan McNish coordinates Formula E project for Audi Sport
Source: Audi Motorsport
Ingolstadt, Germany and Hong Kong. 6th October 2016. While the Audi DTM team is preparing for a thrilling finale at the Hockenheimring, the new Formula E season begins on Sunday, October 9. The electric race cars of Team ABT Schaeffler Audi Sport will compete in the Chinese metropolis of Hong Kong, under the banner of the Four Rings for the first time.
On the road to a fully factory-backed commitment, Audi is using the 2016/2017 season to learn more about the world's first fully electric racing series and to prepare for the 2017/2018 season. The former Formula 1 driver and Le Mans winner Allan McNish has provisionally assumed responsibility for coordinating the Formula E project at Audi Sport in Neuburg, and will be on site at the season opener alongside the Deputy Head of Audi Motorsport, Dieter Gass.
Team ABT Schaeffler Audi Sport has prepared intensively for the new Formula E season, and has thoroughly tested the ABT Schaeffler FE02 electric race car. After the completion of the official tests at Donington Park on September 7, above all dyno tests were on the agenda. Both the team's drivers, Daniel Abt and Lucas di Grassi, practiced on the near three-kilometer-long track in the Hong Kong harbor in the simulator and delivered valuable information for setting up the car and the software to the team's engineers.
"Similar to the DTM, the Formula E race cars are homologated and cannot be altered during the season," says Head of Audi Motorsport Dr. Wolfgang Ullrich. "At the same time, the software, which is so crucial to energy management in Formula E, can be constantly worked on. In this field, we have lots of experience from the FIA World Endurance Championship which we can use to support the team."
In mid-September, the Formula E organization loaded the team's four race cars onto a plane and shipped them to Hong Kong. They were delivered to the circuit this morning and handed back. In total, the team has sent about eight tons of material on the Formula E world tour.
The first step now is to set up the temporary pits in the paddock of the race track, which is located near the famous Star Ferry terminal in the Hong Kong harbor. Subsequently, the team will start working on the race cars and present them to the FIA for technical scrutineering, including the sealing of the motors, inverters, transmissions and other components.
On Saturday, October 8, from 15:00 to 15:30, a brief shakedown session on the track is scheduled. On Sunday October 9, there will be two free practice sessions, as well as qualifying which is split between four groups, followed by a "Super Pole" – individual time trials by the quickest five. The first race of the new Formula E season begins at 16:00 (10:00 CEST). The opener of the third Formula E season will be broadcast on television worldwide in 120 countries, and hundreds of media representatives have been accredited.
At fanboost.fiaformulae.com, motorsport fans can help Daniel Abt and Lucas di Grassi in the race with their votes on the so-called "FanBoost.". Through voting, three drivers each receive extra power for a short time, up to 200 kW (270 hp). In normal race conditions, the power output of the ABT Schaeffler FE02 is 170 kW (231 hp).
As an introduction to the Formula E opener, Audi Hong Kong invites ABT Schaeffler Audi Sport to a reception on Friday evening, October 7, in the showroom at the Admiralty Centre very close to the track.
no images were found

.