Fonte: Formula E
Città del Messico, Messico. 26 Febbraio 2016. La Formula E sta arrivando ad acque inesplorate con la gestione inaugurale del Città del Messico ePrix presso l'Autodromo Hermanos Rodriguez il 12 marzo, ma le monoposto elettriche hanno avuto il loro primo assaggio del paesaggio locale con un giro su una "trajinera" – una sorta di zattera usata nel luogo – sul lago di Xochimilco .
L'immagine dell'auto di Formula E in uno degli scenari più suggestivi di Città del Messico simboleggia l'unione tra tecnologia e ambiente. Formula E non solo porta un evento spettacolare nelle principali città del mondo, ma promuove anche le ultime tendenze in materia di innovazione e di mobilità.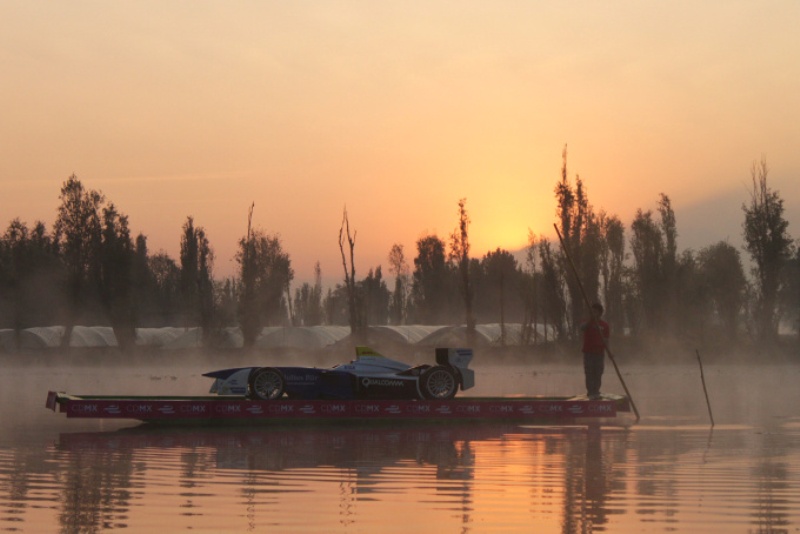 Affrontando un raduno dei media e degli ospiti invitati a Lago de Xochimilco, Alberto Longo, vice CEO e amministratore delegato di Formula E, ha dichiarato:
"L'idea di Formula E è nata dalla necessità di avere una piattaforma sostenibile per promuovere il motorsport. Stiamo cercando di mostrare il miglioramento ed i progressi nel campo delle energie alternative e le tecnologie del futuro per arrivare finalmente a un punto in cui tutte le auto un giorno siano elettriche".
Dopo le informazioni rilasciate dalla Commissione federale dell'energia elettrica (CFE), ci sono solo 200 i veicoli elettrici sulla strada in Messico, mentre ci sono oltre 245.000 negli Stati Uniti. Questo dimostra le crescenti tendenze e necessità delle grandi città di avere un cambiamento verso una maggiore commercializzazione dei veicoli elettrici.
Alvaro Buenaventura, business development manager negli Stati Uniti e Latam di Formula E, ha detto: "Immaginiamo Città del Messico senza inquinamento e dove tutte le vetture siano elettriche. Per raggiungere questo obiettivo, è importante avere iniziative come la Formula E che è diversa da altre categorie tradizionali del motorsport".
Horacio de la Vega, direttore generale della Indeporte della Città del Messico, ha dichiarato che l'arrivo della Formula E alla capitale combina due dei punti chiave di messa a fuoco del governo per contribuire a promuovere sia lo sport che la salvaguardia dell'ambiente.
In English
Formula E to drive the use of electric vehicles in Mexico
Source: Formula E
Mexico City, Mexico. 26 February 2016. Formula E is arriving in uncharted waters with the inaugural running of the Mexico City ePrix at the Autodromo Hermanos Rodriguez on March 12. But the fully-electric single-seater got its first taste of the local scenery with a ride on a trajinera on Lake Xochimilco.
The image of the Formula E car in one of the most picturesque settings of Mexico City symbolises the union between technology and the environment. Formula E doesn't only bring a spectacular event to the world's leading cities, but also promotes the latest trends in innovation and mobility.
Addressing a gathering of media and invited guests at Lago de Xochimilco, Alberto Longo, deputy CEO and managing director at Formula E, said:
"The idea of Formula E came about from the necessity to have a sustainable platform to promote motorsport. We are trying to showcase the improvement and advances in alternative energies and future technologies to eventually arrive at a point where all cars will one day be electric."
Following the information released from the Federal Electricity Commission (CFE), there are only 200 electric vehicles on the road in Mexico, while there are over 245,000 in the USA. This shows the growing tendencies and need for major cities to drive the change towards increased ownership of electric vehicles.
Alvaro Buenaventura, business development manager in the USA & Latam at Formula E, said:
"Let's imagine Mexico City without contamination and where all cars are electric. To achieve this goal, it is important to have initiatives such as Formula E that is different from other traditional motorsport categories."
Horacio de la Vega, general director of Indeporte for the City of Mexico, stated that the arrival of Formula E to the capital combines two of the key focus points of the government to help promote both sport and the environment.
no images were found

.