Fonte: Formula E
Long Beach, California. USA. 8 Aprile 2015. Il terzo round della stagione inaugurale della FE Schoold Series ha preso parte nel corso di questo fine settimana del Long Beach ePrix, con un altro grande successo della serie innovativa che è stata un grande successo di studenti e di pubblico.
Dieci squadre delle scuole superiori, nove dei quali erano del Distretto Scuole Long Beach Unified e una dal Liceo di Santa Barbara, hanno partecipato a una sessione di qualifica di 20 minuti e 20 minuti di gara sul circuito diel Long Beach ePrix – un luogo ricco di storia delle competizioni dei motori.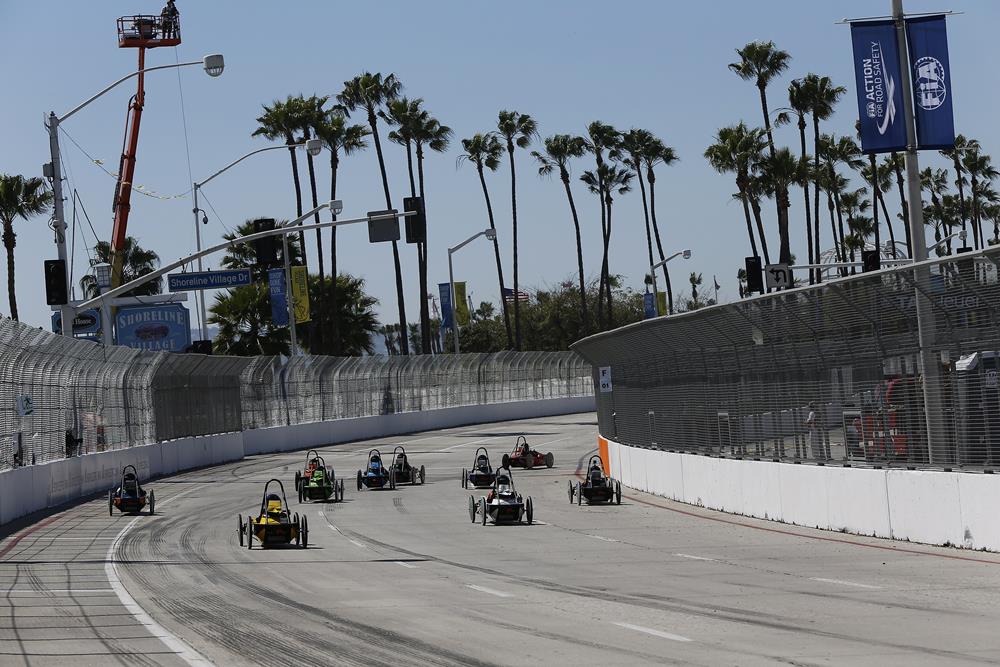 e squadre avevano costruito le loro monoposto elettriche durante il "build day" ovvero il giorno di costruizone che si è tenuto al Long Beach Convention Center, guidati dai tutor da Greenpower Education Trust e da Greenpower USA Foundation, gli organizzatori della serie.
La qualificazione della School Series ha visto le posizioni in griglia determinate attraverso una formula di efficienza energetica per trovare le vetture più efficienti, in modo che la guida fluida sia all'ordine del giorno. La gara, invece, si è svolta con iil formato standard in cui il più veloce vince.
Il 16enne Connor Veliz dal Millikan Liceum ha imparato l'arte dell'efficienza nella qualifica e la sua guida ha segnato il tempo della pole per la gara, una posizione dominante dalla quale ha condotto la gara dall'inizio alla fine.
Veliz ha commentato il post-gara sul podio:
"E' stata un'esperienza incredibile per me e la mia squadra. Seduto sulla griglia e concentrandomi sulla gara da fare mi sentivo come se fossi un pilota professionista, ed essere qui in piedi sul gradino più alto del podio è semplicemente fenomenale – un'esperienza da ricordare. Vorremmo ringraziare Formula E e Greenpower per portare la serie Scuola a Long Beach. "
E 'stato un momento deludente per la squadra High School di Santa Barbara che era al terzo posto in gara prima di una collisione minore che ha causato alcuni danni al meccanismo di sterzo e dovette retrocedere in classifica finalmente finendo in 10° posizione, ma il leader del team di 15 anni, Will Hahn ha promesso di tornare con una vettura vincente il prossimo anno.
In English
FE School Series begins Long Beach legacy
Source: Formula E
Long Beach, California. USA. April 8th, 2015. Round three of the inaugural FE School Series took part during this weekend's Long Beach ePrix, with once again the innovative series being a resounding success with students and public alike.
Ten high school teams, nine of whom were from the Long Beach Unified Schools District and one from the Santa Barbara High School, took part in a 20 minute qualifying session and 20 minute race on the full Long Beach ePrix circuit – a venue steeped in motor racing history.
The teams had built their electric single seat cars from kits in a build day at the Long Beach Convention Center, guided by mentors from series organisers Greenpower Education Trust and Greenpower USA Foundation.
Qualifying for the School Series sees the grid positions determined through an energy efficiency formula to find the most efficient cars, so smooth driving is the order of the day. The race, however, is standard format where fastest wins.
16-year-old Connor Veliz from Millikan High School mastered the art of efficient driving qualifying on pole for the race, a commanding position from which he led the race from start to finish.
Veliz commented on the podium post-race:
"This has been an incredible experience for me and my team. Sitting on the grid focusing on the race ahead felt like I was a pro driver, and standing here on the top step of the podium is just phenomenal – an experience to remember. We'd like to thank Formula E and Greenpower for bringing the School Series to Long Beach."
It was a disappointing time for visiting team Santa Barbara High School, who got up to third place in the race before a minor collision caused some damage to the steering mechanism and saw them fall right down the order. They finally finishing in 10th spot but 15-year-old team leader Will Hahn vowed to return with a winning car next year.
no images were found