Il disegno della livrea trasmette il perseguimento di un futuro potente ed accelerato
Fonte: Faraday Future Dragon Racing
Hong Kong, 6 ottobre 2016 – Faraday Future Dragon Racing ha presentato oggi la nuova livrea dell'auto da corsa per la stagione tre della Formula E, esemplificando l'unità della squadra verso un futuro potente e sostenibile per l'industria del motorsport. Al di fuori dell'ingresso principale della manifestazione VIP Variety, "A Night of Stars", nel cuore del centro di Hong Kong, Faraday Future Dragon Racing ha presentato questo nuovo simbolo mozzafiato di velocità sia per i media, i personaggi dello spettacolo e gli appassionati di motorsport.
Il nome in codice "polarità", punto focale della livrea è un sorprendente, minimalista contrasto tra bianco e nero. Riflettendo la dualità della futura linea di prodotti di FF, il muso bianco del veicolo simboleggia l'energia pulita, imbrigliata da un certo numero di risorse rinnovabili. Il campo nero giustapposto incarna le prestazioni assertive, potenti e raffinate che i piloti sperimenteranno al volante. Questo complimento tra bianco e nero indica anche l'impegno di Faraday Future Dragon Racing e Formula E di perseguire un'energia pulita, prestazioni elevate e sostenibili, per un lungimirante futuro.
Il design trae ispirazione dalle forze opposte polari che guidano il movimento di un'onda elettromagnetica – una scoperta scientifica che ha sostenuto l'invenzione del motore elettrico. Simile alla battaglia costante della natura per l'equilibrio tra le forze positive e negative, il disegno simboleggia il rapporto profondamente intrecciato tra energie opposte. Questo veicolo da gara è una dimostrazione del potenziale che si è sbloccato nel perseguimento della mobilità elettrica ecologicamente responsabile, visceralmente reattiva.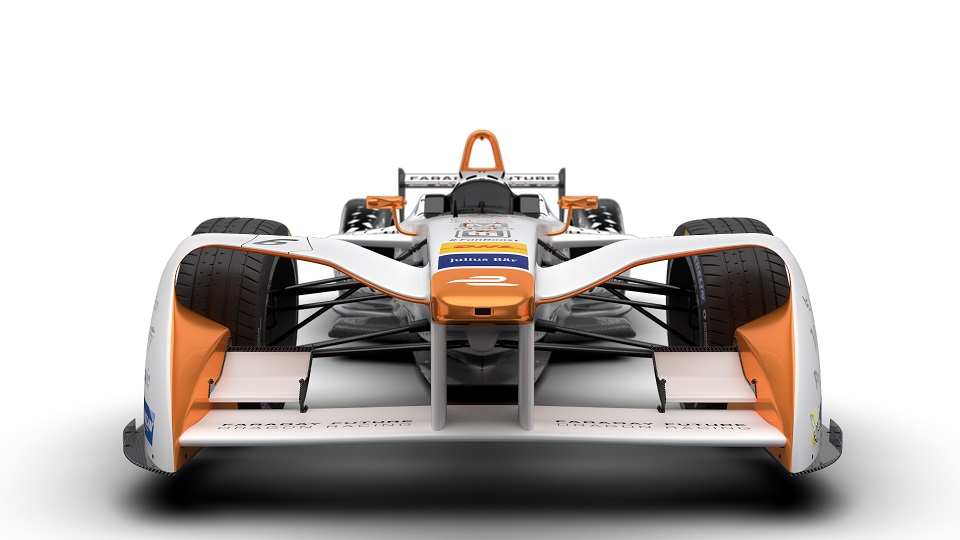 Le linee pulite che compongono il logo Faraday Future vengono compresse ed allungate nel laterale del veicolo per dimostrare la spinta delle forze in gioco, come le corse automobilistiche attraverso la pista. Poiché queste linee deformano tutta la sua superficie, formano un ricco traliccio che riflette la dispersione della forza in un'onda elettromagnetica. I razzi selettivi di arancione metallizzato sono accento visivo primaria della livrea. Situati sugli specchi, la presa d'aria e la parte inferiore delle ali anteriori e posteriori, questo punto culminante invoca una scintilla di energia elettrica del tutto scoppiettante con le caratteristiche aerodinamiche fondamentali della vettura.
"Svelare la prima livrea è un incredibile opportunità per mostrare l'energia che la nostra squadra porta alla Formula E", ha detto Marco Mattiacci, Global Chief Brand & Commercial Officer di Faraday Future. "Guardando al futuro, la Formula E si rivelerà una pratica preziosa che rafforzare le capacità di Faraday Future Dragon Racing sia dentro che fuori pista."

"Con Faraday Future come nostro partner, Dragon Racing si propone come leader in Formula E", ha detto Jay Penske, Team Owner e Team Principal di Dragon Racing. "Questa livrea è una rappresentazione della nostra visione comune e il desiderio di innovare ad ogni passo questa alleanza".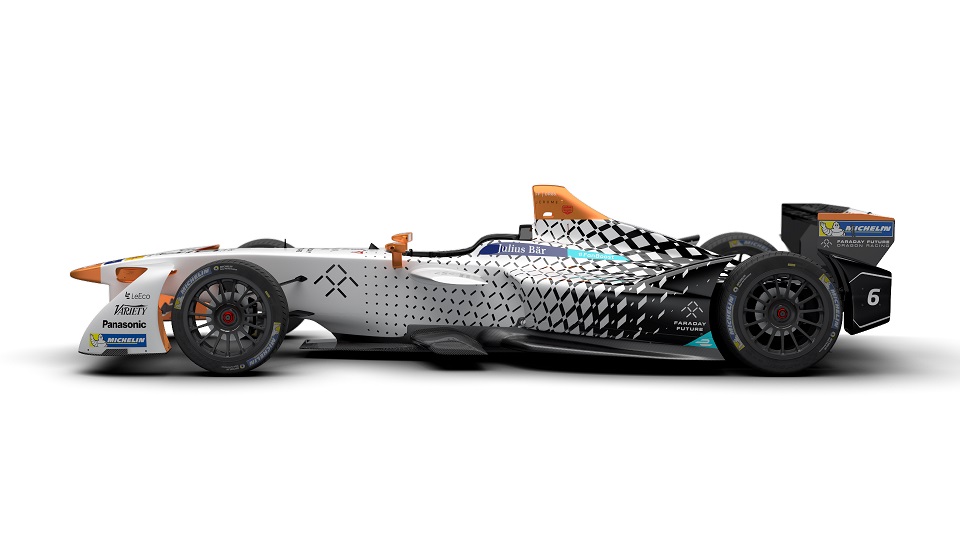 Faraday Future Dragon Racing ha annunciato la sua partnership ufficiale al London ePrix nel mese di Luglio, 2016. Durante la prossima stagione 2016/17, FF opererà come partner tecnico di base e title sponsor del team, lavorando insieme per sviluppare soluzioni chiavi di software e la tecnologia per massimizzare le prestazioni e la capacità del propulsore.
"La partnership strategica con Faraday Future è una parte fondamentale del programma SEE di Leeco", ha detto Ding Lei, co-fondatore, Vice Presidente e Amministratore Delegato di Progetto SEE, Leeco.
"Leeco dà il suo pieno sostegno nei confronti di Faraday Future Dragon Racing, e crede nel futuro della Formula E, che allinea la visione di Leeco per il futuro dell'eco-trasporto. Siamo ansiosi di lavorare a stretto contatto con la Formula E in questo nuovo ed entusiasmante motorsport."
Nella quarta stagione, FF espanderà il suo rapporto come partner tecnico per iniziare la fornitura di hardware per la squadra. Nella quinta stagione e oltre, Faraday Future Dragon Racing metterà in atto vari componenti della catena cinematica Faraday, quali software, firmware ed altri componenti hardware che la squadra ritiene opportuno. Questo potrebbe includere Faraday Future in Formula E nella tecnologia dei motori, del cambio, e la dell'inverter.
In English
Faraday Future Dragon Racing reveals Formula E Season Three Livery
Livery design conveys the pursuit of a powerful and accelerated future
Source: Faraday Future Dragon Racing
Hong Kong, October 6, 2016 – Faraday Future Dragon Racing today debuted its new season three race car livery, exemplifying the team's drive towards a powerful, sustainable future for the motorsports industry. Outside of the main entrance of the VIP Variety event, "A Night of Stars", in the heart of Downtown Hong Kong, Faraday Future Dragon Racing unveiled this breathtaking new symbol of speed to both media, passionate entertainment personalities, and motorsport fans.
Codenamed "Polarity," the livery's focal point is a striking, minimalist contrast between black and white. Reflecting the duality of FF's future product lineup, the vehicle's white nose symbolizes clean energy, harnessed from a number of renewable resources. The juxtaposed black field embodies the assertive, powerful, and refined performance that competitive drivers will experience behind the wheel. This compliment between black and white also signifies the commitment of Faraday Future Dragon Racing and Formula E to pursue a clean energy, elevated performance, and sustainable, forward-thinking future.
The design draws inspiration from opposing polar forces that drive the movement of an electromagnetic wave – a scientific discovery that underpinned the invention of the electric motor. Similar to nature's constant battle for balance between positive and negative forces, the design symbolizes the profoundly intertwined relationship between opposing energies. This race vehicle is a demonstration of the powerful potential that is unlocked in the pursuit of environmentally responsible, viscerally responsive electric mobility.
The clean lines that make up the Faraday Future logo envelope the cockpit, and are compressed and stretched along the side of the vehicle to demonstrate the pull of forces at play as the car races across the track. As these lines warp across its surface, they form a rich latticework that reflects the dispersal of force in an electromagnetic wave. The selective flares of metallic orange are the livery's primary visual accent. Located on the mirrors, air intake, and the underside of the front and rear wings, this highlight invokes a spark of crackling electricity across the car's fundamental aerodynamic features.
"Unveiling our first livery is an incredible opportunity to showcase the energy that our team brings to Formula E," said Marco Mattiacci, Global Chief Brand & Commercial Officer, Faraday Future. "As we look forward to the future, Formula E will prove to be an invaluable practice that will bolster Faraday Future Dragon Racing's capabilities both on and off the race track."

"With Faraday Future as our partner, this further positions Dragon Racing as a leader in Formula E," said Jay Penske, Team Owner and Team Principal of Dragon Racing. "This livery is a representation of our joint vision and desire to innovate at every step of this alliance."
Faraday Future Dragon Racing announced its official partnership at the London ePrix in July, 2016. During the upcoming 2016/17 season, FF will operate as a core technical partner and the team's title sponsor, working together to develop key technology software solutions to maximize performance capabilities within the powertrain.
"The strategic partnership with Faraday Future is a critical part of LeEco's SEE plan," said Ding Lei, Co-Founder, Vice Chairman and Managing Director of SEE Plan, LeEco. "LeEco gives its full support towards Faraday Future Dragon Racing, and believes in the future of Formula E, as it aligns LeEco's vision for future eco-transportation. We look forward to working closely with Formula E in this new and exciting motorsport."
In season four, FF will expand its relationship as a technical partner to begin supplying hardware to the team. In season five and beyond, Faraday Future Dragon Racing will implement various Faraday powertrain components, software, firmware and other hardware as the team sees fit. This could include Faraday Future motors, gearbox, and the FF Echelon Inverter.
no images were found

.