Fonte: Solar Impulse
Dayton, Ohio. USA. 25 Maggio 2016. Sono sicuramente state delle tumultuose 24 ore per il Solar Impulse. Una parte dell'hangar mobile si è sgonfiato ieri per circa 2 minuti, ha toccato l'aereo e il volo è stato rinviato. Subito dopo i controlli la possibilità di Bertrand di decollare verso Lehigh Valley, Pennsylvania è ricomparsa per il 25 maggio.
L'incidente con l'hangar di ieri ha posticipato il decollo di Bertrand Piccard da Dayton, nell'Ohio verso a Lehigh Valley, in Pennsylvania. André e Bertrand spiegano la situazione:
"Come voi già sapete, l'hangar mobile è una struttura che è stata creata appositamente per proteggere Solar Impulse 2 dalla pioggia, dal vento e dalle tempeste. E' utilizzato quando gli hangar regolari non sono disponibili per noi e viene gonfiato grazie a ventilatori che forniscono aria per mantenerlo in posizione verticale.

Ieri, i supporter che mantengono le celle dell'hangar gonfiate hanno sperimentato una breve interruzione della corrente.

E' successo tutto in pochi secondi. Non appena l'hangar è iniziato a sgonfiarsi, Nils Ryser, il nostro capo del personale di terra, è immediatamente reagito. Egli ha individuato rapidamente il problema, proveniente dal quadro elettrico. In pochi secondi il guasto all'interruttore è stato individuato e riavviato e l'hangar mobile ha iniziato nuovamente a gonfiarsi.

In circa due minuti, la parte superiore della struttura era già sgonfia ed ha toccato la fusoliera e le ali prima che siano riattivati i ventilatori.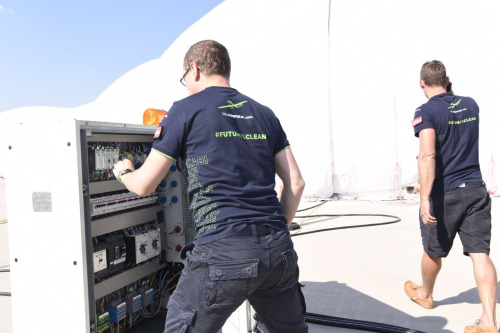 Quali sono state le conseguenze? Dal momento che Solar Impulse 2 è realizzato in fibra di carbonio, anche una leggera pressione del tessuto dell'hangar mobile potrebbe potenzialmente creare danni. Abbiamo dovuto garantire che l'aereo fosse sicuro per continuare il volo del giro solare attorno al mondo.
Il team si è riunito intorno ad André e Bertrand nella nostra cucina vicino al capannone. L'obiettivo era di reagire velocemente su più fronti:
sapere se ci sono stati danni sul velivolo che ci impedirebbe di decollare il giorno dopo?
sapere quali sono state le ragioni di questo guasto?
come garantire che non succeda di nuovo?
Per più di 4 ore, i membri del team presenti durante l'incidente hanno condiviso i loro ricordi e le impressioni di quei pochi secondi decisivi. Non appena la squadra d'ingegneri ha iniziato l'ispezione del piano, è emerso che non vi era alcun segno visibile di danni, anche sulle parti più sensibili e fragili.
E riguardo il possibile danno invisibile? Non siamo riusciti a dare il via libera del volo prima di essere sicuri che non ci fosse stato alcun danno all'interno della struttura.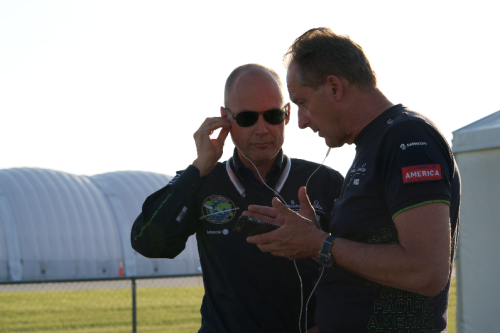 L'obiettivo per gli ingegneri di André era di identificare in modo chiaro e il più velocemente possibile gli eventuali danni subiti dalle parti del velivolo che sono entrate in contatto con la struttura dell'hangar sgonfio, ed il carico applicato sul velivolo. Questo carico potrebbe superare i limiti ed innescare un potenziale rischio di rottura durante il volo?
Dopo ore di calcoli durante la notte, effettuati congiuntamente dal team di ingegneri a Dayton, Ohio ed a Dübendorf, Svizzera, è diventato certo che non vi era stato alcun danno al velivolo. Che sollievo per tutta la squadra, dopo un pomeriggio ed una notte di tensione! Nel frattempo, il Centro di Controllo della Missione ci ha seguito da vicino durante tutto il tempo ed ha scoperto che Bertrand sarebbe in grado di volare il giorno dopo. E oggi, abbiamo avuto la conferma che abbiamo luce verde per andare a Lehigh Valley e proseguire l'avventura il 25 maggio.
Quando si vede decolli, atterraggi ed i voli sicuri di Solar Impulse, si potrebbe avere l'impressione che è tutto facile. L'imprevisto è sempre parte di un'avventura difficile come questa.
Molti di voi sul web e nelle reti sociali ci hanno chiesto se ci fossimo assicurati contro questo tipo di incidenti. Il nostro partner, Swiss Re Corporate Solutions, ci ha fornito una soluzione assicurativa su misura per il nostro aereo sperimentale che copre qualsiasi danno potenziale. Questa assicurazione rende possibile i progetti di energia rinnovabile, come Solar Impulse.
I video
httpv://www.youtube.com/watch?v=nB-Gqd3l0Lg
Il video dell'Hangar
httpv://www.youtube.com/watch?v=PwnMYL2vXSU
La decisione di posticipare
httpv://www.youtube.com/watch?v=V2CLtgBewcE
Il video dell'hangar gonfiabile
https://www.youtube.com/watch?v=Zz-4UMMkx2I
In English
The Unpredictable Invites Itself
Source: Solar Impulse
Dayton, Ohio. USA. 24th May 2016. It's definitely been a tumultuous 24 hours for Solar Impulse.
A part of the mobile hangar deflated yesterday for about 2 minutes over the plane and the flight was postponed. Now the opportunity for Bertrand to take off to Lehigh Valley, Pennsylvania has reappeared for May 25th.
Yesterday, an incident with the mobile hangar came in the way of Bertrand Piccard's takeoff from Dayton, Ohio to Lehigh Valley, Pennsylvania. André and Bertrand explain the situation:
As you might already know, the mobile hangar is a structure that is unique to Solar Impulse, created specifically to protect Si2 from rain, wind, and storms. It's used when regular hangars are unavailable to us and is inflated thanks to fans that supply air to keep it upright.

Yesterday, the fans that keep the mobile hangar inflated experienced a brief power failure.

It all happened within seconds. As soon as the hangar started deflating, Nils Ryser, our head of ground crew, immediately reacted. He quickly identified the problem, coming from the electric board. In a few seconds the faulty circuit-breaker was restarted and the mobile hangar started re-inflating.
In about two minutes, the top part of the structure had already deflated and touched the fuselage and the wings before power was restored to the fans. Nils Ryser, head of ground crew
What were the implications? Since Si2 is made of carbon fiber, even a gentle pressure from the mobile hangar fabric could potentially create damage.1 We had to ensure the airplane was safe to continue the round-the-world solar flight.
The team gathered around André and Bertrand in our mobile kitchen close to the hangar. The aim was to react fast on several fronts:
were there any damages on the aircraft that would prevent us from takeoff the next day?
what were the reasons of this failure?
How to ensure it wouldn't happen again?
For more than 4 hours, the team members present during the incident shared their memories and impressions of the few decisive seconds. As soon as the engineering team started the inspection of the plane, it appeared that there was no visible sign of damage, even on the most sensitive and fragile parts.
What about the invisible damage?
We couldn't give a green light for a flight before making sure there had not been any damages inside the structure.
The aim for André's engineers was to identify clearly and as fast as possible what parts, if any, of the aircraft had been in contact with the deflating hangar structure, and what load had been applied onto the aircraft. Could this load exceed our limits and trigger a potential risk of breaking during the flight?
After hours of calculation during the night, jointly made by the engineering team in Dayton, Ohio and in Dübendorf, Switzerland, it became certain there had been no damage to the aircraft. What a relief for the whole team after a tense afternoon and night! In the meantime, the Mission Control Center was closely following the weather, and found that Bertrand would be able to fly one day later. And today, we obtained confirmation that we have a GREEN light to go to Lehigh Valley and carry on the adventure on May 25th.
When you see takeoffs, landings, safe flights from Solar Impulse, you might have the impression it's easy. The unexpected is always part of an adventure as challenging as this one. Bertrand Piccard
Many of you on the web and social networks have asked us if we were insured against this type of incident. Our partner, Swiss Re Corporate Solutions, has provided us with a tailored insurance solution for our experimental airplane covering any potential damage. This insurance makes renewable energy projects like Solar Impulse possible.
The videos
httpv://www.youtube.com/watch?v=nB-Gqd3l0Lg
Hangar video
httpv://www.youtube.com/watch?v=PwnMYL2vXSU
The decison to posticipate
httpv://www.youtube.com/watch?v=V2CLtgBewcE
The mobil hangar video
httpv://www.youtube.com/watch?v=Zz-4UMMkx2I
no images were found

.