L'energia eolica spinge i veicoli elettrici Renault nelle Isole Outer Hebrides della Scozia
• 10 veicoli elettrici Renault (Kangoo ZE e ZOE) sono disponibili a noleggio nelle Outer Hebrides della Scozia
• I veicoli elettrici alimentati da energia rinnovabile generata da turbine eoliche delle isole, per una mobilità a basso tenore di carbonio
Fonte: Renault UK
Outer Hebrides, Scozia, UK. 23 Ottobre, 2015. Una flotta di 10 veicoli Renault 100% elettrici alimentati quasi interamente da energia rinnovabile potrà essere usata, su base oraria o giornaliera, da parte di residenti e visitatori delle Isole Outer Hebrides della Scozia.
Gran parte dell'energia elettrica necessaria per ricaricare i veicoli elettrici sarà generata dalla Pentland Road Wind Farm. Le nove berline ZOE e Kangoo Express Z.E. sono state introdotte attraverso una partnership unica tra E-Car Club e gli operatori di parchi eolici.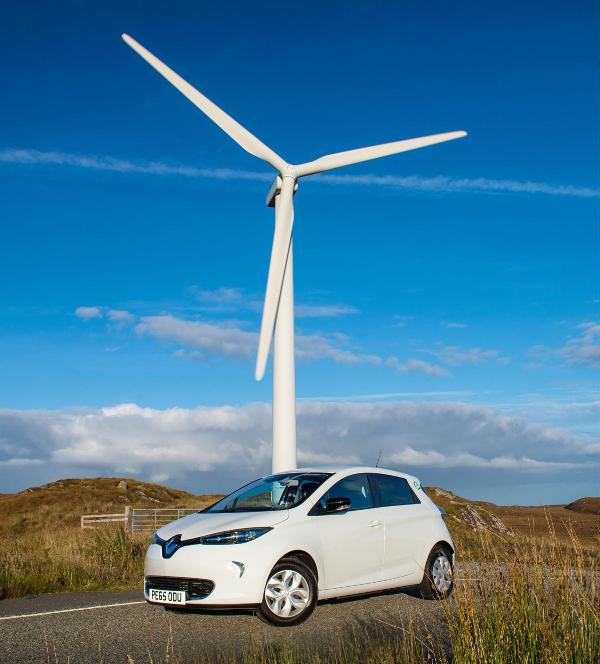 Sono state le specifiche dei modelli Renault, divertimento di guida, l'affidabilità e l'eccellente feedback dei clienti (98%, un livello mai raggiunto prima in Renault) i fattori chiave nella decisione di integrarli nel sistema di car sharing.
Con un investimento di 24 milioni di sterline sviluppato nel corso di un periodo di 12 anni, Pentland Road Wind Farm produrrà energia per i nuovi veicoli come parte della fornitura di energia elettrica da fonti rinnovabili per le isole. Tale è l'efficienza del parco eolico e l'idoneità del clima locale per sostenere l'energia eolica che le sei turbine forniranno energia elettrica sufficiente a soddisfare l'intero carico domestico delle Outer Hebrides.
L'impronta di carbonio di una Renault EV può diminuire solo con il tempo, come la produzione di energie rinnovabili cresce. In confronto, l'impronta di carbonio di una vettura ICE rimarrà sempre lo stesso. Secondo l'Agenzia internazionale dell'energia, 7 milioni di veicoli elettrici su strada potrebbero contribuire a risparmiare 400 mila barili di petrolio al giorno entro il 2020.
L'Alleanza Renault-Nissan è partner ufficiale di COP21, la conferenza delle Nazioni Unite sul cambiamento climatico. L'Alleanza fornirà 200 veicoli esclusivamente elettrici – inclusi 100 Renault Zoe, ai delegati come navetta durante l'evento di Parigi-Le Bourget, dal 30 novembre al 11 Dicembre 2015.
In English
Wind power propels Renault electric vehicles into the outer hebrides of Scotland
• 10 Renault electric vehicles (ZOE & Kangoo Z.E.) available to hire in the Outer Hebrides of Scotland
• EVs powered by renewable energy generated by the islands' wind turbines, for a low-carbon mobility
Source: Renault UK
Outer Hebrides of Scotland, UK. October 23, 2015. A 10-strong fleet of 100% electric Renault vehicles powered almost entirely by renewable energy can now be hired, on an hourly or daily basis, by residents and visitors to the Outer Hebrides of Scotland.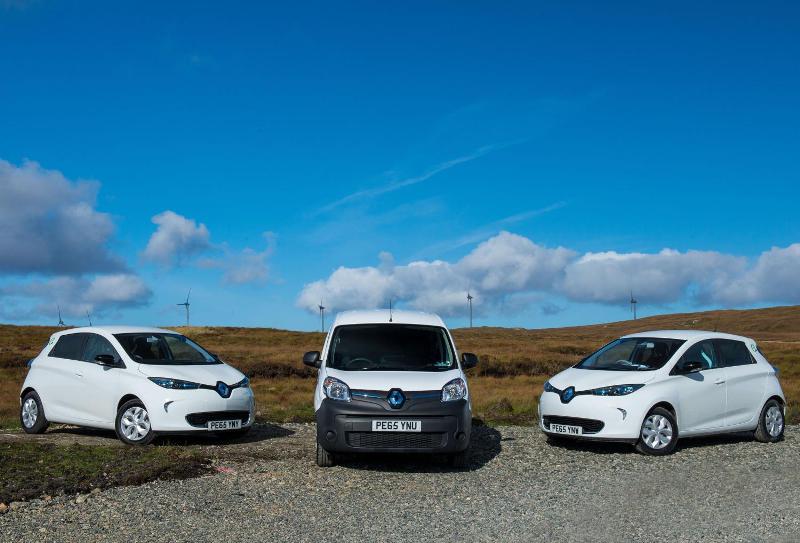 Much of the electricity needed to charge the electric vehicles will be generated by the Pentland Road Wind Farm. The nine ZOE hatchbacks and a Kangoo Van Z.E. have been introduced through a unique partnership between E-Car Club and the wind farm operators. The Renault models' specification, fun drive, reliability and excellent customer feedback (98%, a level never reached before at Renault), were key factors in the decision to integrate them in the car sharing scheme.
Representing an investment of £24 million and developed over a 12-year period, Pentland Road Windfarm will generate power for the new vehicles as part of providing renewable electricity to the islands. Such is the efficiency of the wind farm and the suitability of the local climate to support wind power, the six turbines will supply sufficient electricity to meet the entire domestic load of the Outer Hebrides.
A Renault EV's carbon footprint can only decrease with time, as the production of renewable energies grows. In comparison, an ICE car's carbon footprint will always remain the same. According to the International Energy Agency, 7 million EVs on the road could help save 400,000 oil barrels per day by 2020.
The Renault-Nissan Alliance is an official partner of COP21, the UN's conference on climate change. The Alliance will provide 200 pure electric vehicles –including 100 Renault ZOEs, to shuttle delegates during the event in Paris-Le Bourget, from November 30 to December 11, 2015.
no images were found