Roborace conferma Daniel Simon come Capo Design Officer e rivela la Robocar
Fonte: Formula E
Londra, Gran Bretagna. 30 marzo 2016. Roborace ha annunciato oggi che il capo design sarà Daniel Simon, una forza globale nel design automobilistico futuristico.
Rinomato per il suo lavoro nei fenomeni di fantascienza di Hollywood, come Tron: Legacy e Oblivion, Daniel è stato in precedenza senior designer presso Bugatti e poi ha continuato a progettare di tutto, da droni a moto, da navi spaziali ad auto da Le Mans in tutta la sua avventurosa carriera.
Daniel ha lavorato con gli ingegneri senza sosta sul Robocar e condivide oggi un'anteprima del concept che potete vedere.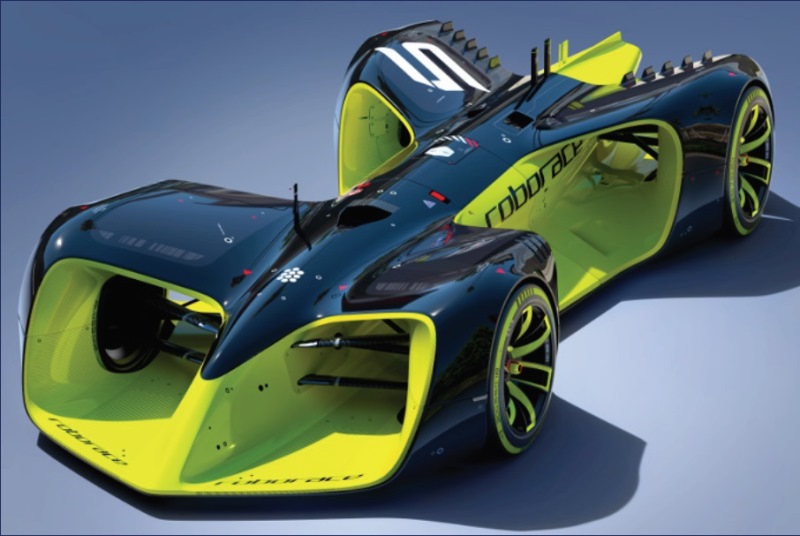 Daniel Simon, il Capo Designer di Robocar, ha dichiarato:
"Stiamo vivendo in un momento in cui i mondi separati dell'automobile e dell'intelligenza artificiale si scontrano con forza inarrestabile. E' fantastico essere parte di questo viaggio; si innesca tutta la mia grande passione – le corse automobilistiche, la progettazione e le tecnologie avanzate. Il mio obiettivo era quello di creare un veicolo che sfruttasse appieno le insolite opportunità di non avere nessun pilota, senza mai rinunciare alla bellezza.

Gli ingegneri delle competizioni e gli aerodinamici hanno lavorato con me fin dal principio per trovare l'equilibrio.

Il Roborace interessa tanto la concorrenza delle competizioni quanto l'intrattenimento. Pertanto – è piuttosto insolito nel mondo delle corse di oggi – la bellezza è stata un fattore molto importante nella nostra agenda e ci impegnamo ad unire le migliori prestazioni con uno stile mozzafiato. E' stato importante per noi generare notevole deportanza senza parti non necessarie ad ingombrare l'auto per mantenere un ambiente pulito e look iconico. Questo è in gran parte stato reso possibile utilizzando un piano come il dispositivo aerodinamico principale e stiamo attualmente sviluppando parti attive della carrozzeria che sono più organiche e senza soluzione di continuità rispetto le soluzioni oggi. Sono entusiasta di far parte del team per l'audacia delle persone che stanno facendo che tutto questo accada."
Denis Sverdlov, CEO di Roborace, ha dichiarato:
"Siamo onorati di aver Daniel a lavorare con noi su questo progetto come Capo Design. La sua passione ed esperienza sono innegabili e credo che sia già impostato ad essere uno dei veicoli più iconici della storia automobilistica. Abbiamo soprannominato il campionato come "la competizione mondiale nell'ambito della ricerca" come una sfida aperta al mondo delle menti più brillanti, per cui è giusto che la vettura sia una delle più intelligenti ad essere realizzata, grazie a Daniel può anche essere la più bella auto che abbia mai toccato un fondo stradale. E' gioco, motorsport, tecnologia e intrattenimento, tutto in uno. Io credo che la passione e il futuro delle auto includeranno software; driverless, elettrica e connessa, e Roborace contribuirà a fare che questo diventi una realtà".
La prima dimostrazione di Roborace si svolgerà durante la stagione 2016/2017 di Formula E con dirompente e innovativo format e vetrina della sicurezza e delle capacità di guida estreme.
Per ulteriori informazioni riguardo Roborace – http://www.roborace.com
In English
The car of the future is here – Driverless, electric & connected
Roborace confirms Daniel Simon as its Chief Design Officer and reveals the Robocar
Source: Formula E
London, UK. March 30 2016. Roborace today announced its chief design officer as Daniel Simon, a global force in futuristic, automotive design.
Renowned for his work on Hollywood sci-fi phenomena such as Tron: Legacy and Oblivion, Daniel has previously been senior designer at Bugatti and later went on to design everything from drones, motorcycles, spaceships and Le Mans cars throughout his adventurous career.
Daniel has been working with racing engineers relentlessly on the Robocar and shares a first look at the concept today.
Daniel Simon, chief design officer at Robocar, said:
"We're living in a time where the once separated worlds of the automobile and artificial intelligence collide with unstoppable force. It's fantastic to be part of this journey; it triggers all my big passions – motor racing, design and advanced technologies. My goal was to create a vehicle that takes full advantage of the unusual opportunities of having no driver without ever compromising on beauty. Racing engineers and aerodynamicists have worked with me from the beginning to strike that balance.

The Roborace is as much about competition as it is entertainment. Therefore – and quite unusual in today's racing world – beauty was very high on our agenda and we work hard to merge the best performance with stunning styling. It was important to us that we generate substantial downforce without unnecessary parts cluttering the car to maintain a clean and iconic look. This is largely made possible by using the floor as the main aerodynamic device and we are currently developing active body parts that are more organic and seamless than solutions today. I am excited to be part of the daring team of people who are making this happen."
Denis Sverdlov, CEO of Roborace, said:
"We are honoured to have Daniel working with us on this project as chief design officer. His passion and experience are undeniable and I believe it's already set to be one of the most iconic vehicles in automotive history. We nicknamed the competition the 'global championship of intelligence' as an open challenge to the world's smartest minds, so its only fitting that the car should be one of the smartest ever to be made, thanks to Daniel it may also be the most beautiful car ever to touch a road surface. It's gaming, motorsport, technology and entertainment all rolled into one. I passionately believe that the future of cars is about software; driverless, electric and connected and Roborace will help to make that a reality."
The first Roborace 'shows' will take place during the 2016/2017 Formula E season with disruptive and innovative new formats showcasing safety and extreme driving capabilities.
For more information on Roborace visit – http://www.roborace.com
no images were found

.