Due avventurieri completano il viaggio di John O'Groats fino alla fine della terra in una Nissan LEAF
Fonte: Nissan UK
30 Settembre 2015. Due appassionati proprietari di veicoli elettrici (EV) hanno completato il viaggio epico di John O'Groats all'estremità della terra e viceversa – gratis – in una Nissan LEAF elettrica.
Impiegando poco più di due giorni per finire il viaggio di 1.652 miglia (2658 km), Chris Ramsey e Jonathan Porterfield, entrambi scozzesi, hanno usato solo i punti di ricarica EV accessibili al pubblico, approfittando della crescente rete di ricarica del Regno Unito, che comprende oltre 7.000 stazioni di ricarica.
Molti dei punti di ricarica che la coppia ha visitato fanno parte del portfolio Electric Highway di Ecotricity – la più grande rete di carica rapido d'Europa. Questi caricatori sono completamente liberi da usare e sono alimentati da fonti di energia rinnovabili, come l'energia eolica e solare. La Nissan LEAF è stata 'rifornita' 33 volte lungo l'autostrada elettrica con ogni carica di un tempo minimo di mezz'ora.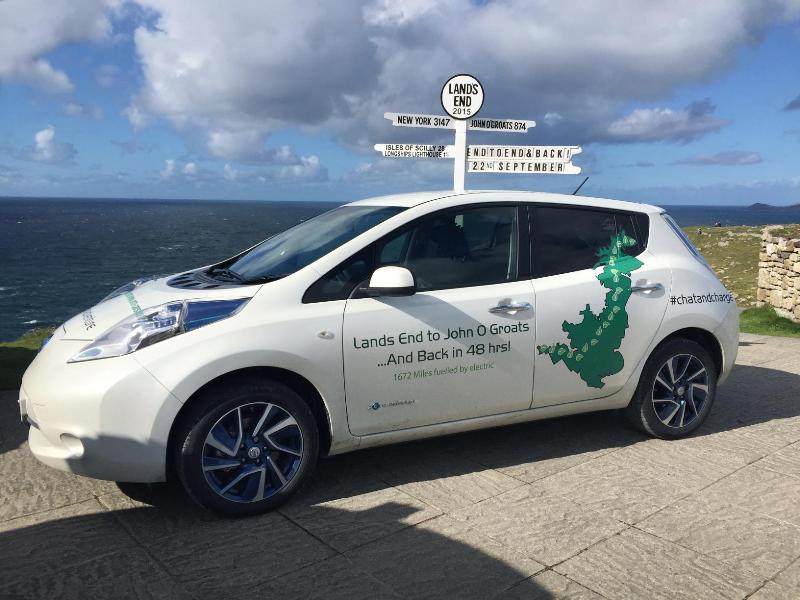 Chris e Jonathan, che sono entrambi membri del gruppo di appassionati EV Plug In Adventures, hanno accettato la sfida di mettere in evidenza l'ampiezza e la scala di infrastrutture di ricarica nel Regno Unito e per dimostrare la capacità e la praticità delle auto elettriche.
La prima tappa del viaggio di John O'Groats all'estremità della terra è stato completato in appena 28 ore e 38 minuti, un tempo che la coppia crede sia un nuovo record, e questo è stato rapidamente battuto quando il duo ha percorso il viaggio di ritorno in un solo 27 ore 47 minuti.
Chris ha detto:
"Essendo proprietari di LEAF conosciamo le sue capacità, il risultato non è mai stato in dubbio. La cosa più importante era dimostrare in un modo unico e diverso che i veicoli elettrici e le infrastrutture esistenti possono facilmente soddisfare le esigenze dei conducenti di tutti i giorni.
Jonathan ha aggiunto:
"Il viaggio è andato molto bene ed è stato molto divertente. Sento regolarmente dai conducenti di auto diesel e benzina che dicono che si può guidare lontano una LEAF, ma naturalmente abbiamo dimostrato che non è vero!"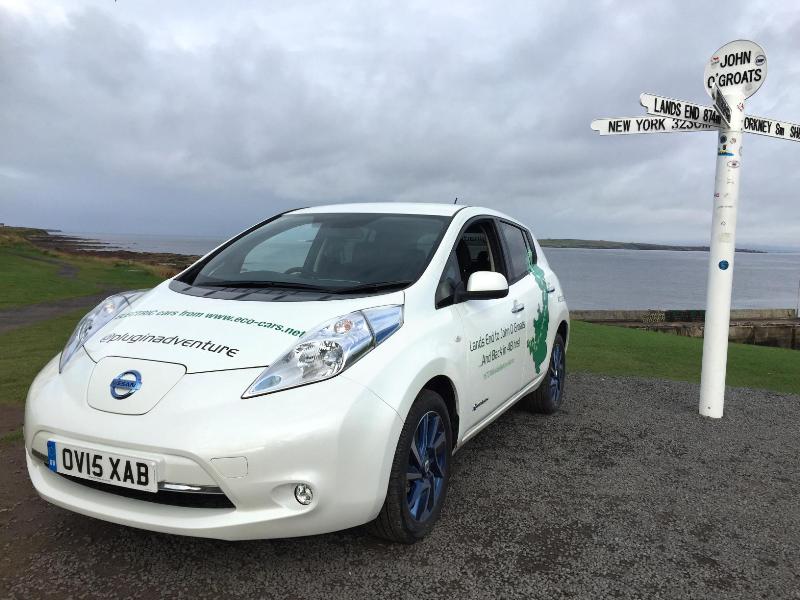 Robert Tweedie, EV Manager, Nissan Motor (GB) Ltd, ha dichiarato:
"Quello che Chris e Jonathan hanno fatto è abbastanza estremo, ma è un'ulteriore prova della capacità, le prestazioni e l'affidabilità della Nissan LEAF.

"Naturalmente la maggior parte dei driver non potrà mai intraprendere un viaggio come questo e la stragrande maggioranza dei proprietari avrà sempre e solo bisogno di caricare la propria auto una o due volte alla settimana per gestire i loro spostamenti quotidiani.

"Ci sono ora punti di ricarica rapida gratuiti aperti al pubblico nel 95% delle stazioni di servizio nel Regno Unito e viaggi così lunghi sono facilmente all'interno dell'autonomia della LEAF e sono molto più convenienti".
Dale Vince, fondatore di Electric Highway di Ecotricity ha aggiunto:
"La rivoluzione delle auto elettriche è qui e sta prendendo piede. Questo viaggio dimostra le vere capacità della rete elettrica Highway, che sta già alimentando le auto elettriche per oltre un milione di miglia di percorrenza, permettendo di viaggiare gratuitamente ogni mese e crescendo ogni giorno".
Plug In Adventures è stata fondata da Chris nel 2011 e nasce da un amore combinato di avventura e di veicoli elettrici. Composto da un gruppo di appassionati di EV con sede in Scozia, il suo scopo è quello di coinvolgere il pubblico in modi unici e diversi, difendendo tutte le cose correlate ai veicoli elettrici.
Nissan LEAF è il veicolo elettrico best-seller con quasi 200 mila unità su strada a livello globale. All'inizio di questo mese, la nuova Nissan LEAF 30kWh ha debuttato al Salone di Francoforte, offrendo 155 miglia (249 km) con una singola carica, in crescita del 25% rispetto l'anno precedente.
In English
Plug in adventurers complete John O'Groats to Land's End road trip in a Nissan LEAF
30 September 2015. Two electric vehicle (EV) enthusiasts have completed the epic journey from John O'Groats to Land's End and back again – for free – in an all-electric Nissan LEAF.
Taking just over two days to finish the 1,652-mile journey, Chris Ramsey and Jonathan Porterfield, both from Scotland, used only publicly available EV charging points, taking advantage of the UK's growing charging network, comprising more than 7,000 charging stations.
Many of the charging points that the pair visited form part of Ecotricity's Electric Highway – Europe's largest rapid charger network. These chargers are entirely free to use and are powered by renewable energy sources such as wind and solar power. The Nissan LEAF was 'refuelled' 33 times along the Electric Highway with each charge taking as little as half an hour.
Chris and Jonathan, who are both members of EV enthusiast group Plug In Adventures, took on the challenge to highlight the breadth and scale of charging infrastructure in the UK and to prove the capability and practicality of electric cars.
The first leg of the journey from John O'Groats to Land's End was completed in just 28 hours and 38 minutes, a time that the pair believed to be a new record, and this was quickly beaten when the duo achieved the return journey in just 27 hours 47 minutes.
Chris said:
"Being a LEAF owner and knowing its capabilities, the result was never in doubt. The most important thing was demonstrating in a unique and different way that EVs and the existing infrastructure can easily meet the needs of every day drivers.
Jonathan added:
"The trip went very smoothly and was a lot of fun. I regularly hear from drivers of diesel and petrol cars that say you can't drive far in a LEAF, but of course you can and we've proved it!"
Robert Tweedie, EV Manager, Nissan Motor (GB) Ltd said:
"What Chris and Jonathan achieved was pretty extreme but it's yet more proof of the capability, performance and reliability of the Nissan LEAF.

"Of course most drivers will never undertake a journey like this and the vast majority of owners will only ever need to charge their car once or twice a week to handle their daily commute.

"There are now free-to-use rapid charge points at 95% of UK service stations and so longer journeys are easily within the range of the LEAF and are much more affordable."
Dale Vince, founder of Ecotricity's Electric Highway added:
"The revolution in electric cars is here and it's picking up pace. This journey demonstrates the true capabilities of the Electric Highway network, which is already powering over a million miles of emission free travel every month and is growing every day."
Plug In Adventures was founded by Chris in 2011 and was born from a combined love of adventure and electric vehicles. Comprising a group of EV enthusiasts based in Scotland, its aim is to engage with the public in unique and different ways, championing all things EV-related.
The Nissan LEAF is the best-selling pure electric vehicle with almost 200,000 on the road globally. Earlier this month, the new Nissan LEAF 30kWh debuted at Frankfurt Motor Show, delivering 155 miles on a single charge, up 25% on its predecessor.
no images were found