DS Virgin Racing ha confermato che Sam Bird e Jean-Eric Vergne correranno per il team nella seconda stagione di Formula E
Fonte: DS Virgin Racing
Donington, Gran Bretagna. 8 agosto 2015. DS Virgin Racing è lieta di annunciare che il pilota britannico Sam Bird ha mantenuto il suo posto per la stagione 2015-16 e verrà affiancato in garage dal pilota francese Jean-Eric Vergne.
Bird, che ha rappresentato il team Virgin Racing nella stagione inaugurale del Campionato FIA di Formula E, ha vinto due gare come il vincitore del campionato, tra cui la finale di Londra e una vittoria dominante a Putrajaya, Malesia. Il 28enne è stato uno dei piloti più impressionanti nella prima stagione di Formula E raccogliendo tre podi e due giri più veloci, oltre alle suoi due vittorie.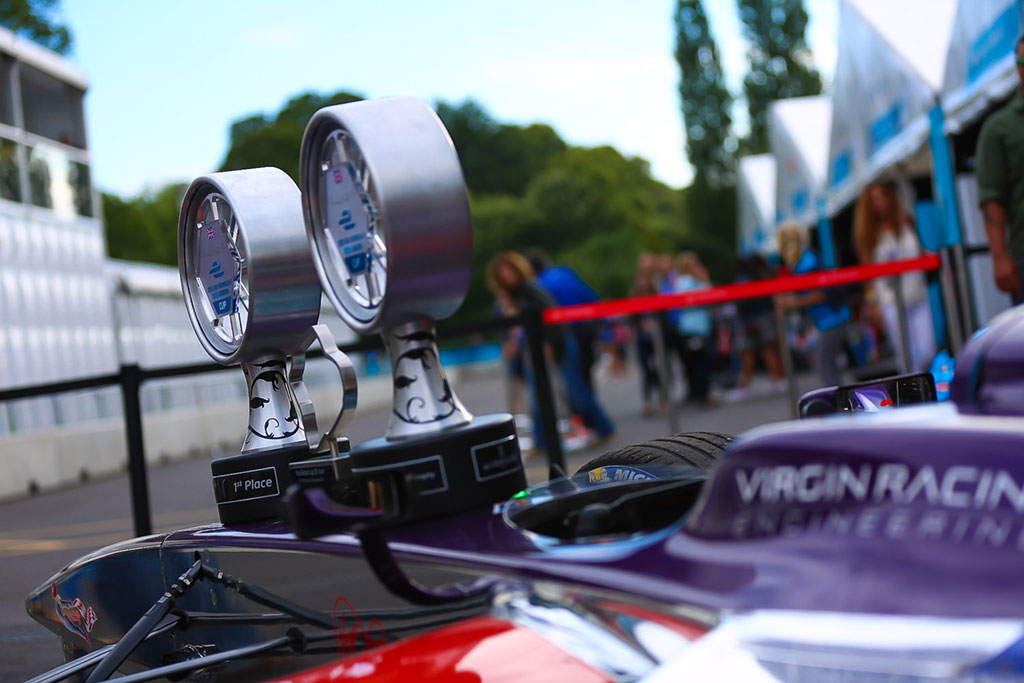 Dopo aver ottenuto tre pole position e tre podi nel primo anno della FIA Formula E Championship, tra cui una pole position alla sua prima gara, Vergne è molto importante per il team DS Virgin Racing. Dopo il successo nel British Formula 3 Championship, Formula Renault 3.5 Series, e tre stagioni in Formula Uno, il 25enne, non solo porta la velocità dentro di se, ma ha anche una preziosa esperienza per il team DS Virgin Racing.
Sam Bird ha detto: "La scorsa stagione è stata una curva di apprendimento, ma quello l'ho apprezzato molto, quindi sono entusiasta di essere di nuovo con il team DS Virgin Racing nella la stagione 2015/16. Abbiamo avuto due grandi vittorie nell'ultima stagione in Malesia e poi nella mia gara di casa a Londra, quindi l'obiettivo è quello di costruire su questo successo e fare una fantastica seconda stagione in Formula E. I progressi della macchina intorno al propulsore sono davvero emozionanti e così non vedo l'ora di tornare al volante a Donington per svolgere dei buoni test in prima della prima gara a Pechino".

Jean-Eric Vergne ha detto: "Sono lieto di entrare a far parte del team DS Virgin Racing in un momento così emozionante per il team, e anche per la serie visti i nuovi regolamenti per la stagione due. Al salire a bordo dell'auto con il marchio DS come nuovo partner della squadra mi farà pensare di essere sempre con un marchio francese. Capisco che ci sono una serie di cose interessanti in corso dietro le quinte che dovrebbero garantire l'avere un inizio competitivo della stagione. Guardando indietro alla mia prima gara della scorsa stagione in cui mi sono qualificato in pole, sono molto felice di essere tornato in un sedile da corsa dalla prima gara della stagione nel mese di ottobre. Sono fiducioso che il mio ritmo e l'appetito per il successo contribuirà a garantire che DS Virgin Racing sia una delle squadre più importanti in Formula E".

Alex Tai, DS Virgin Racing Team Principal, ha dichiarato: "Siamo entusiasti di aver mantenuto Sam e di essere in grado di accogliere Jean-Eric al team DS Virgin Racing per la seconda stagione del Campionato FIA di Formula E. Sia Sam che Jean-Eric sono dei talenti eccezionali e credo che ora abbiamo una delle più forti coppie di piloti sulla griglia di partenza. Non vedo l'ora di essere in grado di competere abitualmente per la vittoria di gara in gara, e dopo l'annuncio della nostra partnership con il marchio DS alla fine della scorsa stagione, sono molto felice che le buone notizie per la squadra continuano ad arrivare".
La seconda stagione del FIA Formula E Championship inizierà a Pechino il 17 Ottobre 2015 con i test estivi a partire dal 10 Agosto 2015 a Donington Park.
In English
DS Virgin Racing announce driver line-up for 2015-16 season
DS Virgin Racing have confirmed that Sam Bird and Jean-Eric Vergne will race for the team in the second FIA Formula E season
Source: DS Virgin Racing
Donington, United Kingdom. 8th August 2015 DS Virgin Racing is delighted to announce that British driver Sam Bird has retained his seat for the 2015-16 season and will be partnered in the garage by French racing driver, Jean-Eric Vergne.
Bird, who represented the Virgin Racing team in the inaugural season of the FIA Formula E championship, won as many races as the eventual championship winner, including the London finale and a dominant victory in Putrajaya, Malaysia.  The 28-year-old was one of the most impressive drivers in the first FIA Formula E season picking up three podiums and two fastest laps, in addition to his two race wins.
Having secured three pole positions and three podium finishes in year one of the FIA Formula E Championship, including a pole position at his very first race, Vergne is a very exciting addition to the DS Virgin Racing team. After success in British Formula Three, Formula Renault 3.5 Series, and three seasons in Formula One, the 25-year-old not only brings blistering speed but also valuable experience to the DS Virgin Racing team..
Sam Bird said, "Last season was a learning curve but one I thoroughly enjoyed, so I'm elated to be back with the DS Virgin Racing team for the 2015/16 season. We had two great wins last season in Malaysia and then at my home race in London, so the aim is to build on that success and have a fantastic second season in Formula E. The advancements to the car around the powertrain are really exciting so I'm looking forward to getting back behind the wheel shortly in Donington to get some good testing in before the first race in Beijing."

Jean-Eric Vergne said, "I am delighted to be joining the DS Virgin Racing Team at such an exciting time for the team, and also for the series given the new regulations for season two. With the DS brand coming on board as a new partner to the team, I am looking forward to being aligned with a French, forward thinking marque.  I understand that there are a number of exciting things going on behind the scenes that should ensure that we have a competitive start to the season. Looking back to my first race of last season where I qualified on pole, I am very excited to be getting back into a racing seat at the first race of the season in October. I am confident that my raw pace and appetite for success will help ensure that DS Virgin Racing continues to be one of the leading teams in Formula E."

Alex Tai, DS Virgin Racing Team Principal, said, "We are thrilled to have retained Sam and to be able to welcome Jean-Eric to the DS Virgin Racing team for season two of the FIA Formula E championship. Both Sam and Jean-Eric are exceptional talents and I believe we now have one of the strongest driver pairings on the grid.  I'm looking forward to being able to compete for regular honours from race to race, and following the announcement of our partnership with the DS brand at the end of last season, I am very happy that the good news for the team keeps on coming."
The second FIA Formula E season will commence in Beijing on the 17th October 2015 with summer testing starting on 10th August 2015 at Donington Park.
no images were found