Fonte: Panasonic Jaguar Racing
Marrakech, Marocco. 12 Novembre, 2016. La seconda gara del Panasonic Jaguar Racing nel campionato 2016/17 di FIA Formula E ha visto entrambi i piloti completare con successo la distanza di gara più lunga nella storia della serie, correndo nel cuore della città vecchia di Marrakech, Adam Carroll e Mitch Evans hanno tagliato il traguardo in P14 e P17, rispettivamente.
La prima gara di Formula E che si è tenuta nel continente africano, il Marrakech ePrix è uno dei due soli circuiti tradizionali del calendario di Formula E e il circuito più lungo che i piloti sperimenteranno quest'anno, da 2,97 km con 12 curve.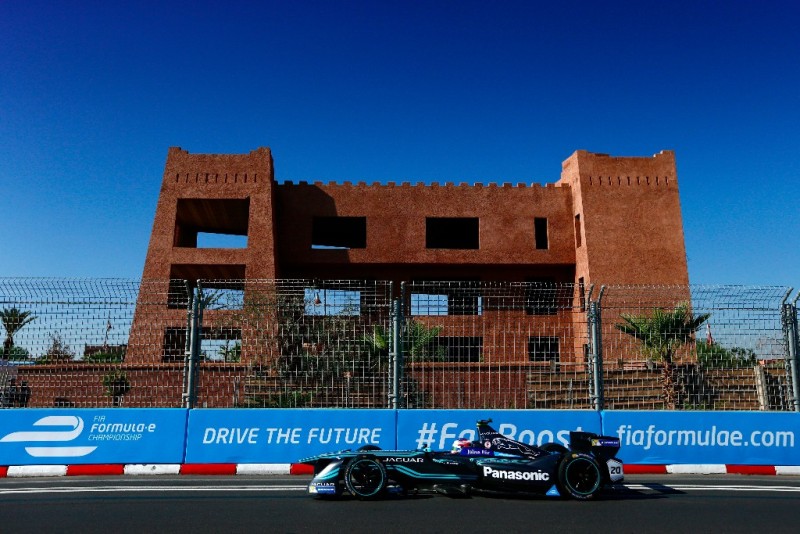 Entrambi i piloti del Panasonic Jaguar Racing sono rientrati ai box al 18° giro, un giro dopo molte delle altre squadre a causa di una gestione efficiente dell'energia da parte del team. Mitch è entrato nella corsia box davanti ad Adam, ma è stato Adam che è uscito davanti dopo un scambio auto elettrizzante in garage.
Il circuito ha fornito molte sfide per i piloti. A seguito di un lock-up per il suo giro di qualifica, Adam ha iniziato la gara dalla P20 e attraverso la positiva gestione dell'energia e un pitstop solido, hanno guadagnato sei posizioni per finire in P14, seguito da Mitch che ha recuperato da un lock-up, che lo ha visto finire in P17.
James Barclay, Panasonic Jaguar Racing, Team Director:
"Anche se abbiamo avuto una gara difficile ci sono ancora molti aspetti positivi e ulteriori apprendimenti che possono essere presi da oggi. In definitiva non abbiamo massimizzato il nostro potenziale in qualifica, ma sappiamo che avevamo una macchina più veloce rispetto quello che i tempi hanno mostrato.

La gara di Mitch è stata compromessa quando è stato colpito da un altro pilota che lo ha messo fuori pista. Lui ha recuperato bene per tornare in gara ed è riuscito a combattere per farsi strada durante la gara.

Adam ha mostrato il suo grande mestiere in gara con un ritmo che l'ha visto guadagnare posti ed è riuscito ad andare avanti fino alla 14esima posizione.

Non abbiamo avuto problemi di affidabilità per tutto il weekend, questo è rassicurante per la nostra nuova squadra e ci stavamo spostando in avanti in griglia. Abbiamo anche fatto alcuni buoni miglioramenti sulle operazioni della squadra dopo le lezioni apprese a Hong Kong, questo è positivo per Panasonic Jaguar Racing come team.

Abbiamo avuto tutte e quattro Jaguar I-Type a finire la gara e ora possiamo andare in pausa prima di Buenos Aires, con molti dati e lezioni da applicare per assicurarsi di ottenere il meglio delle auto e della squadra nel terzo ePrix della stagione."
Adam Carroll, # 47, P14:
"E' stato bello finire la mia seconda gara nel Panasonic Jaguar Racing e guadagnare più tempo in pista. La mia gara è stata compromessa da un errore nel mio giro di qualifica. Questo significava che ho iniziato sul retro, quindi ho avuto una gara impegnata a cercare di sorpassare. Abbiamo avuto un cambio macchina veloce e nella seconda metà della gara mi sono sentito davvero forte. E' stato bello ricostruire da Hong Kong e la squadra sta migliorando ad ogni sessione. Mentre andiamo in pausa abbiamo un molte grandi apprendimenti da applicare nella prossima gara a Buenos Aires".
Mitch Evans, # 20, P17:
"Giornata dura in ufficio a Marrakesh. Ho avuto un inizio frustrante di gara dopo il contatto con Loïc Duval, che mi ha messo fuori posizione. Ho poi trascorso il resto della gara cercando di recuperare. Fortunatamente, sono riuscito a guadagnare qualche posizione prima di baciare il muro verso la fine della gara, dopo un testa coda, quando stavo cercando di risparmiare un po' di energia. Per fortuna, non ci sono danni alla vettura. E' un peccato per la gara, ma queste sono le corse e la cosa principale è che ora abbiamo ulteriori dati da analizzare e digerire prima della prossima gara. Speriamo che la pausa non si senta troppo a lungo e già non vedo l'ora di correre a Buenos Aires nel mese di febbraio."
In English
Double finish for Panasonic Jaguar Racing in debut Marrakesh ePrix
Source: Panasonic Jaguar Racing
Marrakesh, Morocco – 12 November 2016. Panasonic Jaguar Racing's second race in the 2016/17 FIA Formula E Championship saw both drivers successfully complete the longest race distance in the history of the series. Racing in the heart of Marrakesh old city, Adam Carroll and Mitch Evans crossed the line in P14 and P17 respectively.
The first Formula E race to take place on the African continent, the Marrakesh ePrix is one of only two traditional race tracks on the Formula E calendar and the longest circuit the drivers will experience this year, at 2.97km with 12 turns.
Both Panasonic Jaguar Racing drivers came into the pits on lap 18, one lap after many of the other teams due to efficient energy management from the team. Mitch entered the pitlane ahead of Adam, but it was Adam who exited in front after an electrifying car swap in the garage.
The circuit provided many challenges for the drivers. Following a lock up on his qualifying lap, Adam started the race from P20 and through positive energy management and a solid pitstop, gained six positions to finish in P14, followed by Mitch who recovered from a lock up, which saw him run off track to finish P17.
James Barclay, Panasonic Jaguar Racing, Team Director:
"Even though we've had a tough race there are still many positives and further learnings that can be taken away from today. Ultimately we didn't maximise our potential in qualifying, but we know we had a faster car than the times showed.

Mitch's race was compromised when he was hit by another driver which put him out of track position. He

recovered well to get back into the race and managed to fight his way up through the grid.

Adam showed some great race craft and pace which saw him gain places and he managed to move forward to 14th position.

We had no reliability issues throughout the weekend which is reassuring for our new team and we were moving forward up the grid. We also made some good improvements on team operations after lessons learnt in Hong Kong which is positive for Panasonic Jaguar Racing as a team.

We had all four Jaguar I-TYPEs finish the race and we can now go into the break before Buenos Aires with a lot of data and lessons to implement to make sure that we get the best out of the cars and team in the third ePrix of the season.
Adam Carroll, #47, P14:
"It was great to finish my second race for Panasonic Jaguar Racing and gain more track time. My race was compromised by a mistake in my qualifying lap. This meant I started at the back so I had a busy race trying to move up the pack. We had a quick car change and the second half of the race felt really strong. It was good to build on Hong Kong and the team is improving with every session. As we go into the break we have a lot of great learnings to implement for the next race in Buenos Aires."
Mitch Evans, #20, P17:
"Tough day in the office in Marrakesh. I had frustrating start of the race after contact with Loïc Duval which put me out of position.  I then spent the rest of the race trying to recover. Fortunately, I managed to gain some positions before I kissed the wall towards the end of the race after a lock up when I was trying to save some energy. Luckily, there was no damage to the car. It's a shame about the race but that's racing and the main thing is that we now have further data to analyse and digest during the gap to the next race. Hopefully, the break won't feel too long as I'm already looking forward to racing in Buenos Aires in February."
no images were found

.