Innovazioni dei dipendenti destinate a migliorare la mobilità
• Piattaforma guidabile elettrica Carr-E, triciclo elettrico pieghevole TriCiti; e sedia a rotelle elettrica eChair sono tra i finalisti della sfida dell'innovazione dei dipendenti Ford
• Sfida della mobilità all'ultimo miglio di Ford riceve proposte di oltre 600 dispositivi di assistenza elettrica personale da Ford sviluppati dai dipendenti in tutto il mondo per lo spostamento di persone o merci in aree urbane
• Il numero di singoli dipendenti Ford che hanno registrato delle invenzioni ha raggiunto livelli record, con il numero di invenzioni totali previste per segnare un record annuale nel 2016
Fonte: Ford Motor Company
Aachen, Germania. 3 Novembre 2016. Un innovativo sistema di trasporto personale progettato per adattarsi perfettamente nello spazio di solito occupato nel bagagliaio dalla ruota di scorta di una vettura è tra i finalisti di una sfida di Ford per creare future soluzioni di mobilità dell'"ultimo miglio" per le aree urbane.
Il Carr-E – sviluppato da Kilian Vas, un ingegnere di sistemi Ford con sede a Colonia, Germania – è stata tra le 633 proposte di soluzioni di mobilità personale create dai dipendenti di Ford come parte della sfida dell'azienda di sviluppare la mobilità elettrica dell'ultimo miglio e dispositivi di assistenza personale che contribuiranno a rendere il trasporto migliore in aree in cui i veicoli non sono autorizzati o pratici, e che aiutano le persone a raggiungere la loro destinazione finale distanti dalla propria auto.
Il Carr-E può trasportare persone o oggetti fino a 120 kg, ha un'autonomia di 22 chilometri (14 miglia) e una velocità massima di 18 km/h (11 mph).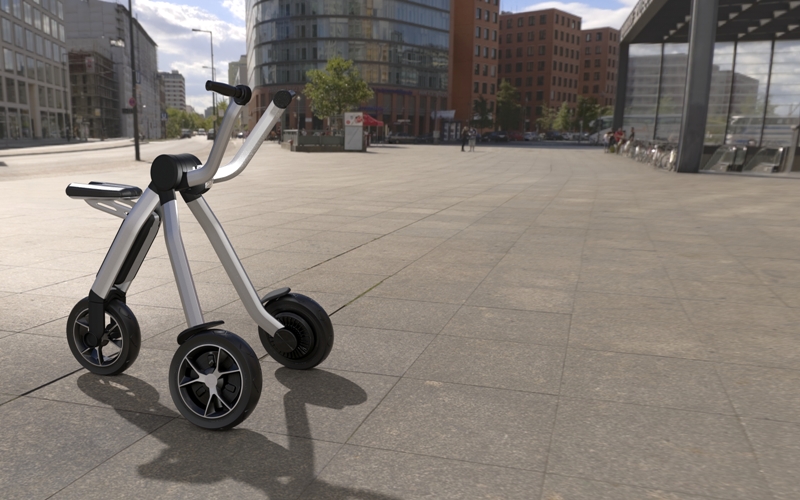 La soluzione di trasporto innovativo è nella rosa dei candidati finali per l'Innovation Challenge accanto al TriCiti – un triciclo elettrico pieghevole che può essere facilmente adattato in un carrello della spesa, un carrello da golf o un buggy; e il Concept eChair – una carrozzina elettrica che può essere autonomamente caricata su un veicolo.
"Abbiamo davvero bisogno di reinventare la ruota, di trovare nuovi approcci alla la mobilità," ha dichiarato Vas. "Nello sviluppare il Carr-E, mi sono ispirato all'espansione di Ford in entrambi in settori dell'auto e di una società della mobilità, ma sono anche consapevole di quanto rapidamente le città stanno crescendo e come circolare intorno alle aree urbane diventerà progressivamente più complicato. Io ho veramente voluto creare un dispositivo che renda più facile e divertente il pendolarismo."
Vas ha collaborato con il collega Daniel Hari e il suo manager Dr. Uwe Wagner, e ha lavorato con i progettisti della prototipazione di Ford Europa e gli specialisti RWTH Aachen University per creare Carr-E.
Il dispositivo a quattro ruote è stato progettato per integrare l'uso di un veicolo ed il supporto dei pendolari durante la parte finale del loro viaggio, tra il parcheggio e la destinazione.
Il Carr-E può anche essere utilizzato per trasportare oggetti pesanti. Per gli utenti è sufficiente posizionare l'oggetto sul dispositivo e verrà guidato da un sistema elettronico attraverso un trasmettitore che tengono in loro possesso.
Il TriCiti, sviluppato da James Neugebauer, Torsten Gerhardt e Robert Spahl – tutti lavorano all'interno del settore Architettura Veicoli, Ford Europa – è inoltre progettato per essere sia un dispositivo guidabile ed un'assistenza tuttofare. La soluzione di trasporto pieghevole può essere adattata per trasportare lo shopping o degli oggetti come sacche da golf, e può essere facilmente presa su mezzi pubblici o immagazzinato in un veicolo.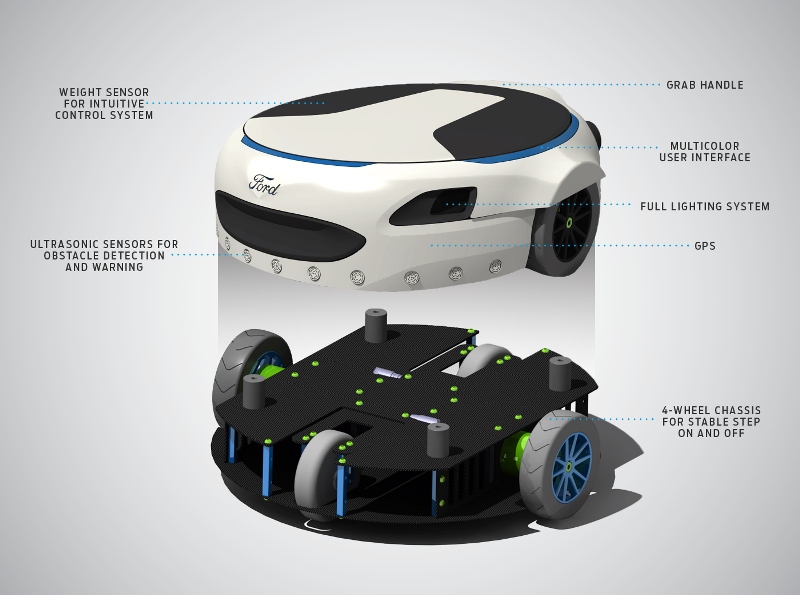 Il TriCiti ha un'autonomia di 30 chilometri (19 miglia) e una velocità massima di 20 chilometri all'ora (12 mph).
L'eChair, sviluppato da Gunther Cuypers, Robin Celis e David Longin – tutti ingegneri a Lommel Proving Grounds di Ford, in Belgio – è una sedia a rotelle elettrica leggera con una soluzione di auto-caricamento, progettata per offrire una maggiore autonomia per le persone con ridotta mobilità.
"L'innovazione e la rottura dalle convenzioni stanno tanto a cuore del pensiero attuale degli ingegneri, come lo era quando Henry Ford per primo ha trasformando il modo in cui ci muoviamo", ha detto Walter Pijls, supervisore, Innovation Management per la mobilità di Ford Europa.

"I dispositivi di assistenza personale possono aiutare le persone a coprire i chilometri finali del viaggio in modo rapido e semplice, e per il trasporto di oggetti pesanti che potrebbero non essere in grado di trasportare. "
L'aumento delle innovazione Ford – misurato dall'invenzione informativa – prevede di raggiungere un record della società nel 2016, incrementando il record dello scorso anno di oltre 6.000. Il numero di singoli dipendenti Ford che lavorano creando invenzioni ha anche raggiunto livelli record dall'inizio del 2015, con più di 3.500 presentazioni di nuove innovazioni.
In English
Step on it! Smart Device That Goes Where Cars Can't
Among Employee Innovations Designed to Improve Mobility
• Electric rideable platform Carr-E; folding electric tricycle TriCiti; and self-loading electric wheelchair eChair are among finalists in Ford employee innovation challenge
• Ford Last Mile Mobility Challenge receives proposals for over 600 electric personal assistant devices from Ford employees around the world for moving people or goods in urban areas
• The number of individual Ford employees registe ring inventions has reached record levels, with the number of total inventions expected to set an annual record in 2016
Source: Ford Motor Company
Aachen, Germany, 3rd November 2016. An innovative personal transportation system designed to fit neatly into boot space usually occupied by a car's spare wheel is among the finalists in a Ford challenge to create future 'last mile' mobility solutions for urban areas.
The Carr-E – developed by Kilian Vas, a Ford systems engineer based in Cologne, Germany – was among 633 proposals for personal mobility solutions created by Ford employees as part of the company's Last Mile Mobility Challenge to develop electric personal assistant devices that will help to make transportation better in areas where vehicles are not permitted or practical, and which help people to get to their final destination from their car.
The Carr-E can transport people or objects up to 120 kg, has a range of 22 kilometres (14 miles) and a top speed of 18 km/h (11 mph).
The innovative transport solution is shortlisted for the innovation challenge finals alongside the TriCiti – a folding electric tricycle that can be easily adapted into a shopping cart, stack trolley or golf buggy; and the eChair concept – an electric wheelchair that can be autonomously loaded into a vehicle.
"We really need to reinvent the wheel, to find new approaches to mobility," Vas said. "When developing the Carr-E, I was inspired by Ford's expansion into both an auto and a mobility company, but I'm also aware of how rapidly cities are growing and how getting around urban areas will become progressively more complicated. I really wanted to create a device that makes commuting easier and more fun."
Vas collaborated with his colleague Daniel Hari and his manager Dr. Uwe Wagner, and worked with designers from Ford of Europe and prototyping specialists from RWTH Aachen University to create the Carr-E. The four-wheeled device is designed to complement the use of a vehicle and support commuters during the final part of their journey, between parking space and destination.
The Carr-E can also be used to transport heavy objects. Users simply place the object on the device and it will follow an electronic transmitter they keep in their possession.
The TriCiti, developed by James Neugebauer, Torsten Gerhardt and Robert Spahl – all working within Vehicle Architecture, Ford of Europe – is also designed to be both a rideable device and allpurpose carrying assistant. The foldable transportation solution can be adapted to carry shopping or items such as golf bags, and can easily be taken onto public transport or stored in a vehicle. The TriCiti has a range of 30 kilometres (19 miles) and a top speed of 20 km/h (12 mph).
The eChair, developed by Gunther Cuypers, Robin Celis and David Longin – all engineers at Ford's Lommel Proving Grounds, Belgium – is a lightweight electric wheelchair with a self-loading solution,  designed to offer greater independence to people with reduced mobility.
"Innovation and disruption is as much at the heart of how our engineers think now, as it was when Henry Ford first set about transforming the way we move," said Walter Pijls, supervisor, Innovation Management for Mobility, Ford of Europe. "Personal assistant devices can help people to cover the final kilometres of their journey quickly and easily, and to transport heavy objects they might not be able to carry."
The increase in innovation at Ford – as measured by invention disclosures – is expected to reach a company record in 2016, topping last year's record of more than 6,000. The number of individual Ford employees creating inventions also has reached record levels since the start of 2015, with more than 3,500 firsttime inventors submitting new innovations.
no images were found

.