• Dipendenti Nissan creano un prototipi di Leaf da 48 kWh, raddoppiando la capacità del modello di produzione da 24 kWh
• I tecnici formati da Nissan Innovation Team hanno lavorato al progetto durante la sera e nei weekend
• Il prototipo ha partecipato a diversi eventi di ECOseries, mettendo in mostra la sua maggiore autonomia e dimostrando l'impegno di Nissan per la sua visione per la mobilità intelligente
Fonte: Nissan Europe
Barcellona, Spagna. 21 luglio 2016. In una dimostrazione della loro passione per l'innovazione, gli ingegneri Nissan hanno creato nel loro tempo libero un prototipo di Nissan LEAF con una batteria da 48 kWh.
Seguendo i principi di continua ricerca e sviluppo dei veicoli elettrici del produttore, il prototipo da 48 kWh trasporta una batteria di due volte la dimensione del modello di produzione originale di Nissan LEAF, con un aumento del 75 per cento nelle condizioni di uso di tutti i giorni.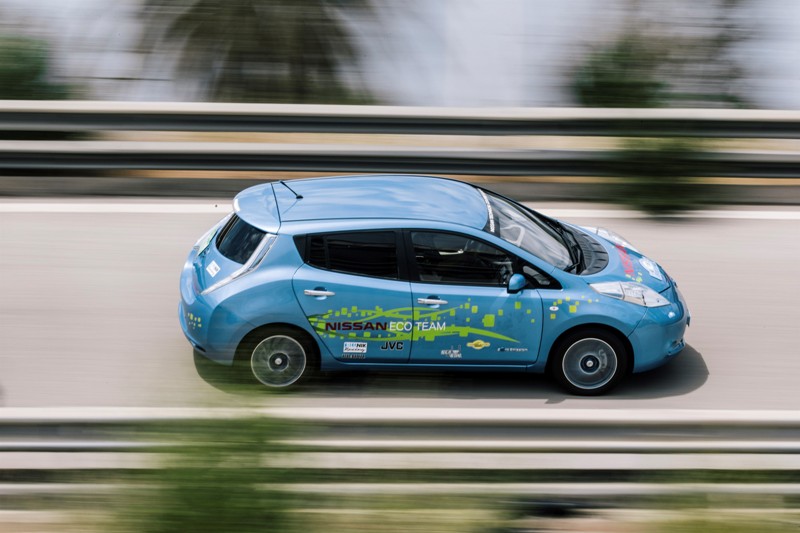 E' stato creato da un gruppo di ingegneri del Centro Tecnico Nissan a Barcellona (NTCE-S), la cui passione e l'impegno per il loro lavoro ha dato origine al team Nissan Innovation. La squadra di volontari assume una serie di iniziative interessanti, spingendo i confini di ciò che è possibile con la tecnologia dei veicoli elettrici.
Il prototipo, nome in codice "Cocoon" in riferimento al film di fantascienza americano con lo stesso nome, è stato costruito per competere nell'evento motoristico spagnolo, ECOseries – "Efficienza e risparmio di carburante piuttosto di solo velocità ", una nuova iniziativa che premia.
Dario Fernandez, Senior Engineer presso NTCE-S, ha dichiarato:
"E' stato un grande privilegio di lavorare su questo progetto e per vedere il nostro prototipo da corsa finire nelle ECOseries. Tutti noi abbiamo una vera passione per quello che facciamo e siamo in grado di lavorare su progetti quali quello del prototipo ci dà la libertà creativa di essere l più innovativi e lungimiranti possibile.

"Il miglioramento dell'autonomia della batteria è importante per l'adozione in corso di veicoli elettrici, e questa è stata una grande opportunità per utilizzare la nostra conoscenza della tecnologia ad emissioni zero e vedere come l'autonomia delle batterie potrebbe potenzialmente essere estesa in questa particolare applicazione."
Gareth Dunsmore, direttore dei veicoli elettrici di Nissan in Europa, ha dichiarato:
"In qualità di pioniere del mercato dei veicoli elettrici, Nissan ha costantemente innovato e avanzato la sua tecnologia per rimanere all'avanguardia del settore delle emissioni zero. Mentre non ci sono piani per mettere questo prototipo in produzione, serve come un esercizio utile da pensare fuori dagli schemi, qualcosa che i nostri ingegneri e progettisti fanno su una base quotidiana. Nissan LEAF 48 kWh mette in mostra la passione che i nostri dipendenti hanno per il loro lavoro ".
Questi progetti extracurricolari nutrono la visione di mobilità intelligente di Nissan e consentono ai dipendenti di attingere alla loro esperienza, le competenze e l'esperienza per sperimentare la tecnologia, il design e l'ingegneria. Il quadro di mobilità intelligente informa tutti i futuri prodotti di Nissan e le tecnologie, con l'obiettivo di sviluppare una rete di trasporto connessa ad emissioni zero, sostenibile ed intelligente.
Nissan ha introdotto la Nissan LEAF come primo mercato di massa al mondo nel 2010.
Da allora, il costruttore ha continuato a progettare e produrre soluzioni innovative ad emissioni zero, compreso il veicolo commerciale elettrico puro e-NV200 ed una LEAF di maggiore autonomia con una batteria da 30 kWh.
In English
Nissan employees build 48 kWh LEAF prototype in their spare time
Nissan employees create prototype 48 kWh LEAF, doubling the capacity of the  production 24 kWh model
Technicians formed from Nissan's Innovation team worked on the project during evenings and weekends
The prototype participated in several ECOseries events, showcasing its increased range and demonstrating Nissan's commitment to its vision for Intelligent Mobility
Source: Nissan Europe
Barcelona, Spain, 21st of July 2016. In a demonstration of their passion for innovation, Nissan engineers have created a prototype Nissan LEAF with a 48 kWh battery – in their spare time.
Following the manufacturer's principles of on-going research and development of electric vehicles, the 48 kWh prototype carries a battery twice the size of the original Nissan LEAF production model, with a 75 percent increase in driving range in everyday conditions.
It was created by a group of engineers at Nissan's Technical Centre in Barcelona (NTCE-S), whose passion and commitment to their work has given rise to the Nissan Innovation team. The team of volunteers take on a range of exciting endeavours, pushing the boundaries of what is possible with electric vehicle technology.
The prototype, codenamed "Cocoon" in reference to the American sci-fi film of the same name, was built to compete in the Spanish motorsport event, ECOseries – a new initiative which rewards "efficiency and fuel economy rather than outright speed."
Dario Fernandez, Senior Engineer at NTCE-S, said:
"It has been a great privilege to work on this project and to see our finished prototype race in the ECOseries. We all have a real passion for what we do and being able to work on prototype projects gives us the creative freedom to be as innovative and forward-thinking as we possibly can.

"Battery range improvement is important to the on-going adoption of electric vehicles, so this was a great opportunity to utilise our knowledge of zero-emissions technology to look at how battery range could potentially be extended in this particular application."
Gareth Dunsmore, Director of Electric Vehicles at Nissan Europe, said:
"As a pioneer of the electric vehicle market, Nissan has consistently innovated and advanced its technology to remain at the forefront of the zero emission sector. Whilst there are no plans to put this prototype into production, it serves as a useful exercise in thinking outside the box, something our engineers and designers do on a daily basis. The Nissan LEAF 48 kWh showcases the passion our employees have for their work."
These extra-curricular projects feed in to Nissan's Intelligent Mobility vision and allow employees to draw on their expertise, skills and experience to experiment with technology, design and engineering. The Intelligent Mobility framework informs all of Nissan's future products and technologies, with the aim of developing a smart, connected, sustainable zero emission transport network.
Nissan introduced the Nissan LEAF as the world's first mass-market, 100 percent electric vehicle in 2010. Since then, the auto-manufacturer has continued to design and produce innovative zero emission solutions, including the e-NV200 pure electric light commercial vehicle and a longer range LEAF with a 30 kWh battery.
no images were found

.