Jaguar Land Rover partecipa al progetto europeo di standardizzazione ed armonizzazione delle tecnologie sui veicoli autonomi
I Ministri dei Trasporti europei assistono ad una dimostrazione delle tecnologie di guida autonoma sviluppate da Jaguar Land Rover
I Ministri provano la guida "hands free" di Jaguar Land Rover
I Ministri dei Trasporti europei si riuniscono per accelerare la standardizzazione e l'armonizzazione dei veicoli autonomi
Fonte: Jaguar Land Rover
Amsterdam, Paesi Bassi. 15 Aprile 2016. Jaguar Land Rover ha oggi concretizzato il proprio apporto al piano europeo di standardizzazione ed armonizzazione delle tecnologie di guida autonoma con una dimostrazione europea, per le vie di Amsterdam, di veicoli ad elevata autonomia ai Ministri dei Trasporti – inclusi quelli a guida "hands free".
I ventotto partecipanti si sono incontrati al Consiglio dei Ministri dell'UE, per discutere l'importanza della standardizzazione e dell'armonizzazione, tecnica e legale, relative alla legalità della sperimentazione, alla vendita ed alle responsabilità associate ai veicoli autonomi.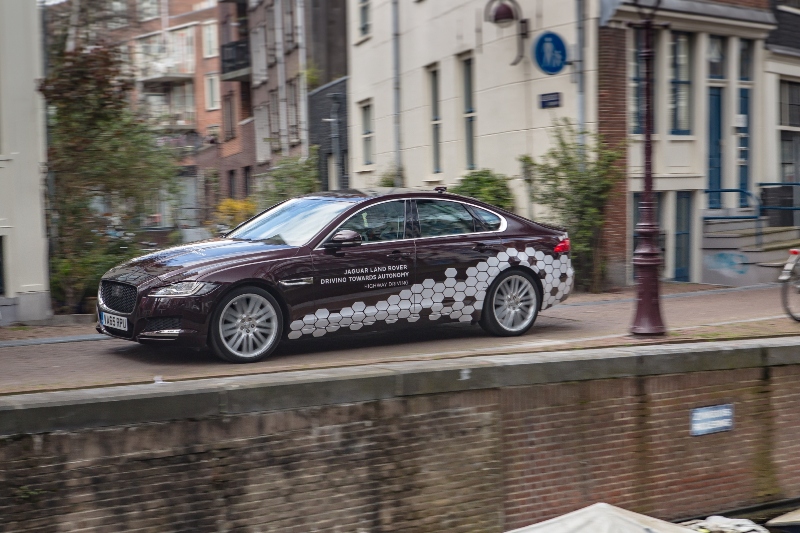 Wolfgang Epple, Director of Research and Technology di Jaguar Land Rover, dichiara:
"Stiamo tutti lavorando alle tecnologie di guida autonoma. Per introdurre con successo tali tecnologie, l'industria ha bisogno di un approccio comune tra costruttori, provider di telecomunicazione mobile ed i provider dei sistemi di infrastrutture che delimitano le strade".

"La standardizzazione e l'armonizzazione delle tecnologie, consentiranno ai veicoli di comunicare adeguatamente e con efficacia fra loro e con le infrastrutture stradali. Questo consentirà a Jaguar Land Rover di offrire ai propri clienti tecnologie all'avanguardia, accessibili ed economiche."
Note:
La vision di Jaguar Land Rover è di offrire la scelta fra guida autonoma e guida coinvolgente. In futuro la guida continuerà ad essere divertente – la macchina sarà in grado di guidarsi da sé se il pilota lo vorrà, ma anche di offrire sistemi intelligenti e adattabili ad una guida più coinvolgente e impegnativa.
La gamma di sensori ed i sistemi ADAS che condurranno alla guida autonoma renderanno i veicoli più sicuri anche con il pilota ai comandi. Al pari della concorrenza, il veicolo intelligente Jaguar Land Rover diverrà realtà nei prossimi 10 anni e già nel corso del 2016 sperimenterà queste tecnologie in situazioni reali.
no images were found

.