L'EV più rapida di sempre compie l'impresa di accelerare da 0 a 100 km/h in 2"
Gli studenti di due università svizzere hanno sviluppato grimsel, un bolide elettrico capace di bruciare lo 0-100 km/h in appena 1.785 secondi
Fonte: ElectricMobility
Dübendorf, Svizzera. 8 Gennaio 2015. Una monoposto elettrica sviluppata da trenta studenti ha ottenuto il nuovo record di accelerazione per vetture a zero emissioni, raggiungendo i cento all'ora con partenza da fermo in 1s785 millesimi.
Il risultato è ancor più sorprendente contando che è stato ottenuto percorrendo solo 30 metri.
L'automobile è stata soprannominata Grimsel (dal nome di un celebre passo alpino svizzero) e la sua paternità va riconosciuta agli istituti ETH Zürich e Lucerne University of Applied Sciences and Arts, i cui studenti hanno lavorato al progetto meno di un anno.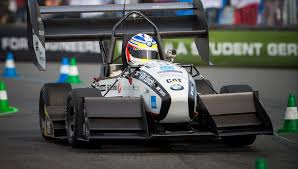 Il team ha raccolto in questo modo una sfida lanciata qualche tempo fa dalla Delft University of Technology, capace nello scorso dicembre di portare a termine il passaggio 0-100 km/h in 2.134 secondi e di conquistare un record che da alcuni giorni è stato nettamente migliorato.
La grimsel è realizzata in fibra di carbonio e pesa solo 168 chili, raggiunge la velocità massima di 120 km/h e le sospensioni rispettano una geometria push-rod tanto all'anteriore quanto al posteriore.
I suoi quattro motori elettrici (uno per ruota) sviluppano circa 200 CV totali e pesano 3.7 chili l'uno, ma garantiscono soprattutto un valore di coppia massima superiore a 1.630 Nm.
La trasmissione è a rapporto singolo, mentre il telaio pesa solo 18.3 chili (inclusa la cellula di protezione) ed è talmente robusto da assicurare un valore di rigidità torsionale pari a 4500 Nm/deg.
Gli studenti hanno poi calibrato la risposta del controllo di trazione: il sistema interveniene su ciascuna ruota e garantisce così la massima trazione, azzerando le perdite di aderenza.
Grimsel è l'ultima evoluzione di una monoposto lanciata inizialmente nel 2007, pesante allora 258 chili e capace di accelerare da 0 a 100 km/h in 3.7 secondi.
Il record è stato battuto presso l'aeroporto militare di Dübendorf.
no images were found