Vi ricordate la bike a ruota singola?
Ci ha scritto Chris Hoffmann, CEO di Ryno Motors e con piacere pubblichiamo la sua lettera
Luglio 2017.
Ryno riders:
Un grande grazie a ciascuno di voi per il vostro sostegno e il continuo interesse per ciò che stiamo cercando di realizzare a Ryno Motors. Voi siete il motivo per cui noi siamo qui!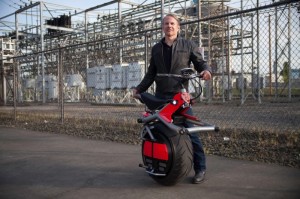 Probabilmente ti stai chiedendo cosa sia successo dopo il lancio della nostra bike monoruota. Beh, abbiamo inviato 20 bikes ad alcuni clienti globali. Abbiamo aperto alcuni concessionari sulla costa occidentale, ma abbiamo trovato un problema di brevetto che ci ha fermato, rendendo impossibile la spedizione dei veicoli. Ora abbiamo accesso ai diritti necessari e stiamo passando a un modello costruito sotto licenza. Rimanete sintonizzati per vedere quando ci assicuriamo un partner produttivo ed entriamo in produzione.
Come amministratore delegato di Ryno Motors ho imparato molto per quanto riguarda essere il fondatore di una start-up, un imprenditore e uomo in evoluzione. Quello che ho imparato può essere letto nel mio nuovo libro Heart in Gear, un viaggio erotico di un ingegnere verso la libertà, dove si racconta tutta la storia dell'esperienza Ryno e che cosa sia significato passare da ingegnere capo a uomo completamente sveglio e vivo.
Vedi il mio nuovo sito dedicato al libro: www.heartingear.com per avere un senso di ciò che il mio viaggio mi ha insegnato.
razie per il tuo supporto continuo. Farò un lavoro migliore per tenervi informati da ora in poi.
Cordiali saluti,
Chris Hoffmann, CEO
Ryno Motors
In English
What Happened to RYNO Motors?
Do you remember the single wheel bike?
We received a letter from Chris Hoffmann, CEO Ryno Motors and with pleasure we publish his letter
July 2017.
Ryno Riders:
A big thanks to each and every one of you for your support and continued interest in what we are trying to accomplish at RYNO Motors.  You are the reason we are here!
You are probably wondering what happened to our forward momentum. Well, we shipped 20 amazing bikes to a handful of global customers. We opened a few dealers on the west coast but found a patent issue that stopped us cold making it impossible to ship bikes. We now have gained access to the rights we need and are shifting to a licensing model. Stay tuned to see when we secure a manufacturing partner and go into production.
As CEO of RYNO Motors I've learned a lot about being a start-up founder, entrepreneur and evolving man. What I've learned, can be read in my new book HEART in GEAR, An Engineer's Erotic Journey to Freedom. It tells the whole story of my RYNO experience and what it's been like to go from an up in my head engineer to a fully awake and alive man.
See my new book focused web site here: www.heartingear.com to get a sense of what my journey has taught me.
Thank you for your ongoing support. I'll do a better job of keep you all posted from now on.
Sincerely,
Chris Hoffmann, CEO
RYNO Motors
no images were found

.