Fonte: Porsche Italia
Stoccarda, Germania. Padova, Italia. 29 Maggio 2015. Ventiquattro ore di corsa in pista sono molto lunghe. Ma l'operazione "Le Mans", dura molto di più. Il 18 Maggio, il team Porsche ha iniziato a radunarsi nel paddock del famoso circuito nel nordovest della Francia.
Un gruppo iniziale di 12 persone sta allestendo la struttura di due piani in acciaio dietro il garage e il container a due piani per il magazzino e le stanze dei piloti.
Il 27 Maggio, i camion a pieno carico del team hanno lasciato Weissach per raggiungere la città nel dipartimento della Sarthe a 800 km di distanza.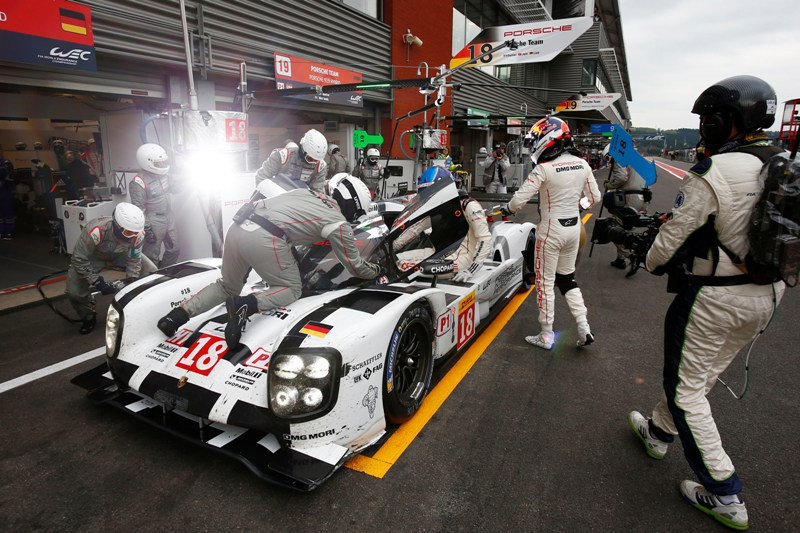 Otto membri del team predisporranno il garage per tre Porsche 919 Hybrid. Nello stesso momento, altre squadre allestiranno il Team and Media Hospitality nel paddock, l'area Hospitality riservata agli ospiti nel nuovo Porsche Experience Center, l'area per i fan nel cosiddetto Village, i guest lounge nelle curve Porsche e le stanze sopra il garage. Inoltre, sarà allestito un campo per 750 collaboratori provenienti da tutte le sedi Porsche.
Tutti verranno a tifare per le vetture più estreme dell'azienda, che affronteranno la loro sfida più importante equipaggiate con la tecnologia che verrà successivamente impiegata nelle vetture sportive del futuro per l'uso su strada. Le potenti auto da corsa ibride, con circa 1.000 CV, rappresentano una piattaforma di sviluppo ideale per concetti di propulsione innovativi.
Tutto ciò che serve per mettere in pista le tre 919 Hybrid, deve essere pronto per il pre-test ufficiale del 31 maggio. Quando inizierà la gara, 13 giorni più tardi, sul posto saranno presenti 120 membri del team, 2.500 rappresentanti dei media provenienti da 49 Paesi e 270.000 spettatori.
Alla guida di Fritz Enzinger, Vice Presidente LMP1, il Direttore del Team, Andreas Seidl, si occupa di tutti gli aspetti operativi. Durante la gara, lui sarà in quella che è conosciuta internamente come la "Space Station", nella parte anteriore del garage, il centro nevralgico di raccolta di tutte le informazioni. Accanto a Seidl sarà presente il Caposquadra Amiel Lindesay.
Coordinandosi con gli ingegneri di gara, il neozelandese delegherà via radio i compiti ai 19 meccanici, comunicando loro quale sarà il successivo kit di pneumatici da montare, quanto combustibile servirà alla vettura e qualsiasi altro compito da svolgere durante un pit stop. Seidl sarà in costante contatto via radio con le vetture e con gli ingegneri ai quali parlerà dal pit radio e dai canali "Interkomm". A prescindere che si tratti dei commenti dei piloti, dello stato tecnico delle vetture, della scelta delle gomme, della strategia del pit stop, delle osservazioni sulle condizioni meteo o sulla gara, Seidl è il fulcro attorno al quale ruota tutto. Deve quindi mantenere mente lucida e nervi saldi, canalizzare tutti i tipi di informazione e prendere decisioni immediate.
Il bavarese è ben consapevole del fatto che: "Coordinare tre vetture è una sfida ancora più grande per tutti noi. La corsa di Spa ci ha dato un assaggio di quello che serve, ma si è trattato solo di una gara di sei ore. Abbiamo usato le nostre 30 ore di test per sperimentare molte condizioni possibili. Tuttavia, non è possibile simulare Le Mans e, senza un team di grandi professionisti, non si può affrontare la gara con successo".
Gli ingegneri di gara occupano le tribune coperte, presso il muretto dei box, con sei schermi davanti a loro. Solo gli ingegneri di gara comunicano via radio con i piloti. Su un canale pit radio separato e sull'Interkomm si aggiornano con Lindesay, Seidl, altri tecnici e altri membri del team.
Per ogni vettura è prevista una stazione di questo tipo sul muretto del pit.
Il prototipo rosso N. 17 è guidato da Timo Bernhard, Brendon Hartley e Mark Webber. Al volante della N. 18 nera ci saranno Romain Dumas, Neel Jani e Marc Lieb. A bordo della N. 19 bianca ci saranno invece Earl Bamber, Nico Hülkenberg e Nick Tandy.
L'ingegnere di gara per la N. 17 è Kyle Wilson-Clarke (Gran Bretagna). Nella stazione per la N. 18 siede l'ingegnere di gara Mathieu Galoche (France), mentre per la N. 19 il responsabile è Stephen Mitas (Australia). L'australiano è anche l'ingegnere capo di gara per le tre Porsche 919 Hybrid.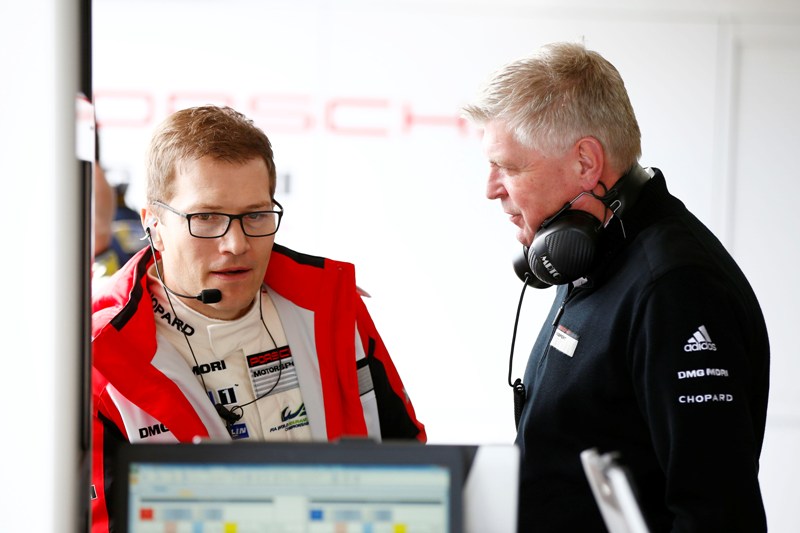 Ad ogni vettura è assegnata una squadra di ventitré persone: ingegnere di gara, performance engineer, tecnico elaborazione dati, ingegnere sviluppo sistemi ibridi, ingegnere motore, system performance engineer, ingegnere dei sistemi a 12V, ingegnere informatico, ingegnere in applicazioni per motori, ingegnere trasmissione, ingegnere gestione aerodinamica su circuito, capo meccanico, meccanico asse anteriore, meccanico asse posteriore, meccanico motore, meccanico trasmissione, meccanico compositi, elettricista, addetto al rifornimento, addetto pneumatici, magazziniere, un meccanico che si occupa del condotto dell'aria e del serbatoio del combustibile e una persona jolly. Sessantotto uomini e una donna (un ingegnere del cambio) sono completamente concentrati sulle vetture.
Le 90 pagine del regolamento sportivo definiscono le modalità da seguire per effettuare un pit-stop. È previsto un limite di velocità di 60 km/h nel pit lane, la vettura deve parcheggiare ad almeno 50 cm dalla parete o dalla linea che segna i limiti dell'area di lavoro e non più di quattro membri del team sono autorizzati a spingere la vettura in garage nel caso in cui sia necessario. La vettura può ripartire solo quando è parallela alla pista nell'area di lavoro di fronte al garage, possibilmente evitando lo slittamento delle ruote, altrimenti verrà applicata una penalità stop and go. Nel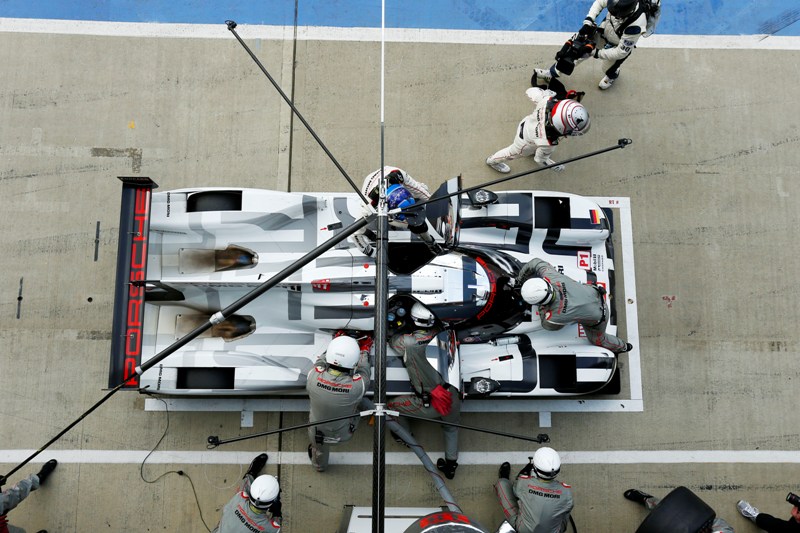 corso di tutti i pit stop, il motore deve essere spento e durante il rifornimento (serbatoio da 68,5 litri), l'auto deve avere le ruote poggiate a terra. Sulla pista di Le Mans, lunga 13,629 km, la Porsche 919 Hybrid può utilizzare al massimo 4,76 litri di carburante per giro, che consentono un'autonomia di 14/15 giri. Due meccanici sono autorizzati ad effettuare il rifornimento di carburante, un altro meccanico deve essere pronto con un estintore e l'addetto alla valvola di taglio alimentazione deve essere alla propria postazione. Contemporaneamente, due meccanici provvedono alla pulizia di parabrezza, fari, specchi e telecamere, raccolgono i dati registrati e controllano la messa a terra della vettura.
Durante il rifornimento è possibile effettuare un cambio del pilota, ma il tempo impiegato al pit stop per il solo rifornimento di carburante non è sufficiente. Pertanto, i cambi del pilota avvengono solo quando sono necessari nuovi pneumatici.
Dopo il rifornimento di carburante, un martinetto pneumatico solleva la vettura. Per un cambio gomme possono lavorare contemporaneamente sulla vettura al massimo due meccanici, e può essere utilizzato un solo avvitatore pneumatico. Un secondo avvitatore pneumatico e altri due meccanici sono coinvolti in una procedura simile a staffetta. Con un'organizzazione perfettamente sincronizzata sfrecciano fuori e di nuovo nel garage per allentare le ruote, toglierle, montare le nuove e serrarle. Nella squadra Porsche, un cambio gomme perfetto si svolge in 19 secondi. A Le Mans è previsto non prima di due turni, di notte le squadre cercano di raddoppiare l'intervallo tra i cambi gomme. Un pilota rimane nell'auto per un periodo di quasi quattro ore, durante le quali copre la distanza equivalente a due Gran Premi di Formula Uno.
Se necessario, altre persone possono cambiare il registratore di dati o il misuratore di flusso del carburante. In ogni caso, tutto il personale deve essere di nuovo in garage prima che il pilota riparta. Dopodiché, egli può contare solo su se stesso. Se si verifica un problema tecnico in pista, può utilizzare solo il kit utensili di base presente a bordo.
no images were found