La mia storia: come una donna ha costruito una moto elettrica a 3 ruote nel suo garage ed ha segnato il record mondiale di velocità
di Rachel Swetnam
Fonte: Guiness World Records via Eva Håkansson
27 Gennaio 2016. Eva Håkansson (Svezia) è entrata di diritto nel libro dei record nel 2014 quando il suo KillaJoule ha raggiunto una velocità impressionante di 387,32 kmh (240,72 mph) nelle Bonneville Salt Flats nello Utah, Stati Uniti d'America, essendo il più veloce motociclo elettrico a 3 ruote della storia.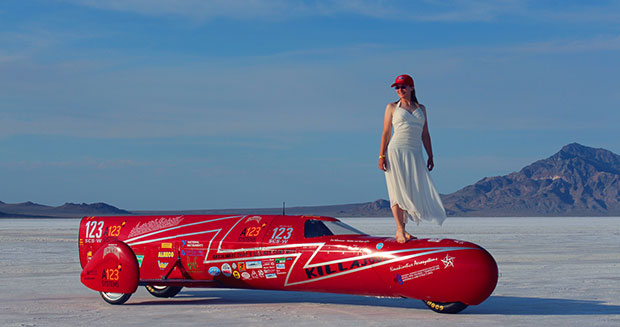 Eva, che ha una laurea in ingegneria meccanica e sta lavorando per un dottorato di ricerca nello stesso soggetto, ha progettato e costruito se stessa il KillaJoule.
Si spera che la sua realizzazione cambi il mondo mostrare agli altri che i veicoli eco-compatibili sono in grado di essere veloci ed emozionante e che "le donne possono essere ottime ingegneri".
Il Guinness World Records ha recentemente raggiunto Eva per chiederle alcune domande circa lo sviluppo del KillaJoule, e come ci si sente ad essere una detentrice del record nel contestatissima campo della velocità su terra…
Cosa ti ha spinto a costruire la più veloce moto elettrica a 3 ruote?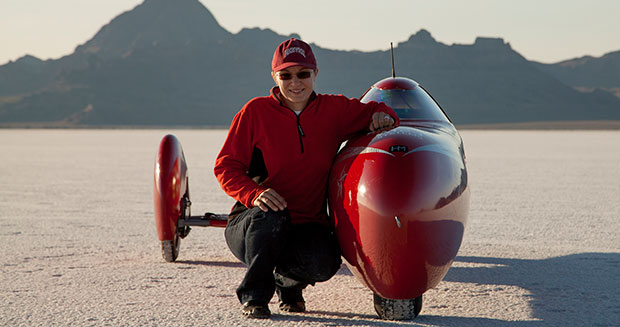 Io la chiamo KillaJoule "eco-attivismo sotto mentite spoglie". La mia missione è quella di dimostrare che eco-friendly può essere anche veloce e divertente, e, auspicabilmente, rendere le persone che altrimenti non sarebbero interessati a veicoli a basse emissioni, consapevoli del loro potenziale. La velocità è un ottimo modo di mostrare le capacità di carica della batteria, in quanto essere veloce è sempre di moda!
Le corse elettriche è come il cioccolato senza calorie: mi dà tutto quello che voglio – potenza, velocità e coppia, senza le cose che non voglio – inquinamento e rumore.
Come sei arrivata a tanto?
Stavamo correndo con mio marito con le moto dragracing di Bill Dube, il Killacycle, stabilendo nuovi record nel 1/4 di miglio. Il miglior tempo di Killacycle nel 1/4 di miglio era di 7,6 secondi, che è di tutto rispetto nell'ambiente del dragracing, ma quasi impossibile da comunicare al pubblico. "Eh? 7,6 secondi per che cosa? A 60 mph? Questo non è molto veloce", è stato il commento frequente. Bill ed abbiamo deciso che dovevamo fare qualcosa per rendere le persone interessate ai veicoli elettrici.
Qual era il tuo obiettivo quando avete cominciato a costruire il KillaJoule?
Ho deciso che volevo la risposta alla domanda "Quanto è veloce?" Per essere veloce almeno "300 mph" (484 kmh) non abbiamo avuto il budget nè lo spazio nel garage per la macchina, quindi doveva essere una moto. Dopo alcune fallite partnership con altre persone, abbiamo deciso di fare tutto da soli e finanziarlo di tasca nostra. Non avendo mai costruito una moto streamliner noi stessi, siamo stati incredibilmente ottimisti. Abbiamo pensato che sarebbe bastato prendere circa sei mesi e un budget di 10.000 dollari. Abbiamo finito per prendere 10 volte di più tempo e ci è costato 10 volte di più …. ma alla fine ne è valsa la pena!
Quanto è il costo del KillaJoule?
Avremmo potuto finire di pagare il nostro mutuo se non avessimo costruito il KillaJoule, ma questo non sarebbe stato altrettanto divertente.
Hai davvero costruire il KillaJoule ta stessa?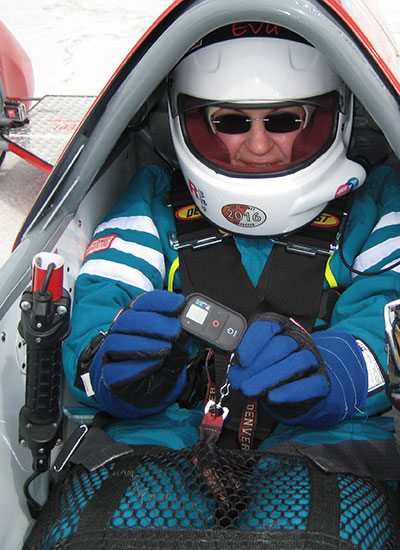 Circa l'80 per cento delle ore, sangue, sudore e lacrime che è andato nel KillaJoule sono mie. Il resto è stato costruito dalla famiglia e dagli amici. La moto è stata costruita da zero nel mio garage per due auto dietro casa mia.
Perché corsa di velocità su terra?
La corsa di velocità su terra è l'ultima corsa completamente illimitato dove si incoraggia l'ingegneria innovativa. La maggior parte delle corse regolari sono regolate in modo che non ci sia spazio per l'innovazione. Inoltre, i record di velocità sono così tangibili e facili da comunicare perché tutti possono riguardare la velocità. Quando si tenta un nuovo record, non solo bisogna battere gli altri concorrenti nello stesso evento, ma battere tutti nella storia! Questo è figo!
Quali sono le principali differenze ed i vantaggi rispetto a una moto alimentata a gas?
Il vero vantaggio dell'azionamento elettrico è che è sulla frontiera delle corse e che c'è molto terreno vergine. Le batterie moderne, come le celle A123 Systems agli ioni di litio del KillaJoule, insieme ai motori e controller leggeri disponibili e potenti di oggi, che non erano disponibili solo pochi anni fa, danno ai veicoli a trazione elettrica un vantaggio sorprendente nelle corse di velocità su terra.
Ci può far capire di più riguardo la tecnologia che è stata utilizzata sulla moto?
Il KillaJoule è semplicemente un trapano a batteria gigante con ruote. Si tratta di un motore, una batteria, e una valvola a farfalla, oltre a ruote, proprio come il vostro trapano a batteria. Non c'è frizione, è senza carburatore, nessuna trasmissione, senza volano, nessun sistema di scarico, senza albero a camme.
Il motore elettrico è collegato direttamente alla ruota posteriore con una catena da moto. E' davvero semplice come questo. L'acceleratore, che è una manopola come in ogni altra moto, è l'equivalente di un "controllo di volume" in un autoradio. È' un resistore variabile che indica al controllo elettronico a stato solido del motore quanta corrente elettrica necessita per consentire di fluire attraverso il motore. La coppia del motore è direttamente proporzionale alla corrente (amperaggio) che scorre verso il motore.
Come ti prepari per una gara?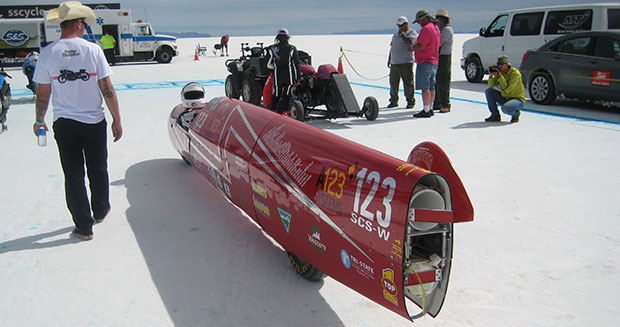 Anche se ho bisogno di essere abbastanza in forma per il lavoro, la mia moto è il vero atleta. Si richiede "cura e alimentazione" proprio come un cavallo da corsa o un aereo. Tutto è spinto al limite durante un tentativo di record, in modo che tutte le parti devono essere in ottime condizioni e di prim'ordine. Con una breve stagione di gare – le saline sono asciutte solo nel mese di agosto e settembre di ogni anno – i preparativi per il tentativo di record del prossimo anno iniziano il giorno dopo quando si torna dalla gara.
Il sale corrosivo c'è in tutto il mondo e deve essere pulito, un processo che può prendere ogni sera per un mese. Le cose che si sono rotte devono essere fissate. Ci sono sempre parti che devono essere verniciate, qualsiasi piccolo graffio nella vernice sul telaio e l'acciaio inizia ad arrugginirsi. Tutti gli impianti elettrici devono essere controllati, a bordo l'impianto antincendio deve essere ricaricato, il rivestimento antifiamma deve essere lavato e controllato e così tante altre cose.
Quali sono i vostri obiettivi per il futuro sviluppo del veicolo?
Essere più veloci!
Cosa significa per te essere una detentrice del titolo Guinness World Records?
E' praticamente il sogno di ogni pilota quello di esserci nel libro Guinness dei primati. E' davvero una conferma che si sta facendo qualcosa di giusto. La conferma è importante, perché non ci sono soldi in premi e raramente eventuali trofei in questa disciplina.
Spesso mi sono posta la questione di come ci si sente a fare una corsa da record. Vorrei poter dire che si tratta di una grande corsa, ma non è davvero così. La cosa più vicina che può descrivere questo è come un lungo mix di orrore, noia e magia in due minuti. Stabilire un nuovo record vuol dire che sto andando più veloce di quanto io sia mai andata prima, e che la moto sta andando più velocemente di quanto non sia mai andata. Accelerare fino ad una velocità dove ci sono arrivata prima è di solito così tranquillo che è quasi noioso, ma non appena si supera quella velocità si sta entrando in un territorio inesplorato. Anni di lavoro finalmente pagano, ed è come se il tempo si fermassi.
Quando ho finito una corsa, tutto il mio nervosismo e disagio svaniscono rapidamente e vengono sostituiti da un sorriso enorme. Io dico: "Beh, questo è stato facile, facciamolo di nuovo".
Qui puoi vedere il video
httpv://www.youtube.com/watch?v=0Vsr_GwzFUQ
In English
My Story: How one woman built a 3-wheeled electric motorcycle in her garage and set a landspeed record
by Rachel Swatman
Fonte: Guiness World Records via Eva Håkansson
27 January 2016. Eva Håkansson (Sweden) sped into the record books in 2014 when her KillaJoule reached a staggering speed of 387.32 km/h (240.72 mph) – the Fastest streamlined 3-wheeled electric motorcycle speed in history – at the Bonneville Salt Flats in Utah, USA.
Eva, who has a master's degree in mechanical engineering and is working towards a PhD in the same subject, designed and built the KillaJoule herself.
She hopes her world-changing achievement will show others that eco-friendly vehicles can be fast and exciting and that "women can be excellent engineers".
Guinness World Records recently caught up with Eva to ask her some questions about the development of the KillaJoule, and what it feels like to be a record holder in the hotly contested field of landspeed…
What motivated you to build the fastest streamlined 3-wheeled electric motorcycle?
I call KillaJoule "eco-activism in disguise". My mission is to show that eco-friendly can be fast and fun, and hopefully make people that otherwise wouldn't be interested in low-emission vehicles be aware of their potential. Speed is a great way of showing the capabilities of battery power, because fast is always in fashion!
Electric racing is like chocolate without calories: it gives me everything I want – power, speed, and torque, without the things I don't want – pollution and noise.
How did it all come about?
We were racing my husband Bill Dube's dragracing motorcycle the KillaCycle, setting new records in the 1/4 mile. KillaCycle's best time ever in the 1/4 mile was 7.6 seconds, which is very respectable in dragracing circles, but almost impossible to communicate to the public. "Huh? 7.6 seconds to what? To 60 mph? That's not very fast", was a frequent comment. Bill and I decided that we had to do something else to make people interested in electric vehicles.
What was your goal when you first began to build the Killajoule?
I decided that I wanted the answer to the question "How fast is it?" to be at least "300 mph" (484 km/h). We didn't have the budget or garage space for a car, so it had to be a motorcycle. After some failed partnerships with other people, we decided to do everything ourselves and finance it out of our own pockets. Never having built a streamliner motorcycle ourselves, we were ridiculously optimistic. We thought it would take about six months and a budget of $10,000. It would end up taking 10 times longer and cost us 10 times more…. but it was worth it in the end!
How much has the KillaJoule cost?
We could have paid off our mortgage if we hadn't built the KillaJoule, but that wouldn't have been nearly as much fun.
Did you really build the KillaJoule yourself?
About 80 per cent of the hours, blood, sweat, and tears that went into the KillaJoule are mine. The rest is built by family and friends. The motorcycle is built from scratch in my two-car garage behind my house.
Why land speed racing?
Land speed racing is the last fully unlimited racing where innovative engineering is encouraged. Most regular racing is so regulated that there is no room for innovation. Also, speed records are so tangible and easy to communicate, everybody can relate to speed. When you set a new record, you don't just beat the other competitors at the same event, you beat everybody in the entire history! That's cool!
What are its main differences and advantages when compared with a gas-powered motorcycle?
The real advantage of electric drive is that it is on the frontier of racing and very much virgin soil. Modern batteries, like the A123 Systems Li-Ion cells in the KillaJoule, coupled with lightweight and powerful motors and controllers available today, that were not available just a few years ago, give electric drive vehicles a surprising edge in land speed racing.
Could you give us a little insight into the technology you used on the motorcycle?
The KillaJoule is simply just a giant cordless drill with wheels. It is a motor, a battery, and a throttle, plus wheels, just the same as your cordless drill scaled up. There is no clutch, no carburetor, no transmission, no flywheel, no exhaust system, no camshaft.
The electric motor connects directly to the rear wheel with a motorcycle chain. It really does not get much simpler than that. The throttle, which is a twist grip like every other motorcycle, is the equivalent of a "volume control" on a car stereo. It is a variable resistor that tells the solid-state electronic motor controller how much electric current to allow to flow through the motor. The motor torque is directly proportional to the current (amperage) that flows though the motor.
How do you prepare for a race?
Even if I need to be quite fit for the job, my motorcycle is the real athlete. It requires "care and feeding" just like a race horse or airplane. Everything is pushed to its limits during a record attempt, so all the parts have to be in top notch condition. With a very short racing season – the salt flats are only dry in August and September every year – the preparations for next year's record attempt begin the day after you come back from the race.
Corrosive salt gets in everywhere and has to be cleaned out, a process that can take every evening for a month. Things that are broken have to be fixed. There are always parts that need to be painted, any little scratch in the paint on the frame and the steel starts to rust. All electrical systems have to be checked, onboard fire extinguisher system has to be serviced, flame suit has to be washed and checked, and a gazillion other things.
What are your aims are for the future development of the vehicle?
To be faster!
What does it mean to you to be a Guinness World Records title holder?
It is pretty much every racer's dream to make into the Guinness World Records book. It is really a confirmation that you are doing something right. The confirmation is important, because there is no prize money and rarely any trophies in this discipline.
I often get the question how it feels to make a record-breaking run.  I wish I could say that it is a big rush, but it isn't really. The closest I can describe it as a two minute long mix of horror, boredom, and magic. Setting a new record means that I am going faster than I ever have gone before, and that the bike is going faster than it ever has. Accelerating up to a speed where I have been before is typically so uneventful that it is almost boring, but as soon as you surpass that speed you are entering uncharted territory. Years of work finally pay off, and it is like time stops.
When I have finished a run, all my nervousness and discomfort quickly vanishes and is replaced by a huge grin. I say, "Well, that was easy, let's do it again".
Here you can see the video
httpv://www.youtube.com/watch?v=0Vsr_GwzFUQ
no images were found

.