Questo fine settimana Citroën ha portato l'estate in città con E-Mehari nella "Plage de la Batille"
Fonte: Citroën
Parigi, Francia. 24 Maggio 2016. Questo fine settimana, Citroën ha invitato i parigini alla PlageDeLaBastille ("Spiaggia della Bastiglia").
Più di 3.500 persone hanno affollato la Place de la Bastille, trasformata in una spiaggia urbana per il fine settimana. Con sedie a sdraio, sabbia, palme, eventi speciali e DJ, Citroën ha portato l'estate in città!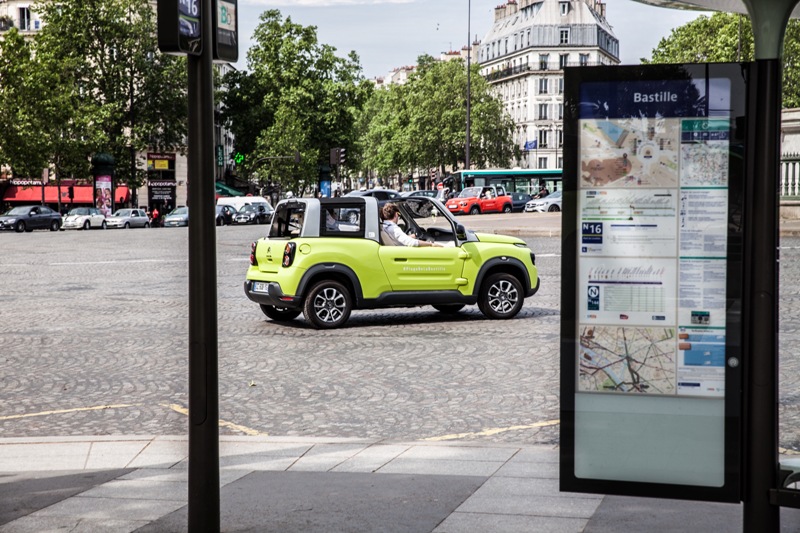 E-MehariI, elettrizzante spirito libero del brand, era nel suo elemento, sulla spiaggia, di fronte al porto Bastille.
Più di 150 persone sono state in grado di provare su strada questaq cabriolet elettrica a 4 posti.
Citroën ha preso la Bastiglia dalla tempesta, con il supporto del Municipio di Parigi, nel fine settimana del 21 e 22 maggio. Oltre 3.500 persone hanno goduto delle attività gratuite aperte a tutti in un clima di festa piena di sorprese.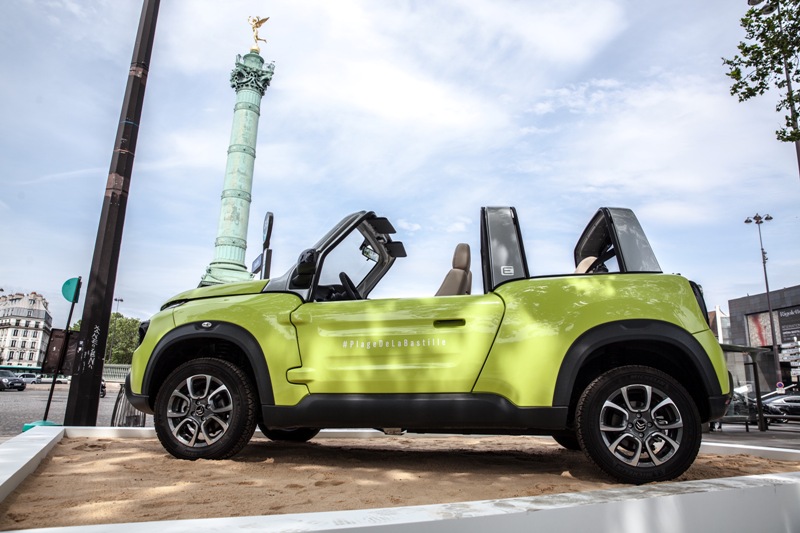 Un campo da beach volley e bocce erano a disposizione per famiglie e amici. L'aggiunta di un ulteriore tocco per l'atmosfera di vacanza, i visitatori hanno potuto anche provare un simulatore di surf. Che diffonde una brezza più fresca, Glaces Glazed ha fornito il gelato mentre Vai Vai, partner della manifestazione, ha distribuito acqua di cocco. Ultimo, con il photocall E-Mehari, tutti i visitatori sono stati in grado di portare via un ricordo di un grande giorno.
La stella del weekend è stata innegabilmente l'elettrizzante spirito del marchio con la E-Mehari, un'elettrica cabriolet a 4 posti che era disponibile per i test drive.
Più di 150 persone sono state in grado di godere la guida attraverso le strade di Parigi con il vento tra i capelli.
In English
Citroën brought summer to the city this weekend with E-Mehari at Plage de la Bastille
Source: Citroën
Paris, France. 24th May 2016. This weekend, Citroën invited Parisians to PlageDeLaBastille.
More than 3,500 people flocked to the Place de la Bastille, transformed into an urban beach for the weekend. With deck chairs, sand, palm trees, special events and DJs, Citroën brought summer to the city!
E-MEHARI, the brand's electrifying free spirit, was in its element, on the beach, facing Bastille port.
More than 150 people were able to test drive this electric 4-seater convertible.
Citroën took the Bastille by storm, with the support of Paris City Hall, over the weekend of 21 and 22 May. More than 3,500 people were able to enjoy the free activities open to everybody in a festive atmosphere that was full of surprises. A beach volley court and French bowls court were available to families and friends. Adding a further touch to the holiday atmosphere, visitors could even try out a surfing simulator.
Wafting a cooler breeze, Glaces Glazed provided ice-cream while Vaï Vaï, a partner at the event, distributed coconut water. Last, with the E-MEHARI photocall, all visitors were able to take away a souvenir of a great day.
The star of the weekend was undeniably the brand's electrifying free-spirit, E-Mehari, an electric 4-seater convertible that was available for test drives. More than 150 people were able to enjoy driving through the streets of Paris with the wind in their hair.
no images were found

.