Cinque motivi per andare elettrico … e come verrà offerta la Chevrolet Bolt EV
Non siete ancora andati in elettrico? L'ultimo veicolo elettrico di Chevrolet, la Bolt EV, potrebbe convincervi a fare il grande passo. I tecnici GM hanno progettato questo spazioso e luminoso piccolo crossover hatchback per …il bene di tutti.
Source: General Motors
Detroit. Michigan. USA. January 2016. Ecco come sono le misure della Bolt EV:
Autonomia. La Bolt EV offrirà più di 200 miglia di autonomia di serie (320 km) con una carica completa, che è paragonabile a circa la metà del serbatoio di carburante. Una carica da 240V vi darà una "fill-up" media dopo la percorrenza da pendolare di meno di due ore. Un'applicazione sul telefono consente di controllare la vostra carica prima ancora di restare senza energia.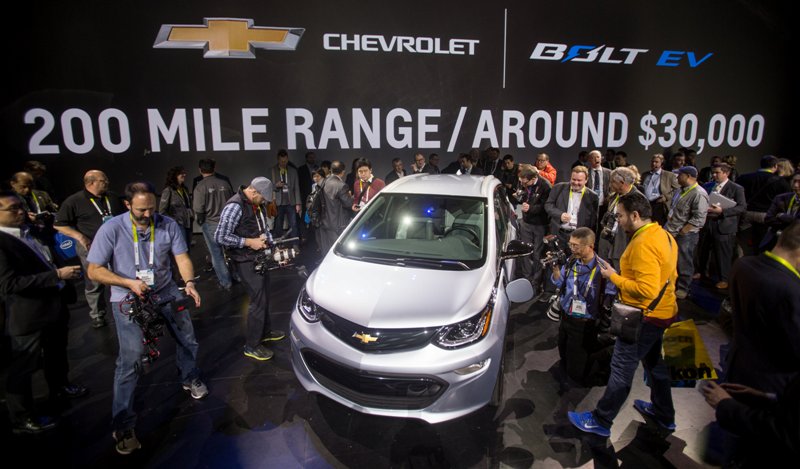 Prezzo di listino. È possibile acquistare la Bolt EV a circa 30.000 dollari, dopo i 7.500 dollari di incentivi federali.
Prestazioni. Può sembrare una vettura compatta, ma c'è molta della filosofia di Detroit sotto il cofano della Bolt EV. Questa reattiva auto animata può facilmente fare zig zag nelle curve e passare da 0 a 60 mph in sette secondi.
Tecnologia. Bolt EV ha anche caratteristiche tecnologiche quali il 4G LTE, uno schermo da 10″ di infotainment e di opzioni di personalizzazione che ricordano la tua musica preferita e le impostazioni. E anche in grado di utilizzare l'ultima tecnologia mobile app per attivare il car sharing.
Spaziosità. Questa è una macchina da cinque persone con una sorprendente quantità di spazio per le gambe grazie ai sedili anteriori scolpiti. Le grandi finestre sottolineano la spaziosità e l'atmosfera ariosa luminosa degli interni. Complessivamente, si tratta di quasi 17 piedi cubi di spazio – maggiore della percentuale di riferimento delle vetture piccole.
Il CEO di GM Mary Barra ha chiamato la Bolt EV come il primo veicolo elettrico che offre autonomia a lungo raggio ad un prezzo accessibile. Allora, chi dovrebbe comprare questa macchina?
"Chiunque voglia risparmiare in tempo, denaro e l'ambiente in una macchina che è veramente divertente da guidare", ha detto Barra.
Questa vettura riflette dell'innovazione e l'approccio customer-centric di Chevrolet. Andrà in produzione a fine 2016.
In English
Five Reasons to go Electric … And How the Chevrolet Bolt EV Delivers
Haven't gone electric yet? Chevrolet's latest electric vehicle, the Bolt EV, might convince you to take the plunge. Our engineers designed this roomy and bright small crossover hatchback for…well, everyone.
Source: General Motors
Detroit. Michigan. USA. January 2016. Here's how the Bolt EV measures up:
Range. The Bolt EV will offer more than 200 miles of range on a full charge, which is comparable to about a half tank of gas. A 240V charge will give you a "fill-up" after the average commute in less than two hours. An app on your phone lets you check your charge before you even step outside.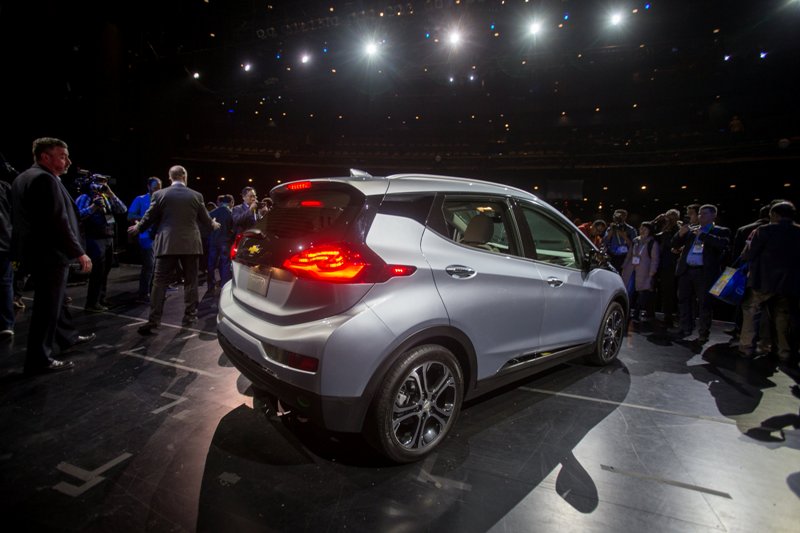 Price tag. You can buy the Bolt EV for about $30,000, after $7,500 in federal incentives.
Performance. It may look like a compact, but there's a lot of Detroit muscle under Bolt EV's hood. This responsive, peppy car can effortlessly zip around corners and go from 0 to 60 in seven seconds.
Technology. Bolt EV also has technology features such as 4G LTE, a 10" infotainment screen and personalization options that remember your favorite music and settings. It's even capable of using the latest mobile app technology to enable car sharing.
Spaciousness.  This is a five-person car with a surprising amount of legroom thanks to sculpted front seats. The large windows emphasize the interior's spaciousness and bright airy feel. Altogether, it's nearly 17 cubic feet of space – bigger than the current small-car benchmark.
GM CEO Mary Barra called the Bolt EV the first electric vehicle that cracks the code of long range at an affordable price. So who should buy this car?
"Anyone who wants to save time, money, and the environment in a car that is truly fun to drive," said Barra.
This car is reflective of the innovation and customer-centric approach at Chevrolet. It'll go into production in late 2016.
no images were found

.