Fonte: Chevrolet
Detroit, Michigan. USA. 13 Settembre 2016. Chevrolet aveva promesso di offrire il primo veicolo elettrico a prezzi accessibili con oltre 200 miglia di autonomia (322 km) e supererà le aspettative quando la Bolt EV 2017 sarà in vendita entro la fine dell'anno. Con l'autonomia stimata dall'EPA di 238 miglia (383 km), i proprietari possono aspettarsi di andare oltre le loro esigenze medie di percorrenza giornaliera con una maggiore autonomia in modo di risparmiare regolarmente nella ricarica della Bolt EV 2017.
"Chevrolet ha mostrato al mondo la versione di produzione della Bolt EV all'inizio di quest'anno e in pochi mesi abbiamo spostato questa visione alla realtà", ha detto il presidente di GM Nord America Alan Batey. "La Bolt EV è un GameChanger per il segmento auto elettrica e inizierà a diventare disponibile presso i concessionari Chevrolet entro la fine dell'anno."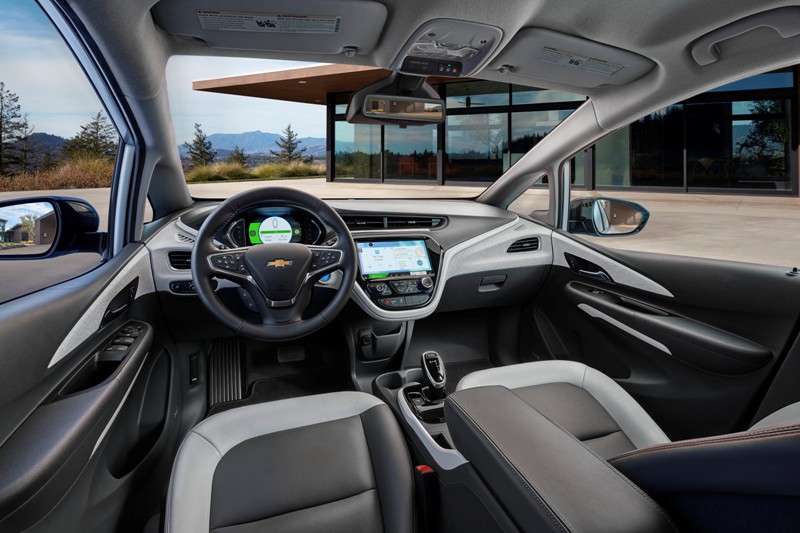 Gli acquirenti della Bolt EV non saranno in grado di trovare un prezzo migliore per un'auto elettrica, dato che il prezzo atteso è al di sotto i 37.500 dollari e prima di applicare il credito d'imposta federale di fino a $ 7,500*. Ottima autonomia, spazio di carico, tecnologia e sicurezza sono caratteristiche che rendono la Bolt EV un grande pacchetto per ogni conducente.
"Mentre l'autonomia è importante, sapevamo che i proprietari di Bolt EV avrebbero voluto più spazio e più potenza che la Bolt EV è in grado di fornire", ha detto l'ingegnere capo di Bolt EV Josh Tavel. "Il nostro team ha svolto con speciale orgoglio il lavoro per ottimizzare ogni aspetto di questo veicolo, in particolare la sua impressionante autonomia e dinamica di marcia."
Quando la Bolt EV arriverà ai concessionari Chevrolet a fine 2016, Chevrolet offrirà un sapore di elettrificazione per soddisfare le esigenze di ogni cliente. Che si tratti delle elettriche Bolt EV, Chevrolet Volt o l'ibrida Chevrolet Malibu, i concessionarie Chevrolet sono pieni di opzioni a prezzi accessibili per un'esperienza di guida efficiente e coinvolgente.
* Il prezzo finale al dettaglio suggerito dal costruttore non è ancora stato annunciato e non include, icnetivi fiscali, titolo, licenza o optional. I risparmi effettivi da parte del governo federale dipendono dalle situazioni fiscali individuali.
In English
Bolt EV Offers238 Miles of Range
Source: General Motors
Detroit, Michigan. USA. September 13th, 2016. Chevrolet promised to offer the first affordable electric vehicle with 200 miles or more of range and will exceed those expectations when the 2017 Bolt EV goes on sale later this year. With the vehicle's EPA-estimated range of 238 miles, owners can expect to go beyond their average daily driving needs — with plenty of range to spare — in the 2017 Bolt EV when charging regularly.
"Chevrolet showed the world the production version Bolt EV earlier this year and in a few short months we've moved from that vision to a reality," said GM North America President Alan Batey. "The Bolt EV is a gamechanger for the electric car segment and it will start to become available at Chevrolet dealerships later this year."
Bolt EV buyers won't be able to find a better value for an all-electric, thrill-inducing ridewith an expected MSRP below $37,500 and before available federal tax credit of up to $7,500*.Plenty of range, cargo space, technology and safety features make the Bolt EV a great package for any driver.
"While range is important, we knew Bolt EV owners would want more —more space and more power —and the Bolt EV delivers," said Bolt EV Chief Engineer Josh Tavel. "Our team took special pride in optimizing every aspect of this vehicle, especially its impressive range and ride dynamics."
When the Bolt EV arrives at select Chevrolet dealerships in late 2016, Chevrolet will offer a flavor of electrification to meet any customer's needs. Whether it's the pure electric Bolt EV, the Chevrolet Volt or the Chevrolet Malibu Hybrid, Chevrolet dealerships are full of affordable options for an efficient and engaging driving experience.
*Final Manufacturer's Suggested Retail Price not yet announced and does not include, tax, title, license or optional equipment. Actual savings from the federal government depend on individual tax situations.
no images were found

.