Fonte: BYD
Città del Capo, Sudafrica. 24 Ottobre 2016. L'azienda tecnologia di energie rinnovabili BYD – una delle maggiori aziende private cinesi – ha vinto l'appalto per la fornitura di una flotta di 11 bus elettrici in Città del Capo, Sudafrica.
Città del Capo punta a diventare la prima città del continente africano ad usare gli autobus elettrici per il trasporto pubblico.
L'amministrazione della città impiegherà inizialmente i bus lunghi 12 metri con accessibilità agevolata come servizio veloce sulla tratta tra i 35 e 40 km tra il distretto centrale della città e la regione del Meteo South East (Khayelitsha and Mitchell's Plain).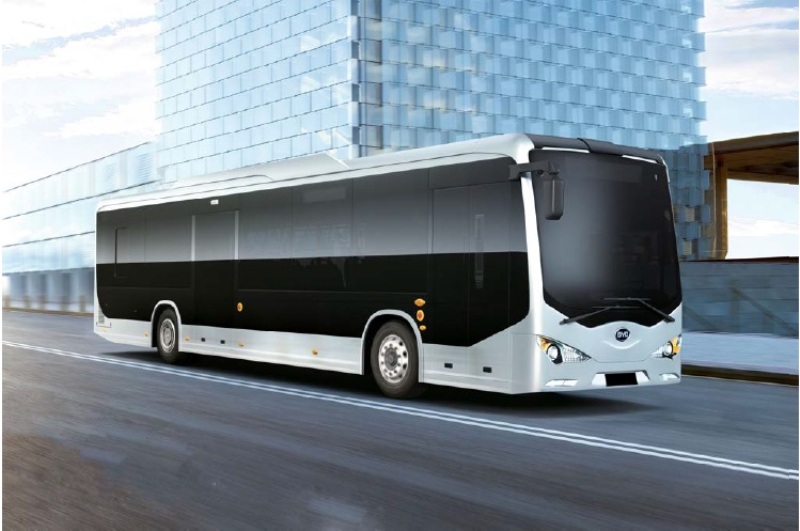 L'amministrazione prevede di riassegnare successivamente gli autobus per il servizio Bus Rapid Transit (BRT) nelle vie di Città Capo.
"Gli autobus elettrici generano meno rumore rispetto a quelli con motori diesel tradizionali ed offrono una guida più fluida per i passeggeri e gli autisti degli autobus", ha detto Huang dC, General Manager di BYD Medio Oriente e Africa Auto Sales Division.

"Questi autobus puliti operativi contribuiranno a offrire ai residenti ed ai turisti di Città del Capo con un sistema di trasporto più sostenibile mentre assisterà il Paese nel raggiungimento dei suoi ideali ambientali" – ha aggiunto Huang, "la distribuzione di autobus elettrici a Città del Capo è la prima vetrina di un sistema di trasporti puliti e sostenibile in Africa, il successo di questo progetto incoraggerà altre città africane a sviluppare i propri progetti di trasporto pubblico verde".
Città del Capo mira a ridurre le emissioni di carbonio attraverso una serie di politiche che interessano le famiglie, le imprese, il sistema di trasporto della città e la produzione di energia elettrica. La sua "Energy 2040 Strategy" delinea un piano per aumentare l'efficienza dei trasporti in modo che gli obiettivi di emissioni di carbonio siano ridotte del 3,2 per cento entro il 2020. I trasporti sono responsabili del 34 per cento della produzione di carbonio in questa città di 3,8 milioni di persone.
"BYD potrebbe potenzialmente fornire altri cinque autobus elettrici a piano singolo e altri cinque autobus elettrici a due piani, a seconda dell'approvazione del governo della città", ha detto l'AD Huang. "Non vediamo l'ora di continuare il nostro contributo allo sviluppo della scena delle energie rinnovabili del Sud Africa".
In precedenza, BYD aveva fornito moduli fotovoltaici per uno dei più grandi parchi solari del Sud Africa in Prieska che ha una dimensione equivalente a quella di 233 campi di calcio. Ha anche consegnato il primo sistema di accumulo di energia in container a Johannesburg nel mese di febbraio 2015 ed il sistema di stoccaggio residenziale di batteria B Box per il mercato residenziale del Sud Africa nel 2016.
L'offerta di successo dell'azienda con sede a Shenzhen per la presente gara arriva poco dopo il lancio in Europa della più grande flotta di autobus elettrici a Londra.
L'autobus elettrico a batteria di BYD impiega molte tecnologie avanzate sviluppate internamente da uno staff di più di 16 mila ingegneri di R&S, tra cui la batteria al ferro-fosfato BYD in grado di sostenere oltre l'80% della capacità anche dopo 4000 cicli. In combinazione con i motori sulle ruote di proprietà di BYD ed il sistema di frenata rigenerativa, BYD "eBUS" offre il più basso costo del ciclo di vita della gestione rispetto agli autobus diesel convenzionali.
BYD eBUS offre una serie di vantaggi operativi e ambientali per i conducenti di trasporto pubblico, gli operatori ed i residenti della comunità, tra cui una marcia silenziosa e accogliente senza vibrazioni, sussulti, né il rumore associato ai bus convenzionali ed ai motori a combustione. Il bus può anche percorrere più di 250 chilometri – anche nel traffico cittadino – con una singola carica.
A partire da luglio 2016, le flotte di autobus BYD hanno completato più di 191 milioni di chilometri "in servizio operativo" e sono stati valutati da più di 170 città in 38 paesi  e regioni di tutto il mondo.
Fino ad oggi, BYD ha costruito più di 10.000 autobus elettrici a livello globale.
In English
BYD wins tender to supply Electric Buses to Cape Town
Source: BYD
Cape Town, South Africa. 24th October 2016. Renewable energy technology company BYD – one of China's largest privately owned firms – has won a bid to supplìy a fleet of 11 battery electric buses to the city of Cape Town, South Africa.
Cape Town aims to become the first city on the African continent to use electric buses for public transport. The city's transport administration will initially use the easy access 12 metre long buses as an express service on a 35 to 40 kilometre route between the city's central buses district and the Meteo South East region (Khayelitsha and Mitchell's Plain)
The administration plans to subsequently reassign the buses to Cape Town's Bus Rapid Transit (BRT) system following completion of supporting infrastructure.
"Electric buses generate less noise than those with traditional diesel engines and provide a smoother ride for passengers and bus drivers." said AD Huang, General Manager of BYD Middle East and Africa Auto Sales Division. "These clean-running buses will help provide Cape Town's residents with a more sustainable public transport system while assisting the country in achieving its environmental ideals."

Huang added, "Cape Town's deployment of electric buses is the first showcase of a clean and sustainable transport system in Africa, the success of this project will encourage other African cities to develop their own green public transport projects."
Cape Town aims to reduce carbon emissions through a range of policies that affect households, businesses, the city's transport system and electricity generation. Its "Energy 2040 Strategy" outlines a plan to increase transport efficiency so that carbon emissions targets are reduced by 3.2 percent by 2020. Transport accounts for 34 percent of carbon output in this city of 3.8 million people.
"BYD could potentially supply five more single deck electric buses and five additional double decker electric buses, depending on the city government's approval," AD Huang said. "We look forward to continuing our contribution to the development of South Africa's renewable energy scene."
Previously, BYD supplied photovoltaic modules to one of South Africa's largest solar farms in Prieska that has a size roughly equivalent to that of 233 football fields. It also delivered the first containerized energy storage system to Johannesburg in February 2015 and home battery storage system B Box to the South Africa residential market in 2016.
The Shenzhen-based company's successful bid for this tender comes shortly after the launch of Europe's largest electric bus fleet in London.
BYD's battery electric bus employs many advanced technologies developed in-house by a staff of more than 16,000 R&D engineers, including the BYD iron-phosphate battery that can sustain more than 80% of capacity even after 4,000 cycles. Combined with BYD's proprietary in-wheel hub motors and regenerative braking system, the BYD "ebus" offers the lowest life cycle cost of ownership compared to conventional diesel buses.
The BYD ebus delivers a host of operational and environmental benefits for public transit riders, bus operators and residents of the community, including a quiet and comfortable ride without vibrations, jerks, or the noise associated with the conventional buses and combustion engines. The bus can also drive for more than 250 kilometres – even in heavy city traffic – on a single charge.
As of July 2016, BYD bus fleets have completed more than 191 million kilometres "in revenue service" and have been evaluated by more than 170 cities in 38 countries and regions around the world. To date, BYD has built over 10,000 electric buses globally.
no images were found

.