Lucas di Grassi è arrivato secondo nella gara dell'apertura della stagione di Formula E a Hong Kong.
Fonte: Audi Motorsport
Hong Kong. 10 Ottobre 2016. Nella spettacolare gara di apertura della stagione di Formula E a Hong Kong, Lucas di Grassi ed ABT Audi Sport Schaeffler si sono assicurati il secondo posto grazie ad un colpo tattico da maestro. Dopo un passo falso in qualifica, il pilota ufficiale Audi ha iniziato la gara solo dalla 19esima posizione in griglia. Un incidente alla seconda curva, quando Di Grassi è stato in grado di evitare l'incidente di un altro concorrente successo davanti a lui, lo ha costretto a fare una prima sosta ai box per cambiare l'ala anteriore danneggiata. Questo lo lasciò di nuovo in fondo al gruppo. di Grassi ha usato un'altra fase di safety car per effettuare il cambio auto obbligatoria.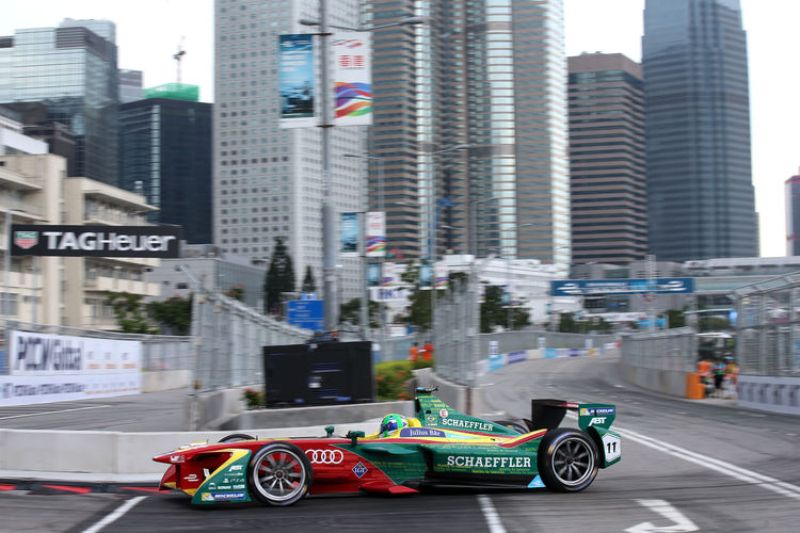 Quindi una marcia di ritorno sul podio è stata garantita seguendo un rigoroso risparmio energetico in una guida a grande stile intorno alla pista della città sotto l'orizzonte pieno di grattacieli. E' il 14esimo podio in Formula E per il 32enne.
Il compagno di squadra Daniel Abt è stato anche coinvolto in una collisione in partenza, ma ha dovuto ritirarsi ai box con la sua auto danneggiata. Per iniziare la terza stagione della serie di corse elettrica, Audi ha aumentato il suo coinvolgimento con l'unica squadra tedesca e prevede di espandere il suo programma di motorsport fabbrica includendo la Formula E per la stagione 2017/2018. Il pilota ufficiale Audi Loïc Duval (Faraday Future Dragon Racing) è gunto 14esimo. Tra una settimana, Duval e di Grassi condivideranno la cabina di comando dell'Audi R18 alla settima gara WEC al Fuji, in Giappone.
Una parola da … Lucas di Grassi
Il pilota ufficiale Audi ha prodotto una fantastica rimonta che lo ha visto passare dalla 19esima posizione in griglia per finire sul podio nel round di apertura della stagione di Formula E a Hong Kong.
Un'apertura furiosa per la stagione:
Da zero a eroe. Dopo complicare le qualifiche ed un incidente in partenza, sei mai stato più felice al termine di una gara?
"Ovviamente sono contento. Ma quello che è successo in gara non ha nulla a che fare con la fortuna. Abbiamo visto la nostra opportunità quando la safety car è uscita. In realtà era troppo presto per cambiare auto, perché questo significava un carico di giri con la seconda auto maggiore di quello che avevamo programmato. Ho salvato l'energia ovunque ho potuto e con uno stile di guida molto conservatore che sfruttava ogni Joule. Non ho mai pensato che sarebbe stato possibile, ma abbiamo letteralmente spremuto tutto dalla macchina – e il risultato è stato il secondo posto alla bandiera. Grande! Questo dimostra ancora una volta che come squadra noi non rinunciamo. Gare come queste – o anche che a Le Mans di quest'anno – dimostrano che non è mai finita finché non viene sventolata la bandiera a scacchi. Un grande ringraziamento oggi anche alla mia squadra ed ai miei meccanici che hanno reso questo possibile".
Come valuti la gara di apertura della stagione di Formula E a Hong Kong?
Hong Kong è una città mozzafiato per la Formula E – non riesco a immaginare un inizio migliore per la nuova stagione. Abbiamo ricevuto una quantità enorme di attenzione da parte dei media e dei tifosi in questa megalopoli. Tutti in città sapevano circa l'evento e ci hanno applaudito. L'emozione Club nel paddock era tutto esaurito, così come nelle tribune, e c'era una atmosfera di festa al podio – non era solo una fantastica apertura per me, ma anche per la Formula E".
L'interesse del produttore è in aumento. Dopo Audi, anche Jaguar, BMW e – come opzione – Mercedes hanno dichiarato il loro interesse. Da dove viene l'interesse dimostrato dai grandi costruttori?
Il motorsport ha sempre avuto un rapporto con lo sviluppo e gli obiettivi del settore automobilistico. I produttori aderiscono sempre di più con la mobilità elettrica. E per questo motivo è logico che vengano in Formula E a produrre trasmissioni elettriche. Inoltre, Formula E come campionato è diventato molto popolare e professionale dopo un breve periodo di tempo.
In English
Lucas di Grassi is second in the Formula E opener in Hong Kong
Strong start to season by Lucas di Grassi in Formula E in Hong Kong
Lucas di Grassi finished second in the opening race of the FIA Formula E season in Hong Kong.
Source: Audi Motorsport
Hong Kong, 10th October 2016. Spectacular Formula E season opener in Hong Kong: Lucas di Grassi and ABT Schaeffler Audi Sport secured second place thanks to a tactical masterstroke.
After a slip up in qualifying, the Audi factory driver only started the race from 19th on the grid. An accident in the second corner, when di Grassi was unable to avoid another competitor's accident happening in front of him, forced him to make a first unscheduled pit stop to change a damaged front wing.
This dropped him to the back of the field again. di Grassi used another safety car phase to make the mandatory car change.
A comeback drive onto the podium was secured by following a strict energy saving driving style around the city track beneath the skyscraper filled skyline. It is the 14th podium finish in Formula E for the 32-year-old.
Teammate Daniel Abt was also involved in a collision at the start, but had to retire his damaged car in the pits.
To start the third season of the electric racing series, Audi increased its involvement with the only German team and plans to expand its factory motorsport program to include Formula E for the 2017/2018 season. Audi factory driver Loïc Duval (Faraday Future Dragon Racing) was 14th. In one week, Duval and di Grassi will share an Audi R18 cockpit at the seventh WEC race at Fuji/Japan.
A word from … Lucas di Grassi
The Audi factory driver produced a fantastic comeback drive that saw him move from 19th on the grid to finish on the podium in the opening round of the Formula E season in Hong Kong.
A furious opening to the season: "From zero to hero." After messing up qualifying and an accident at the start, have you ever been happier at the end of a race?
"Obviously I'm delighted. But what happened in the race has nothing whatsoever to do with luck. We saw our opportunity when the safety car was deployed. It was actually too early to change car, because this meant a load of laps with the second car – more than we had planned. I saved energy wherever I could and with a very conservative driving style that exploited every Joule. I never thought that it would be possible, but we quite literally squeezed everything out of the car – and the result was second place at the flag. Great! This shows once again that as a team we just don't give up. Races like these – or also that in Le Mans this year – show that it's never over until the checkered flag waves. A big thank you today also to my team and my mechanics who made this possible".
How do you rate the opening race of the Formula E season in Hong Kong?
"Hong Kong is a breathtaking city for Formula E – I can't imagine a better start to the new season. We received a huge amount of attention from the media and the fans in this megacity. Everybody in the city knew about the event and applauded us. The Emotion Club in the paddock was sold out, as well as the grandstands, and there was a party atmosphere at the podium – it wasn't just a fantastic opener for me, but also for Formula E".
Manufacturer interest is increasing. After Audi, also Jaguar, BMW and – as option – Mercedes have stated their interest. From where does the interest shown by the 'big' manufacturers come from?
"Motorsport has always had a relationship with development and the goals of the automobile industry. The manufacturers increasingly align themselves with electric mobility. And for this reason it is only logical that they come to Formula E and produce electric drivetrains. Furthermore, Formula E as a race series has become very popular and professional after a very short period of time".
no images were found

.