• Edizione speciale BMW i3 basata sul design senza tempo di uno smoking
• Verniciate in modo personalizzato da maestri artigiani
• Include un esclusivo kit da viaggio essenziale da Mr Porter
Fonte: BMW Group
16 Febbraio 2016. BMW i ha collaborato con Mr Porter.com, la premiata destinazione online per lo stile maschile, con l'obiettivo di progettare e produrre un' edizione limitata della BMW i3.
Ispirata dallo stile senza tempo e arricchita con caratteristiche contemporanee, il team di progettazione sia da BMW I che da Mr Porter hanno unito le loro competenze per creare una vettura elegante e sofisticata, con un'estetica molto particolare.
Ricorda il classico smoking, uno dei capi più alla moda della moda maschile, l'edizione limitata BMW i3 viene fornita con un elegante esterno in blu smoking sviluppato appositamente per questa versione. Caratteristiche distintive su ciascuna delle edizioni numerate sono state fatte artigianalmente per garantire una finitura completamente unica, proprio come in una sartoria fatta su misura: la pittura individuale e l'accento bianco che scorre in tutta la lunghezza del telaio – che può essere associato con il gessato – sono dipinti a mano da maestri artigiani.
Stefan Ponikva, capo della BMW i Brand Management, ha dichiarato:
"La BMW i3 rappresenta la fusione senza sforzo della sostenibilità e uno stile all'avanguardia. Il nostro impegno per l'innovazione tecnologica, la qualità superiore ed i concetti di classe che vanno oltre l'ordinario, quindi questa collaborazione con Mr Porter ha catturato la nostra immaginazione immediatamente".

"A Mr Porter diamo ai nostri clienti il ​​meglio globale in stile maschile in molte categorie, in modo che questa collaborazione con BMW, i migliori della categoria nel settore automobilistico, la viviamo come un passo coraggioso, ma naturale. Si apprezzano l'opportunità di essere il primo sul mercato per progetti come questo", ha detto Toby Bateman, Amministratore Delegato, Mr Porter.
Funzionante con l'energia elettrica e quindi senza emissioni, l'ispirazione della BMW i3 Mr Porter offre la stessa esperienza di guida sportive, caratteristiche di guida che sono state premiate e un'eccellente agilità, pur essendo silenziosa quando è in movimento.
La BMW i3 genera una potenza di 170 CV, con una coppia massima di 250 Nm a richiesta immediatamente. In questo modo la BMW i3 è in grado di accelerare da zero a 37 mph in soli 3,7 secondi e da zero a 62 mph in soli 7,2 secondi, mentre la batteria agli ioni di litio fornisce un'autonomia di 80 -100 miglia (128 – 169 km) nella guida di tutti i giorni. Questo aumenta di circa il 15 per cento in modalità ECO PRO e con lo stesso 15 per cento ancora una volta in modalità ECO PRO +.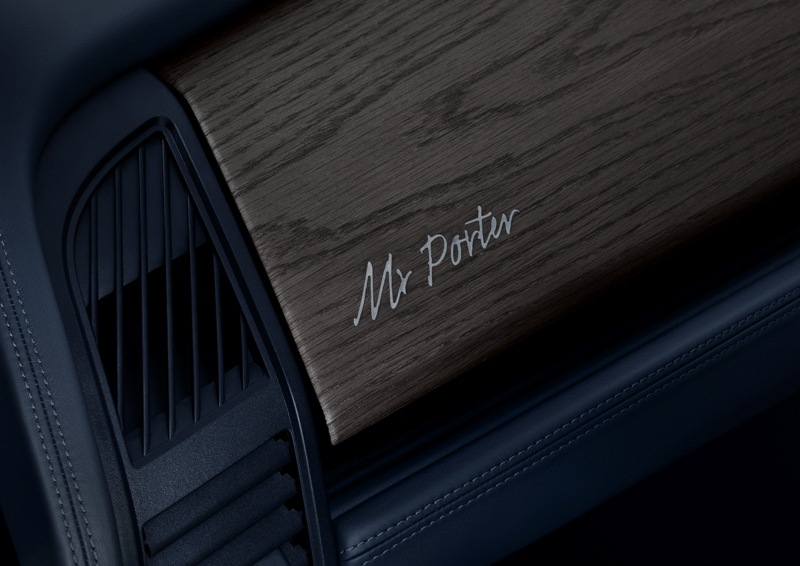 La macchina è dotata di un kit essenziale da viaggio Mr Porter che consiste in un borsone in pelle BMW i e quattro oggetti esclusivi Mr Porter: un ombrello Londra con sottocopertura bianco e nero, una edizione speciale di macchina fotografica Leica, occhiali da sole Cutler & Gross, bombetta cappello Lock & Co e una edizione su misura della Guida PhaidonCity.
Per celebrare il quinto anniversario di Mr Porter un numero limitato di vetture BMW i3 sarà disponibile per l'acquisto nel Regno Unito. Si avrà un prezzo di £ 43.500 OTR e gli ordini possono essere inoltrate dal 18 febbraio 2016 dal sito sottostante.
I clienti possono iscriversi e registrarsi interesse: http://www.mrporter.com/mens/designers/bmwi
In English
BMW i launches limited edition i3 inspired by MR PORTER
Special edition BMW i3 based on the timeless design of a tuxedo
Individually painted by master craftsmen
Includes an exclusive MR PORTER essentials travel kit
Source: BMW Group
16 February 2016. BMW ihas partnered with MR PORTER.COM, the award-winning online destination for men's style, to design and produce a one-of-a-kind, limited edition BMW i3.
Inspired by timeless style and enriched with contemporary features, the design teams from both BMW i and MR PORTER have combined their expertise to create a sleek and sophisticated car with a very unique aesthetic.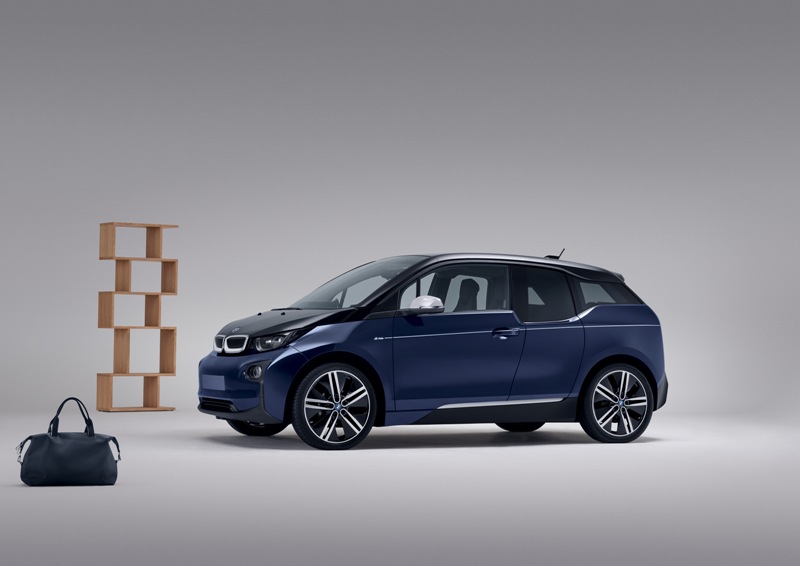 Reminiscent of the classic tuxedo, one of the most stylish garments in menswear, the limited edition BMW i3 comes with an elegant exterior in tuxedo blue specially developed for this version. Distinctive features on each of the numbered editions have been handcrafted to ensure a completely unique finish, much like in made-to-measure tailoring: the individual painting, and the white accent running the length of the chassis – which can be associated with the pinstripe suit – are hand painted by master craftsmen.
Stefan Ponikva, Head of BMW i Brand Management said:
"The BMW i3 represents the effortless merging of sustainability and cutting-edge style. Our dedication to technological innovation, superior quality and first class design concepts that go beyond the ordinary, meant this collaboration with MR PORTER captured our imagination instantly."

"At MR PORTER we give our customers the global best in men's style across many categories, so this collaboration with BMW, the best in class in the automotive industry, felt like a bold but natural step. We relish the opportunity to be first to market for projects such as this" said Mr Toby Bateman, Managing Director, MR PORTER.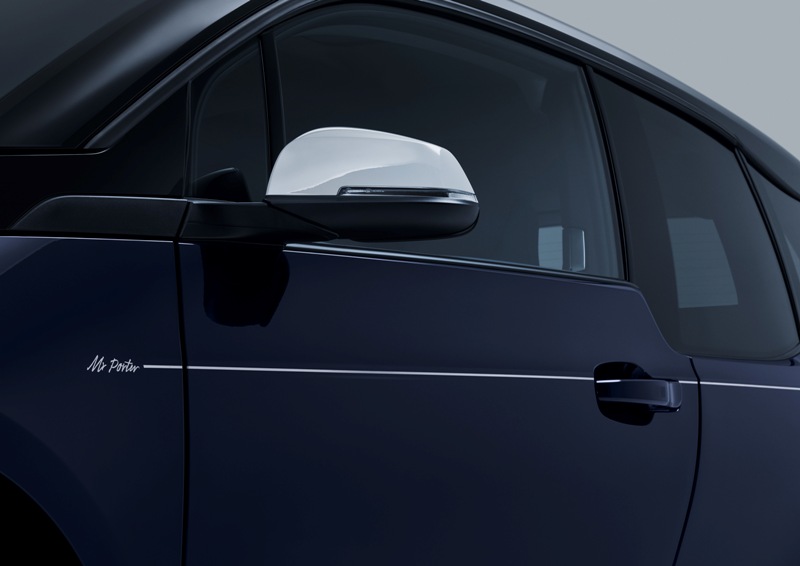 Running on electric power and therefore emission-free, the MR PORTER-inspired BMW i3 offers the same award-winning driving experience – sporting driving characteristics and excellent agility, while being near-silent in motion.
The BMW i3 generates an output of 170hp, with peak torque of 250Nm on demand instantly. This allows the BMW i3 to sprint from zero to 37mph in a mere 3.7 seconds and zero to 62mph in just 7.2 seconds, while the lithium-ion battery gives a range of 80 –100 miles in everyday driving. This rises by approximately 15 per cent in ECO PRO mode and by the same again in ECO PRO+ mode.
The car comes complete with a MR PORTER Essentials Travel Kit that consists of a BMW i leather holdall and four items exclusive to MR PORTER: a black and white London undercover umbrella, a special edition Leica camera, Cutler & Gross sunglasses, Lock & Co bowler hat and a bespoke edition of PhaidonCity Guide Book.
To celebrate MR PORTER's fifth anniversary a limited number of BMW i3 cars will be available to purchase in the UK. It will be priced at £43,500 OTR and orders can be placed from18th February 2016 from the website below.
Customers can sign up and register interest at: http://www.mrporter.com/mens/designers/bmwi
no images were found

.