Triumph conferma il suo tentativo da record a Bonneville a Settembre
Fonte: Triumph Motorcycles
Bonneville Salt Flats, Utah. USA. 23 Agosto 2016. A seguito di una sessione di prove di successo al lago salato di Bonneville, raggiungendo una velocità di 274,2 mph che ha permesso di diventare la più veloce Triumph di sempre, Triumph Motorcycles ha confermato il tentativo di impostare un nuovo record motociclistico a titolo definitive ed il tentative di Land Speed World ​​Record avrà luogo a metà settembre 2016, tempo permettendo.
Pilotata dalla stella del TT Guy Martin, la Rocket Triumph Infor Streamliner tornerà alle famose saline di Bonneville e tentare di battere il record attuale di velocità di 376,8 mph su un percorso di 11 miglia di lunghezza. Pur avendo una buona superficie per testare, la squadra ha ritenuto che il sale non era ancora pienamente in grado di supportare una corsa dello streamliner a velocità top. In consultazione con la FIM, il Course Manager del team Mike Cook ha preso di mira le date di settembre come la migliore opportunità possibile per trovare le condizioni del percorso ottimali richieste per il tentativo di record.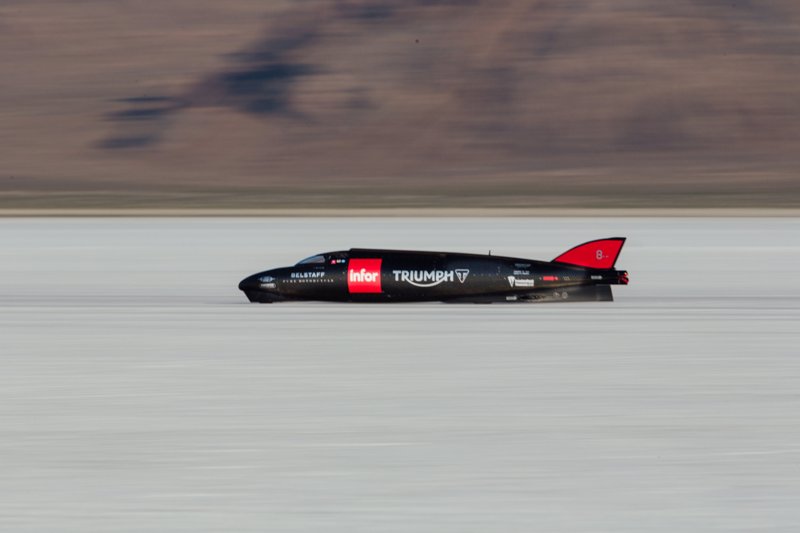 La settimana di prove, che si è concluso con il raggiungimento di 274,2 mph il Martedì 9 agosto ha dimostrato che sia il Rocket Streamliner Triumph Infor che il pilota Guy Martin sono pronti per il compito. La prima settimana di Martin nello streamliner l'ha visto dominare i controlli dello streamliner da 1,000bhp molto rapidamente – raggiungendo tutti gli obiettivi fissati dal capo meccanico e progettista del Triumph Rocket Infor Streamliner Matt Markstaller e la sua squadra.
Quando è stato chiesto di tornare a settembre Markstaller ha commentato:
"Abbiamo avuto una grande quantità di informazioni durante la nostra settimana di test a Bonneville e ci sentiamo in una posizione ideale per andare avanti con il nostro tentativo di record. Guy ha preso confidenza con lo Streamliner molto rapidamente e ci ha impressionato per la velocità con cui ha imparato la guida del motociclo sul sale.

"Mentre le condizioni erano alcune delle migliori che ho visto nel corso degli ultimi anni, riteniamo che ci sia ancora un certo margine di miglioramento. Quando si insegue un record come questo su due ruote le condizioni devono essere le migliori possibili, per darci le maggiori possibilità di raggiungere le velocità di cui abbiamo bisogno per stabilire un nuovo record. Riteniamo che aspettare un paio di altre settimane ci offrirà condizioni ancora migliori e ci ha messo nella posizione ideale per effettuare il nostro tentativo di record. "
Il tentativo di record Triumph 2016 è supportato da partner di livello mondiale nella fornitura di applicazioni cloud Infor con un ulteriore sostegno dall'iconico marchio di abbigliamento Belstaff.
Il Rocket Triumph Infor dispone di una monoscocca di costruzione in carbon kevlar con due motori turbo Rocket Triumph III che erogano complessivamente 1.000 CV a 9.000 giri al minuto. La moto è lunga 25,5 piedi, larga 2 piedi e alta 3 piedi. Alimentata da metanolo, la moto è in competizione nella categoria Divisione C (moto snella).
Triumph ha una storia di battere il record di velocità su terra, titolo di 'più veloce moto del mondo' che è stato in suo possesso tra il 1955 ed il 1970*. I record Triumph streamliners includono: Devil's Arrow, Texas Cee-gar, Dudek Streamliner e Gyronaut X1, il vecchio record che ha raggiunto la velocità massima di 245.667 mph (395.28 km/h).
Il record attuale, detenuto da Rocky Robinson dal 2010 in sella alla Streamliner Top Oil-Ack Attack, è di 376,363 mph (605,697 kmh).
Il nome iconico Bonneville è stato concepito dopo aver segnato il record di velocità su terra di Johnny Allen alle Salt Flats nel settembre 1956, quando ha raggiunto la velocità che ha permesso di battere il record di 193,72 mph. Il primo modello Bonneville T120 è stato presentato al Earls Court Bike Show e messo in vendita nel 1959.
* Con l'eccezione di un breve periodo di 33 giorni
In English
Triumph confirms September date for land speed record attempt at Bonneville
Source: Triumph Motorcycles
Bonneville Salt Flats, Utah, USA. 23rd August 2016. Following a successful practice session at the Bonneville Salt Flats, achieving a speed of 274.2 mph to become the world's fastest ever Triumph , Triumph Motorcycles has confirmed the attempt to set a new outright motorcycle Land Speed World Record will take place mid-September, 2016, weather permitting.
Piloted by TT star Guy Martin the Triumph Infor Rocket Streamliner will return to the famous Bonneville salt flats and attempt to beat the current 376.8mph record speed on an 11 mile-long course. Despite having a good course surface for testing the team felt that the salt wasn't yet fully capable of supporting a top-speed streamliner run. In consultation with FIM course manager Mike Cook  the team are targeting the September dates as the best possible opportunity for the optimal course conditions required for the record attempt.
The practice week, which ended with the 274.2mph run on Tuesday 9th August, demonstrated that both the Triumph Infor Rocket Streamliner and rider Guy Martin are ready for the task ahead.  Martin's first week in the streamliner saw him master the controls of the 1,000bhp streamliner very quickly – achieving all of the goals set by Crew Chief and Triumph Infor Rocket Streamliner designer Matt Markstaller and his team.
When asked about returning in September Markstaller commented:
"We achieved a great deal during our test week at Bonneville and feel we are in a great position to move ahead with our record attempt. Guy settled into the streamliner very quickly and impressed us with the speed in which he mastered both the motorcycle and riding on the salt.

"While conditions were some of the best I have seen over the last few years, we feel there is still some room for improvement. When chasing a record such as this on two wheels the conditions have to be the very best they can be, to give us the greatest chance of achieving the speeds we require to set a new record. We feel that waiting a few further weeks will provide us with even better conditions and put us in the ideal position to make our record attempt."
The Triumph 2016 record attempt is supported by title partner global cloud applications provider Infor with further support from iconic clothing brand Belstaff.
The Triumph Infor Rocket features a carbon Kevlar monocoque construction with two turbocharged Triumph Rocket III engines producing a combined 1,000 bhp at 9,000 rpm. The motorcycle is 25.5 feet long, 2 feet wide and 3 feet tall. Powered by methanol fuel, the bike is competing in the Division C (streamlined motorcycle) category.
Triumph has a history of breaking the land speed record, holding the title of 'World's Fastest Motorcycle' between 1955 to 1970*. The record-breaking Triumph Streamliners included: Devil's Arrow, Texas Cee-gar, Dudek Streamliner and Gyronaut X1, the former achieving a top speed of 245.667 mph (395.28 km/h). Today's record, held by Rocky Robinson since 2010 riding the Top Oil-Ack Attack streamliner, sits at 376.363 mph (605.697 km/h).
The iconic Bonneville name was conceived following Johnny Allen's land-speed record runs at the Salt Flats in September 1956, when he reached the record breaking speed of 193.72 mph. The first T120 Bonneville model was unveiled at the Earls Court Bike Show and went on sale in 1959.
no images were found

.