Berlino ePrix è una gara cruciale prima della conclusione del campionato
Fonte: Venturi Automobiles
Berlino, Germania. 19 Maggio 2016. Per il secondo anno consecutivo Berlino ospiterà il FIA Formula E Championship. L'ottava gara della stagione 2 che si terrà questo Sabato (16:00 ora locale) lungo la Karl Marx Allee, si svolgerà in una nuova location rispetto la gara del 2015 che si è svolta presso l'aeroporto di Tempelhof. La pista di quest'anno vanta 1927m, 11 curve e 48 giri e si trova vicino allo storico Checkpoint Charlie ed alla Porta di Brandeburgo.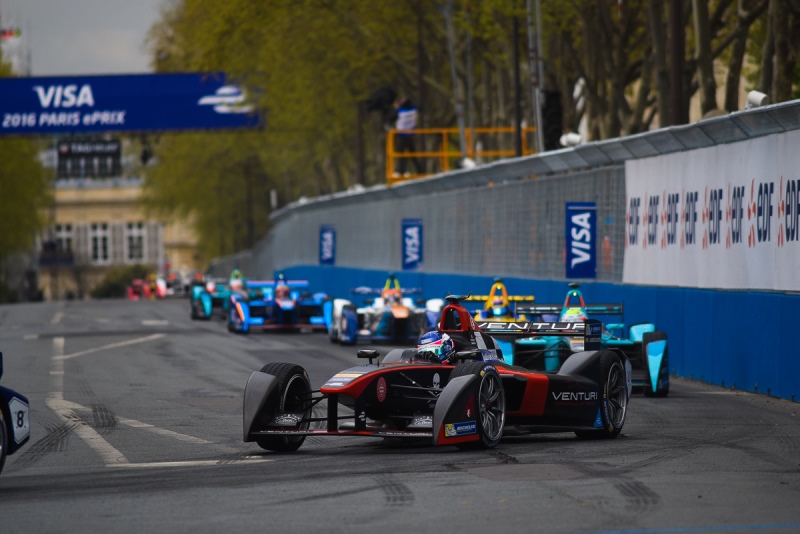 Il team Venturi di Formula E è alla ricerca di raggiungere la terza posizione nel campionato piloti di quest'anno con Stéphane Sarrazin. Oggi Stéphane è in quinta posizione con 58 punti, a 6 punti dalla quarta posizione di vantaggio ed a 24 punti dalla terza. Un buon risultato in questa gara è fondamentale per Stéphane per avanzare nella classifica.
"Sarà molto più difficile riuscire", ha detto Stéphane. "Considerando che noi non correremo a Mosca, abbiamo meno occasioni per segnare punti. Ma essere sul podio è ancora un obiettivo ragionevole. Sono stato in zona punti dalla prima gara. Ho una buona macchina, posso continuare allo stesso modo. E' un campionato e la coerenza è fondamentale" – ha concluso il pilota francese che ha preso il 3° posto a Long Beach, California, negli Stati Uniti d'America.
Mike Conway ha lo stesso spirito. Può portare un significativo contributo per migliorare la classifica a squadre (Venturi GP è in sesta posizione, a soli 6 punti di distacco dalla quinta posizione). Mike ha mostrato un grande lavoro nella gara precedente a Parigi, ma è stato sfortunato durante le sessioni di qualifica quando si è scontrato con Nick Heidfeld perdendo la sua possibilità di raggiungere il gruppo della Superpole. Tuttavia, la sua guida efficiente potrebbe davvero pagare in Germania.
La pista di Berlino è difficile con una chicane veloce e tre fasi di forti frenate ed accelerazioni pesanti che stono molto impegnative per il consumo della batteria e la gestione del calore. Questa pista richiede una guida delicata e una perfezione della strategia degli ingegneri. Come sempre le qualifiche del Sabato mattina saranno una parte importante del lavoro per avere la migliore posizione in pista. La lotta in prima linea della gara sarà meno impegnativa per la gestione della batteria.
In English
Berlin ePrix a crucial race before the championship conclusion
Source: Venturi Automobiles
Berlin, Germany. 19th May 2016.  For the second year in a row Berlin, Germany will host the FIA Formula-E Championship Series. Round 8 of season 2 is set to take place this Saturday (4pm local time) along the Karl Marx Allee, a new location from the 2015 race which was held at the Tempelhof Airport. This year's track boasts 1927m, 11 turns and 48 laps and is situated near the historic Checkpoint Charlie and the Brandenburg Gate.
The Venturi Formula- E Team is looking for Stéphane Sarrazin to place in the top 3 drivers standings at the end of season 2. Today Stéphane is in position 5 with 58 points, with position 4 at 6 points ahead and position 3 at 24points. A top result in this race is crucial for Stéphane to advance.
"It's going to be much more difficult to succeed" said Stéphane. "As we won't be racing in Moscow, we have less chances to score points. But being on the podium is still a reasonable target. I've been in the points since the first race. I have a good car, I can continue on the same pace. It's a championship and consistency is key." concluded the french driver who took 3rd place in Long Beach,California, USA.
Mike Conway has the same spirit. He can bring a significant contribution to improve the team ranking (Venturi GP is in position 6, just 6 points behind position 5). Mike has shown a great job in the previous race in Paris but he has been unlucky during the qualifying sessions as Nick Heidfeld collided with him and his chance to get the superpole group was destroyed. However, his efficient driving could really pay off in Germany.
The track in Berlin is difficult with a fast chicane and three phases of strong breaks and heavy accelerations which are going to be very demanding for the battery consumption and heat management. This track will require a subtle driving and a perfection of the engineers strategy. As always qualifying Saturday morning will be an important part of the work to get the best position on the track. Fighting at the forefront of the race will be less demanding for the battery management.
no images were found