Audi sul podio per 18 volta alle 24 Ore di Le Mans
Entrambi Audi R18 sono riuscite a finire la gara a dispetto dei problemi
Preziosi punti per il Campionato Mondiale per entrambe le squadre di Audi
Fonte: Audi Motorsport
Le Mans, Francia e Ingolstadt, Germania. 19 Giugno 2016. Audi ha preso la terza e la quarta posizione nella gara di 24 ore di Le Mans davanti a 263.500 spettatori, continuando la sua serie di podi nella famosa gara di durata francese.
In una gara drammatica che è stata decisa solo all'ultimo giro, Lucas di Grassi (BR), Loïc Duval (F) e Oliver Jarvis (GB) ha conquistato il terzo posto per Audi all'ultimo momento. Marcel Fässler (CH), André Lotterer (D) e Benoît Tréluyer (F) ha terminato in quarta posizione. Con questo, Audi, alla sua 18esima partecipazione dal debutto di Le Mans del marchio nel 1999, ha raggiunto il suo 18esimo podio in successione tra cui 13 vittorie assolute.
"Purtroppo, nessuna delle nostre due macchine ha reso sulla distanza, senza avere dei problemi", ha detto il capo di Audi Motorsport Wolfgang Ullrich. "Questo fine settimana, ancora una volta ha dimostrato il perché Le Mans è considerata come la gara di durata più dura del mondo. Sono orgoglioso della nostra squadra di essere riusciti a portare a casa entrambe le vetture. Ma, ovviamente, questo non è il risultato che speravamo. Complimenti a Porsche per la loro seconda vittoria consecutiva. A seguito di una gara tremenda corsa, Toyota, dopo aver fatto il suo 18esimo tentativo per vincere a Le Mans, ancora una volta l'ha appena mancato. Questo la dice lunga su quanto sia incredibilmente difficile questa gara."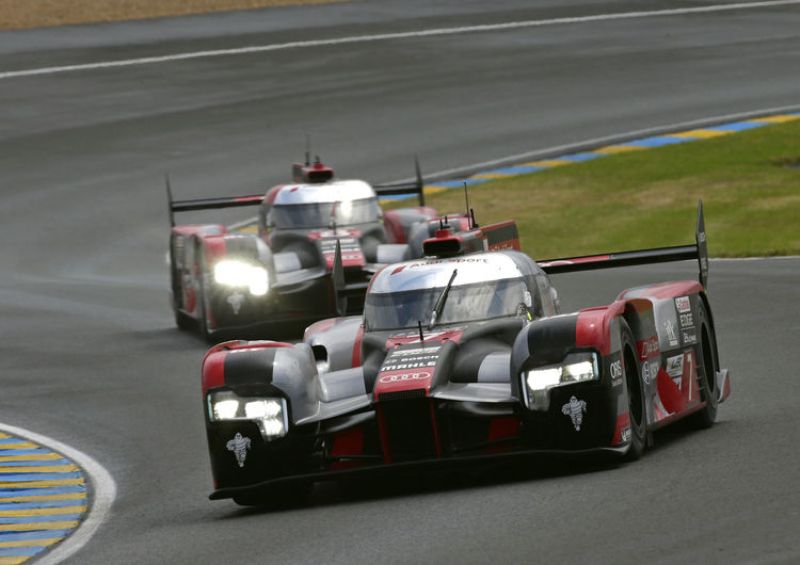 A causa di forti precipitazioni, la corsa è iniziata dietro la safety car per la prima volta nella storia Le Mans. Dopo il via libera per la gara, ci sono voluti solo pochi giri ad André Lotterer per avanzare dalla quinta posizione in griglia verso il primo posto. Tuttavia, la Audi R18 numero 7 ha perso la sua chance per la vittoria già nella seconda ora quando Lotterer, mentre era in testa alla gara, ha dovuto rientrare ai box per rimpiazzare il turbocompressore.
Da questo punto in poi, le speranze di Audi Sport Team Joest erano state riposte sulla Audi R18 numero 8 che, a dispetto di vari incidenti, ha tenuto il passo con il gruppo dei piloti di testa per tutta la notte e, la domenica mattina, trainata dei vincitori successivi con un spazio di meno di due giri. Un disco di freno difettoso ha causato l'aumento dello svantaggio a dodici giri quattro ore prima della fine della gara. Per precauzione, i dischi dei freni anteriori sono stati successivamente modificati sulla vettura sorella numero 7.
Di conseguenza, Audi ha raggiunto ancora il suo scopo nel portare a casa entrambe le vetture e di segnare punti preziosi per il Campionato Mondiale Endurance FIA ​​(WEC) che proseguirà con la gara di 6 ore al Nürburgring, in Germania il 24 luglio.
La classifica
1 Dumas / Jani / Lieb (Porsche) – 384 giri
2 Conway / Kobayashi / Sarrazin (Toyota) – 3 giri
3 di Grassi / Duval / Jarvis (Audi R18) – 12 giri
4 Fässler / Lotterer / Tréluyer (Audi R18) – 17 giri
In English
​Positions three and four for Audi at Le Mans
Audi on podium for 18th time in Le Mans 24 Hours
Both Audi R18 finish in spite of issues
Valuable World Championship points for both Audi squads
Source: Audi Motorsport
Le Mans, Francia and Ingolstadt, Germania. 19th June 2016. Audi took positions three and four in the 24-hour race at Le Mans in front of 263,500 spectators, continuing its string of podium finishes in the iconic French endurance race.
In a dramatic race that was only decided on the last lap, Lucas di Grassi (BR), Loïc Duval (F) and Oliver Jarvis (GB) clinched third place for Audi at the last moment. Marcel Fässler (CH), André Lotterer (D) and Benoît Tréluyer (F) finished in position four. With that, Audi, in its 18th participation since the brand's Le Mans debut in 1999, achieved its 18th podium in succession including 13 overall victories.
"Unfortunately, neither of our two cars made it over the distance without issues," said Head of Audi Motorsport Dr. Wolfgang Ullrich. "This weekend once more showed why Le Mans is regarded as the world's toughest endurance race. I'm proud of our squad having managed to bring both cars home. But, obviously, this is not the result we were hoping for. Congratulations to Porsche on their second victory in succession. Following a tremendous race, Toyota, on making their 18th attempt, again just barely missed finally winning Le Mans – that speaks volumes about how incredibly difficult this race is."
Due to heavy rainfalls, the field started behind the safety car for the first time in Le Mans history. Following the all-clear for the race, it took André Lotterer only a few laps to advance from grid position five to first place. However, the #7 Audi R18 lost its chance for victory as early as in the second hour when Lotterer, while leading the race, had to pit for a change of the turbocharger.
From this point on, Audi Sport Team Joest's hopes were pinned on the #8 Audi R18 which, in spite of various incidents, kept pace with the group of the front runners throughout the night and, on Sunday morning, trailed the subsequent winners with a gap of less than two laps. A defective brake disc caused the deficit to increase to twelve laps four hours before the end of the race. As a precaution, the front brake discs were subsequently changed on the #7 "sister" car
Consequently, Audi still achieved its aim in bringing both new cars home and to score valuable points for the FIA World Endurance Championship (WEC) that will continue with the 6-hour race at the Nürburgring in Germany on July 24.
Results
1 Dumas/Jani/Lieb (Porsche) – 384 laps
2 Conway/Kobayashi/Sarrazin (Toyota) – 3 laps
3 di Grassi/Duval/Jarvis (Audi R18) – 12 laps
4 Fässler/Lotterer/Tréluyer (Audi R18) – 17 laps
no images were found