Estensione della collaborazione di Audi Sport con il Team ABT Schaeffler
Previstoa l'inclusione della Formula E nel programma sportivo della fabbrica a partire dalla stagione 2017/18
Fonte: Audi Motorsport
Ingolstadt, Germania. 2 Settembre 2016. Audi sta per intensificare il proprio impegno futuro nella prima serie di corse al mondo per auto da corsa completamente elettriche. A partire dalla stagione 2016/2017 che si apre a Hong Kong il 9 ottobre, Audi aumenterà la sua partecipazione nel team ABT Schaeffler Audi Sport di Formula E. Inoltre, si prevede di incorporare la Formula E in un programma sportivo-fabbrica sostenuto a partire dalla quarta stagione 2017/2018.
"La mobilità elettrica è uno dei temi chiave del nostro settore," dice il Dott Stefan Knirsch, Membro del Consiglio di Amministrazione e sviluppo tecnico, di Audi AG. "Abbiamo intenzione di evolverci come uno dei principali costruttori di auto premium in questo campo. Entro il 2025, ogni quattro Audi dovrebbe esserci un veicolo elettrico. Il primo modello di questo programma è progettato per essere un SUV che andremo a presentare nel 2018. Alla luce di questi piani, adattare il nostro programma sportivo e prendere un impegno in una serie di corse completamente elettrica è solo una mossa logica."
Il capo di Audi Motorsport Wolfgang Ullrich:
"Audi ha costantemente usato il motorsport per testare e sviluppare ulteriormente nuove tecnologie per il successivo utilizzo in produzione. Con la trazione quattro abbiamo rivoluzionato il rally e successivamente fissato anche gli standard di gare su circuito. Nelle 24 ore di Le Mans, Audi è stato il primo produttore ad aver raggiunto vittorie con un motore TFSI, un TDI e una macchina da corsa ibrida, in modo da scrivere la storia del motorsport in diverse occasioni. Ora abbiamo intenzione di ripetere questo nelle corse di auto completamente elettriche. Formula E con le sue gare che si tengono nel cuore delle grandi città è una tappa ideale per questo scopo ed il Team ABT Audi Sport Schaeffler è un partner logico per noi".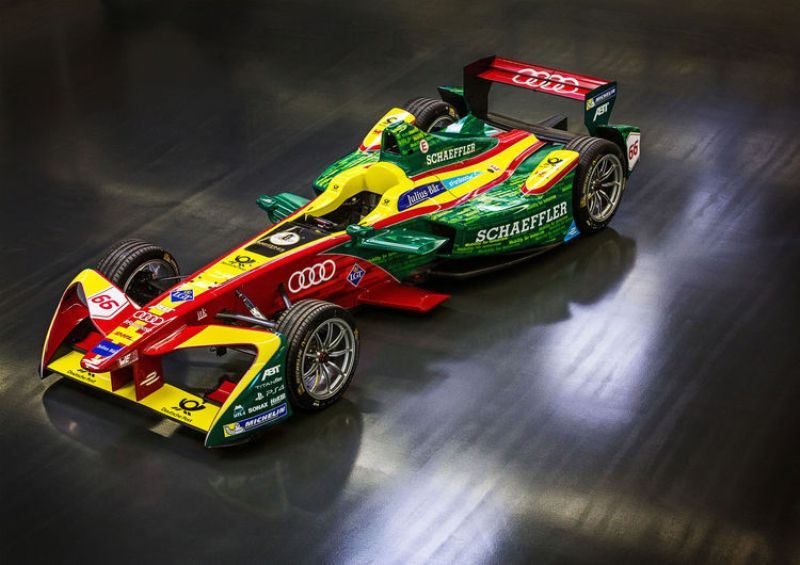 Audi Sport ha dato il suo nome alla squadra e fin dalla prima edizione nella stagione 2014/2015 di Formula E il brasiliano Lucas di Grassi è stato uno dei suoi piloti ufficiali disponibili nel corso di questa cooperazione. Inoltre, il team è stato in grado di utilizzare l'infrastruttura di Audi Sport a Neuburg. A partire dalla stagione 2016/2017, Audi sta per intensificare la collaborazione esistente con il Team ABT Schaeffler Audi Sport con sostegno finanziario e tecnico, sulla strada verso l'impegno di fabbrica a pieno titolo nella stagione 2017/2018, quando Audi Sport si unirà passo dopo passo allo sviluppo, in stretta collaborazione con il partner tecnologico Schaeffler.
L'impegno di Audi in Formula E sarà visibile anche ai tifosi. Con effetto immediato, i quattro anelli saranno prominenti sui lati e le ali posteriori della vettura ABT Schaeffler FE02. Le monoposto da corsa completamente elettriche avranno le loro nuove livree in pista per la prima volta dal Lunedi al Mercoledì della prossima settimana (5 al 7 Settembre) a Donington Park nel Regno Unito, dove si terranno i test finali prima dell'inizio della stagione di Formula E a Hong Kong.
Il calendario della stagione 2016/2017 di Formula E attualmente dispone di dodici gare in dieci metropoli internazionali. Il 10 giugno 2017, la serie di corse elettrica si recherà in visita a Berlino. Le due gare finali si terranno a New York (USA) il 29 e 30 luglio 2017.
I piloti del team ABT Schaeffler Audi Sport sono Daniel Abt (Germania) e Lucas di Grassi (Brasile) che ora affrontano la terza stagione di Formula E giunti come compagni di squadra. Di Grassi è arrivato terzo nella classifica piloti nella stagione inaugurale e vice campione quando ha appena perso il titolo di campione nella stagione 2015/2016.
Calendario FIA Formula E 2016/2017
9 ottobre 2016 Hong Kong (CN)
12 novembre 2016 Marrakech (MA)
18 febbraio 2017 a Buenos Aires (AR)
1 aprile 2017 Città del Messico (MEX)
13 Maggio 2017 Monaco (MC)
20 maggio 2017 a Parigi (F)
June 10, 2017 Berlin (D)
1 luglio 2017 Bruxelles (B)
15 luglio 2017 a Montreal (CDN)
16 Luglio 2017 a Montreal (CDN)
29 luglio 2017 di New York (USA)
30 Luglio 2017 New York (USA)
In English
Audi to become involved in Formula E
Extension of Audi Sport's partnership with Team ABT Schaeffler
Planned: Formula E inclusion in factory motorsport program starting in 2017/18
Source: Audi Motorsport
Ingolstadt, Germany. 2nd September 2016. Audi is going to intensify its future commitment in the world's first racing series for fully electric race cars. Starting in the 2016/2017 season that opens in Hong Kong on October 9, Audi will increase its involvement in Formula E Team ABT Schaeffler Audi Sport. In addition, it is planned to incorporate Formula E into a factory-backed motorsport program as of the 2017/2018 season.
"Electric mobility is one of the key topics in our industry," says Dr. Stefan Knirsch, Member of the Board of Management, Technical Development, AUDI AG. "We intend to evolve into one of the leading premium car manufacturers in this field. By 2025, every fourth Audi should be an electric vehicle. The first model for this is planned to be an SUV we're going to present in 2018. In the light of these plans, adapting our motorsport program and taking up a commitment in a fully electric racing series is only a logical move."
Head of Audi Motorsport Dr. Wolfgang Ullrich:
"Audi has consistently been using motorsport to test and develop new technologies further for subsequent use in production. With quattro drive we revolutionized rally racing and subsequently set standards in circuit racing as well. In the 24 Hours of Le Mans, Audi was the first manufacturer to have achieved victories with a TFSI engine, a TDI and a hybrid race car, so writing motorsport history on several occasions. Now we intend to repeat this in fully electric racing. Formula E with its races being held in the hearts of major cities is an ideal stage for this purpose and Team ABT Schaeffler Audi Sport a logical partner for us."
Audi Sport has been giving its name to the team ever since the inaugural 2014/2015 Formula E season and in the Brazilian Lucas di Grassi making one of its factory drivers available in the course of this cooperation. In addition, the team has been able to use Audi Sport's infrastructure in Neuburg. Starting in the 2016/2017 season, Audi is going to intensify the existing partnership with Team ABT Schaeffler Audi Sport by financial and technical support. For the 2017/2018 season, on the road toward a fully-fledged factory commitment, Audi Sport will be joining the development step by step in close cooperation with technology partner Schaeffler.
Audi's commitment in Formula E will be visible to the fans as well. With immediate effect, the four rings will be prominently featured on the sides and the rear wings of the ABT Schaeffler FE02. The fully electric single-seater race cars will be sporting their new liveries on the race track for the first time from Monday to Wednesday next week (September 5 to 7) at Donington Park in the UK where the final tests will be held before the Formula E season starts in Hong Kong.
The 2016/2017 Formula E season calendar currently features twelve races in ten international metropolises. On June 10, 2017, the electric racing series will visit Berlin. The two final races will be held in New York (USA) on July 29/30, 2017.
The drivers of Team ABT Schaeffler Audi Sport are Daniel Abt (Germany) and Lucas di Grassi (Brazil) who are now tackling their third joint Formula E season as teammates. Di Grassi was third in the drivers' classification in the inaugural season and as vice champion just barely missed the championship title in the 2015/2016 season.
FIA Formula E 2016/2017 calendar
October 9, 2016            Hong Kong (CN)
November 12, 2016        Marrakesh (MA)
February 18, 2017         Buenos Aires (AR)
April 1, 2017     Mexico City (MEX)
May 13, 2017    Monaco (MC)
May 20, 2017    Paris (F)
June 10, 2017   Berlin (D)
July 1, 2017      Brussels (B)
July 15, 2017    Montreal (CDN)
July 16, 2017    Montreal (CDN)
July 29, 2017    New York (USA)
July 30, 2017    New York (USA)
no images were found

.