Marcel Fässler / André Lotterer / Benoît Tréluyer terzi nell'Audi più veloce
Lucas di Grassi / Loïc Duval / Oliver Jarvis al quarto posto
Audi registra il secondo nel tempo sul giro
Fonte: Audi Motorsport
Fuji, Giappone. 10 Ottobre 2015. Audi è vicino al top nelle qualifiche per il sesto round del FIA World Endurance Championship (WEC) in Giappone. Mentre il divario rispetto al miglior tempo nella gara precedente ancora stato pari a 1,3 secondi, la migliore Audi R18 e-tron quattro guidata dal leader in qualifica da solo è giunta un po' meno di tre decimi di secondo al Fuji.
"I molti appassionati di auto sportive in Giappone potranno guardare una gara emozionante", ha detto il capo di Audi Motorsport Wolfgang Ullrich a seguito della sessione di qualifiche. "I nostri sviluppi dall'estate hanno dato i suoi frutti."
Per la gara al Fuji, Audi ha sviluppato una carrozzeria modificata sulla base della sua efficienza aerodinamica. Esso combina bassa resistenza con buoni livelli di effetto suolo.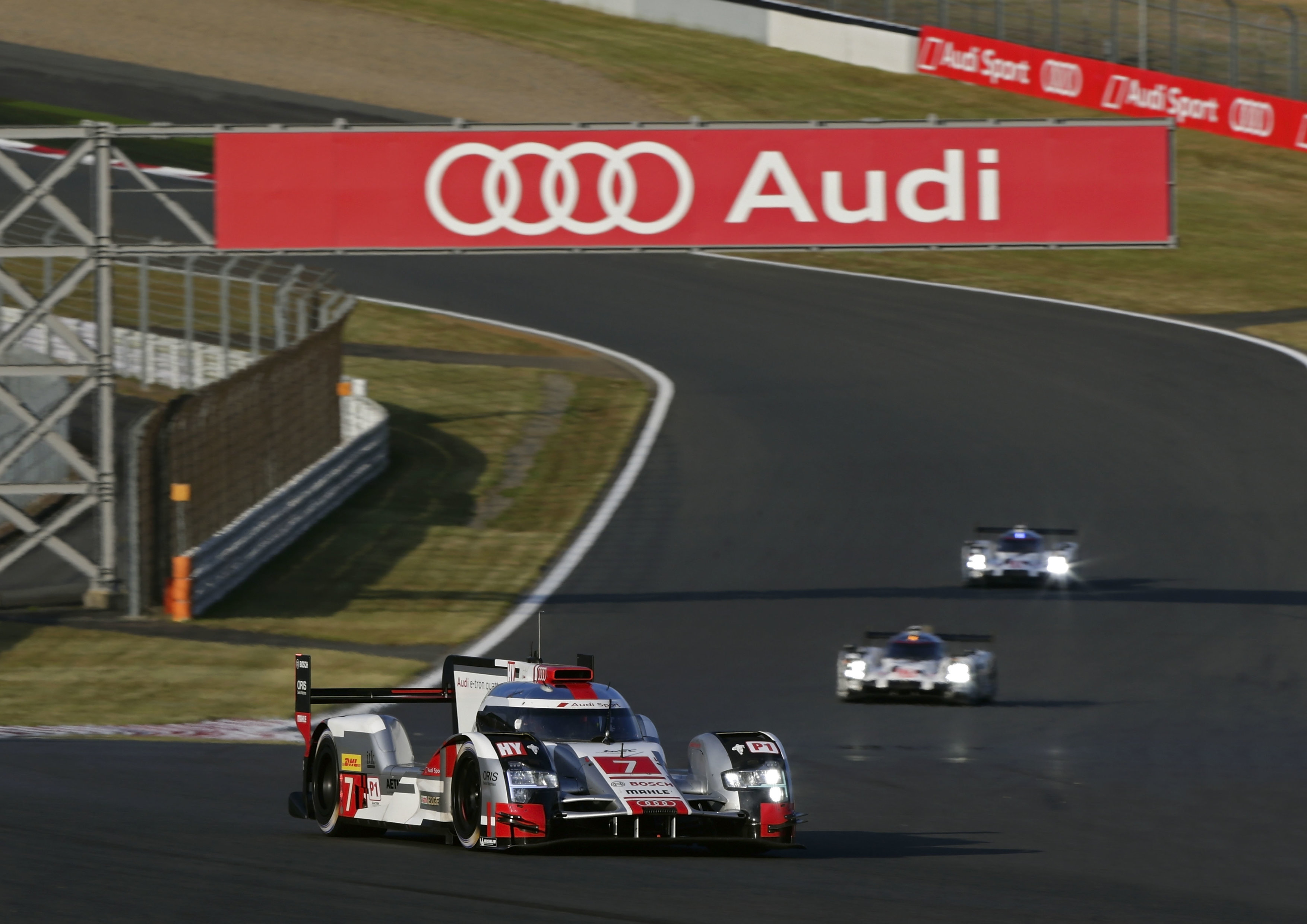 André Lotterer e Benoît Tréluyer nell'Audi R18 e-tron quattro numero 7 hanno ottenuto un tempo sul giro di 1m 23.082s combinato – corrispondente alla terza posizione in griglia e un distacco di 0,319 secondi dall'alto.
"La nostra macchina è andata bene", ha detto Tréluyer, che ha segnato il miglior tempo di tutti i driver Audi. "Il set-up è ben equilibrato. La squadra ha fatto un buon lavoro".
L'Audi numero 8 trascinava alla vettura gemella con un distacco di 163 millesimi di secondo.
"Siamo riusciti a fare un buon passo da Le Mans," ha dichiarato Loïc Duval. "In passato, la pista del Fuji non ci è risultata adatta così bene. Questo ci permette di essere così vicini alle calcagne di Porsche".
Chris Reinke, capo del PML in Audi Sport, guarda verso il sesto round della stagione che avrà inizio la Domenica alle 11.00, ora locale, con ottimismo:
"Audi è tornata di nuovo. Le qualifiche sono state spettacolari. Le posizioni cambiavano in continuazione fino alla fine. I tempi stretti danno luogo a sperare in una buona gara".
Risultati delle qualifiche
1 Bernhard/Hartley/Webber (Porsche) 1m 22.763s
2 Dumas/Jani/Lieb (Porsche) 1m 23.071s
3 Fässler/Lotterer/Tréluyer (Audi R18 e-tron quattro) 1m 23.082s
4 Di Grassi/Duval/Jarvis (Audi R18 e-tron quattro) 1m 23.245s
5 Buemi/Davidson/Nakajima (Toyota) 1m 25.072s
6 Conway/Sarrazin/Wurz (Toyota) 1m 25.327s
7 Abt/Imperatori/Kraihamer (Rebellion) 1m 28.492s
8 Beche/Prost (Rebellion) 1m 28.641s
9 Kaffer/Trummer (CLM-AER) 1m 30.740s
10 Bird/Canal/Rusinov (Ligier-Nissan) 1m 31.529s
In English
Audi reduces gap in qualifying at Fuji
Marcel Fässler/André Lotterer/Benoît Tréluyer third in fastest Audi
Lucas di Grassi/Loïc Duval/Oliver Jarvis in fourth place
Audi makes up one second in lap times
Source: Audi Motorsport
Audi came closer to the top in qualifying for round six of the FIA World Endurance Championship (WEC) in Japan. While the gap to the fastest time in the previous event still amounted to 1.3 seconds, the best Audi R18 e-tron quattro trailed the leader in qualifying by just a little less than three tenths of a second at Fuji.
"The many sports car fans in Japan can look forward to a thrilling race," said Head of Audi Motorsport Dr. Wolfgang Ullrich following the final qualifying session. "Our developments since the summer have paid off."
For the race at Fuji, Audi developed a modified body based on its efficiency aerodynamics. It combines low drag with good downforce levels.
André Lotterer and Benoît Tréluyer in the number '7' Audi R18 e-tron quattro achieved a combined lap time of 1m 23.082s – corresponding to grid position three and a gap of 0.319 seconds to the top.
"Our car felt good," said Tréluyer, who posted the best time of all Audi drivers. "The set-up is well-balanced. The team did a good job."
The number '8' Audi trailed the sister car with a gap of 163 thousandths of a second. "We managed to make a good step since Le Mans," said Loïc Duval.
"In the past, the track at Fuji didn't suit us so well. That makes being so close on Porsche's heels even sweeter."
Chris Reinke, Head of LMP at Audi Sport, looks toward round six of the season that will start on Sunday at 11.00, local time, with optimism:
"Audi is back again. Qualifying was spectacular. Positions kept shifting all the way up to the end. The narrow gaps give rise to hope for a good race."
Qualifying results
1 Bernhard/Hartley/Webber (Porsche) 1m 22.763s
2 Dumas/Jani/Lieb (Porsche) 1m 23.071s
3 Fässler/Lotterer/Tréluyer (Audi R18 e-tron quattro) 1m 23.082s
4 Di Grassi/Duval/Jarvis (Audi R18 e-tron quattro) 1m 23.245s
5 Buemi/Davidson/Nakajima (Toyota) 1m 25.072s
6 Conway/Sarrazin/Wurz (Toyota) 1m 25.327s
7 Abt/Imperatori/Kraihamer (Rebellion) 1m 28.492s
8 Beche/Prost (Rebellion) 1m 28.641s
9 Kaffer/Trummer (CLM-AER) 1m 30.740s
10 Bird/Canal/Rusinov (Ligier-Nissan) 1m 31.529s
no images were found