Audi R18 negli Stati Uniti, un importante mercato di Audi
Audi si propone per la terza vittoria a Austin dal 2013
Spettacolari Festa dello Sport auto con IMSA e FIA ​​WEC
Fonte: Audi Motorsport
Ingolstadt, Germania ed Austin, Texas. USA. 9 Settembre 2016. Suspense a bizzeffe nella seconda metà della stagione: nel FIA World Endurance Championship (WEC) il sabato 17 settembre Audi punta a vincere ad Austin per la terza volta. Le battaglie per la vittoria nel WEC da parte del marchio dei quattro anelli sono raramente state così vicine nel 2016. Due volte, nelle due gare più recenti, Audi ha avuto la possibilità di rivendicare il trofeo dei vincitori fino alla fine, finendo al secondo posto in entrambe le occasioni. In Texas, si è lavorato per far cambiare la tendenza.
"Abbiamo visto una grande pubblicità delle gare di durata del FIA WEC nelle gare più recenti", dice il capo di Audi Motorsport Wolfgang Ullrich. "Per sei ore, il risultato della corsa è rimasto totalmente aperto. Battute d'arresto così come i recuperi sono stati possibili in qualsiasi momento ed hanno offerto suspense a bizzeffe per il pubblico".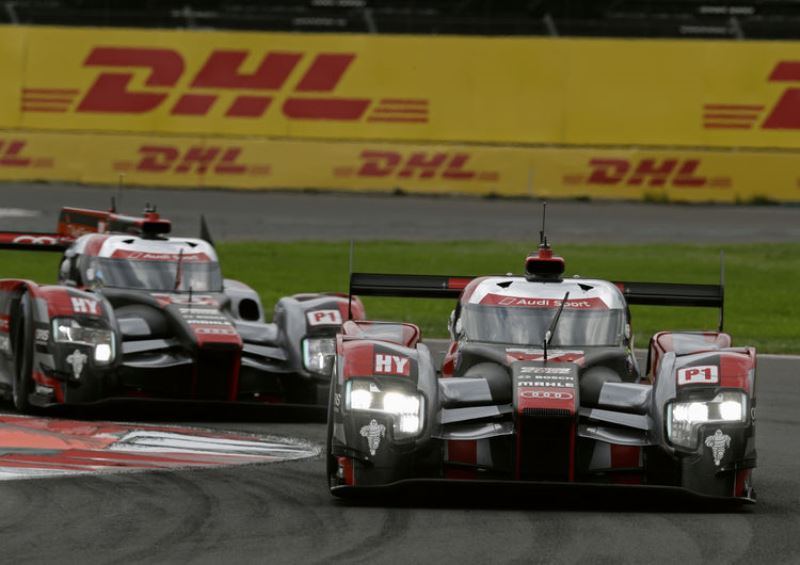 Più recentemente in Messico, i tre produttori hanno occupato le prime tre posizioni. Audi ha conquistato cinque trofei nella stagione 2016 fino ad oggi.
La situazione prima della sesta di nove gare del FIA ​​WEC vede Lucas di Grassi / Loïc Duval / Oliver Jarvis (BR / F / GB) ad avere recentemente conquistato la terza pole position per Audi nella quinta gara e inizialmente sono stati leader nella corsa in Messico. Tuttavia, due difetti con le successive riparazioni hanno causato che il trio della vettura numero 8 sia stato relegato ad un 27esimo posto non rappresentativo. Come risultato, i tre piloti Audi sono scesi dal secondo al terzo posto in campionato. Ad Austin, potrebbero riprendere la loro posizione precedente. Il deficit dalla cima alla classifica è attualmente di 43.5 punti e ci sono ancora 104 punti da assegnare prima della fine della stagione. Nella classifica dei costruttori, Audi è al secondo posto con un distacco di 43 punti ed un massimo di 176 punti possono ancora essere segnati fino alla fine della stagione. Il campionato resta aperto.
La seconda Audi R18 da Audi Sport Team Joest è sempre in grado di fornire prestazioni al top e ben si colloca al quarto posto della classifica. Nel 2016m l'auto numero 7 ha preso la pole position due volte. Dopo il quinto posto a Spa, la quarta posizione a Le Mans e il terzo posto al Nürburgring, la vettura numero 7 si è aggiudicata il secondo posto in Messico, e punta a continuare la sua tendenza al rialzo. Ad Austin, Marcel Fässler / André Lotterer / Benoît Tréluyer (CH / D / F) puntano a ripetere la loro vittoria del 2014.
Il "Circuito delle Americhe" nei pressi di Austin, nel sud del Texas è lungo 5.513 chilometri ed è una pista particolarmente intrigante. 20 curve con raggi molto diversi sfidano gli ingegneri rispetto alla messa a punto delle auto da corsa ed i 41 metri di dislivello verticale tra i settori più alti e quello più basso sono chiaramente visibili. Inoltre, questa è l'unico tracciato sul calendario del FIA WEC in cui le squadre percorrono la pista in senso antiorario. Questo mette a dura prova diversi gruppi muscolari dei piloti ed i meccanici devono adeguare le loro modalità di lavoro durante il pit stop.
La gara negli Stati Uniti si svolge in un mercato importante per Audi. Nei primi sette mesi dell'anno, la società è stata l'unica marca ad aumentare le sue vendite del 3,6 per cento vendendo un totale di 115,298 automobili.
Il pubblico ad Austin può guardare un altro grande spettacolo delle vettura sport. Il weekend di gara texano è stato pubblicizzato come "Lone Star Le Mans" ed abbina il FIA WEC ed il campionato IMSA WeatherTech SportsCar in un evento congiunto. Tre Audi corsa cliente gareggiano per le squadre Magnus Racing e Stevenson Motorsports, che sono in competizione nella serie IMSA. L'Audi R8 LMS ha festeggiato un incredibile settimo podio nella classe IMSA GTD quest'anno, tra cui le due vittorie di Magnus nelle gare di Daytona e Lime Rock Park.
Di conseguenza, i tifosi ad Austin godranno di quasi nove ore di corsa durante il sabato. Dopo il round IMSA, la gara di 6 Ore FIA ​​WEC avrà inizio alle 17:00 ora locale (00:00 CEST). La gara sarà emozionante per i tifosi con l'atmosfera unica delle gare di durata di notte fino alle 23:00 ora locale, che culmina in una grande esposizione di fuochi d'artificio come un punto culminante visivo ed acustico della manifestazione.
In English
Audi ready for Texan racing festival
Start of the Audi R18 in the United States, an important Audi market
Audi aims for third victory at Austin since 2013
Superb sports car festival featuring IMSA and FIA WEC
Source: Audi Motorsport
Ingolstadt, Germany and Austin, Texas, USA. 9th September 2016. Suspense galore in the second half of the season: In the FIA World Endurance Championship (WEC) on Saturday, September 17, Audi is aiming to win at Austin for the third time. The battles for victory in the WEC by the brand with the four rings have seldom been as close as in 2016 – twice, in the two most recent races, Audi has had chances of claiming the winners' trophy up until the end, just barely missing it in second place on both occasions. In Texas, the tide is set to turn.
"We've seen great advertising for endurance racing in the FIA WEC in the most recent rounds," says Head of Audi Motorsport Dr. Wolfgang Ullrich. "For six hours, the outcome of the race would remain entirely open. Setbacks as well as recoveries were possible at any time and delivered suspense galore to the audience."
Most recently in Mexico, three manufacturers occupied the first three positions. Audi has clinched five trophies in the 2016 season to date.
The situation before the sixth of nine FIA WEC rounds: Lucas di Grassi/Loïc Duval/Oliver Jarvis (BR/F/GB) had most recently clinched the third pole position for Audi in the fifth race and initially led the round in Mexico. However, two defects with subsequent repairs caused the trio in car number 8 to be relegated to an unrepresentative 27th place. As a result, the three Audi drivers dropped from second to third place in the championship. At Austin, they could recapture their previous position. The deficit to the top of the standings is currently 43.5 points and 104 points are yet to be awarded before the end of the season. In the manufacturers' standings, Audi is in second place with a 43-point gap and a maximum of 176 points can still be scored by the end of the season. The championship remains open.
The second Audi R18 from Audi Sport Team Joest is always capable of delivering top performances as well and ranks in fourth place of the standings. In 2016, car number 7 has taken pole position twice. Following fifth place at Spa, position four at Le Mans and third place at the Nürburgring, number 7, on clinching second place in Mexico, continued its upward trend. At Austin, Marcel Fässler/André Lotterer/Benoît Tréluyer (CH/D/F) are aiming to repeat their 2014 win.
The "Circuit of the Americas" near Austin in the south of Texas is 5.513 kilometers long and a particularly intriguing track. 20 corners with highly diverse radii challenge the engineers with respect to setting up the race cars and 41 meters of vertical difference between the lowest and the highest track sections are clearly noticeable. Plus, this is the only track on the FIA WEC calendar on which the teams drive counter-clockwise. This puts a strain on different muscle groups of the drivers and the mechanics have to adjust their ways of working during pit stops.
The race in the United States is held in an important market for Audi. In the first seven months of the year, the company was the only brand to increase its sales in the core competition, by 3.6 percent to 115,298 automobiles.
The audience at Austin can look forward to another sports car spectacle this year. The Texan race weekend billed as "Lone Star Le Mans" combines the FIA WEC and the IMSA WeatherTech SportsCar Championship to a joint event. Three Audi customer racing cars, fielded by Teams Magnus Racing and Stevenson Motorsports, are competing in the IMSA series. The Audi R8 LMS has celebrated an amazing seven podium places in the IMSA GTD class this year, including the two victories by Magnus Racing at Daytona and Lime Rock Park.
Consequently, the fans at Austin will be treated to nearly nine hours of straight racing on Saturday. Following the IMSA round, the 6-hour FIA WEC race will start at 17:00 local time (00:00 CEST). The series will be thrilling the fans with the unique nighttime atmosphere of endurance racing until 23:00 local time, culminating in a major display of fireworks as a visual and acoustical highlight of the event.
no images were found

.