Ricerca di aderenza in pista calda con temperature di 35 gradi
Lucas di Grassi / Loïc Duval / Oliver Jarvis il miglior team Audi
Fonte: Audi Motorsport
Spa, Belgio. 6 Maggio 2016. Nella battaglia per le posizioni della griglia nel secondo round del Mondiale FIA ​​Endurance Championship (WEC), Audi non ha trovato un set-up ottimale per le condizioni. Le due vetture Audi R18 ha dovuto ammettere la sconfitta rispetto i loro concorrenti sul circuito di 7,004 chilometri di Spa-Francorchamps in Belgio.
La seconda sessione di qualifiche della stagione è andata tutt'altro che perfetta per Audi. Un rivale ha rallentato André Lotterer (D) nel suo primo giro.
"E' successo all'inizio della mia prima uscita, e di conseguenza ho smesso di tirare", ha detto il tedesco. "Il mio secondo giro è stato meglio anche se sono stato un po' rallentato dal sottosterzo."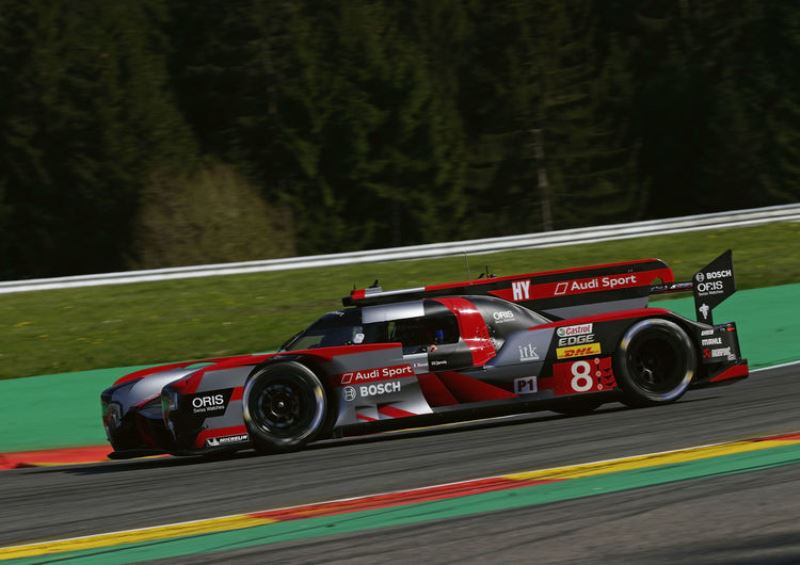 E' riuscito a segnare il terzo miglior tempo unico nel settore e il miglior giro di un pilota Audi. A seguito di una bandiera rossa, Marcel Fässler (CH) ha preso la guida dell'Audi R18 numero 7.
"Il mio primo giro è stato lento perché la parte posteriore era troppo leggera per me", ha detto lo svizzero. "Più tardi, nella curva veloce di Blanchimont, ho perso un pò di carico aerodinamico dietro due avversari e per finire, ho fatto un errore di frenata davanti alla chicane." Di conseguenza, il trio ha dovuto accontentarsi della sesta posizione in griglia.
Nella vettura gemella numero "8", Oliver Jarvis (GB) ha iniziato le qualifiche.
"Il mio giro era ok, ma certamente non qualcosa di speciale", ha detto il britannico. "Considerando il fatto che non abbiamo potuto guidare per molti chilometri nelle sessioni di prove libere, il tempo era okay".
Loïc Duval (F) in seguito ha preso il volante della Audi R18 ed ha ridotto il gap dal terzo posto a solo 18 millesimi di secondo.
"Ovviamente, il potenziale degli pneumatici usati, alla fine era limitato. Tuttavia, non sarebbe stato possibile per Audi fare molto meglio, rimanendo la seconda forza in campo dietro Porsche", ha detto il francese. Alla fine, la numero "8" ha ottenuto la posizione quattro della griglia.

"Non siamo particolarmente felici dopo questa sessione di qualifica", ha detto il capo di Audi Motorsport Wolfgang Ullrich. "I nostri piloti più volte hanno incontrato avversari più lenti e non siamo stati generalmente in grado di sfruttare al meglio le condizioni della pista. La pista calda con temperature di 35 gradi non ha prodotto il grip che ci si aspettava. Non lascieremo nulla di intentato per migliorare le nostre vetture prima della gara".
Sabato 7 maggio, il secondo dei nove turni WEC avrà inizio alle 14:30.
Risultati di qualificazione
1 Bernhard / Hartley / Webber (Porsche) 1m 55.793s
2 Dumas / Jani / Lieb (Porsche) 1m 56.590s
3 Conway / Kobayashi / Sarrazin (Toyota) 1m 57.698s
4 Di Grassi / Duval / Jarvis (Audi R18) 1m 57.716s
5 Buemi / Davidson / Nakajima (Toyota) 1m 57.750s
6 Fässler / Lotterer / Tréluyer (Audi R18) 1m 57.915s
7 Imperatori / Kraihamer / Tuscher (Rebellion) 2m 01.547s
8 Heidfeld / Piquet / Prost (Rebellion) 2m 02.126s
9 Rossiter / Trummer / Webb (CLM-AER) 2m 03.571s
10 Berthon / Rast / Rusinov (Oreca-Nissan) 2m 07.363s
In English
Audi on second and third rows at Spa
Search for grip on warm track with temperatures of 35 degrees
Lucas di Grassi/Loïc Duval/Oliver Jarvis best Audi team
Source: Audi Motorsport
Spa, Belgium. May 6th, 2016. In the battle for grid positions in round two of the FIA World Endurance Championship (WEC), Audi did not find an optimum set-up for the conditions. The two R18 cars had to admit defeat to their competitors on the 7.004-kilometer circuit at Spa-Francorchamps in Belgium.
The second qualifying session of the season went anything but perfectly for Audi. A rival slowed André Lotterer (D) on his first lap.
"It happened at the beginning of my first outing, which I stopped as a result," the German said. "My second lap was better even though I was somewhat slowed by understeer."
He managed setting the third-best single time in the field and the best lap of an Audi driver.
Following a red flag, Marcel Fässler (CH) took over the number "7" Audi R18.
"I stopped my first lap after the rear got too light for me at one stage," the Swiss said. "Later, in the fast Blanchimont corner, I lost some downforce behind two rivals and, to top it off, made a braking mistake in front of the chicane."
Consequently, the trio had to settle for grid position six.
In the number "8" sister car, Oliver Jarvis (GB) started qualifying.
"My lap was okay, but certainly not anything special," the Briton said afterwards. "Considering the fact that we didn't drive a lot of kilometers in the free practice sessions, the time was okay."
Loïc Duval (F) subsequently took over the Audi R18 and reduced the gap to the third-placed car in front to 18 thousands of a second.
"Obviously, the potential on used tires at the end was limited. However, it wouldn't have taken a lot more for Audi to have been the second-strongest force in the field trailing Porsche," said the Frenchman. In the end, number "8" achieved position four on the grid.

"We're not particularly happy after this qualifying session," said Head of Audi Motorsport Dr. Wolfgang Ullrich. "Our drivers repeatedly encountered slower rivals and we were generally unable to make optimum use of the track conditions. The warm track with temperatures of 35 degrees did not produce the grip we'd been expecting. We're going to leave no stone unturned to improve our cars before the race."
On Saturday, May 7, the second of nine WEC rounds will start at 14:30.
Qualifying results
1 Bernhard/Hartley/Webber (Porsche) 1m 55.793s
2 Dumas/Jani/Lieb (Porsche) 1m 56.590s
3 Conway/Kobayashi/Sarrazin (Toyota) 1m 57.698s
4 Di Grassi/Duval/Jarvis (Audi R18) 1m 57.716s
5 Buemi/Davidson/Nakajima (Toyota) 1m 57.750s
6 Fässler/Lotterer/Tréluyer (Audi R18) 1m 57.915s
7 Imperatori/Kraihamer/Tuscher (Rebellion) 2m 01.547s
8 Heidfeld/Piquet/Prost (Rebellion) 2m 02.126s
9 Rossiter/Trummer/Webb (CLM-AER) 2m 03.571s
10 Berthon/Rast/Rusinov (Oreca-Nissan) 2m 07.363s
no images were found