· I migliori chef stellati internazionali assieme per promuovere il territorio e la sostenibilità ambientale
· Audi A3 Sportback e-tron official car della prima edizione di CARE's
· Al centro di San Cassiano, l'avveniristica stazione e-hub per la ricarica elettrica
· In Alta Badia fino al 20 gennaio
Fonte: Audi Italia
Verona, Italia. 18 gennaio 2016. Audi supporta il progetto CARE's – the ethical chef days – ideato e promosso da Norbert Niederkofler, chef stellato del Ristorante St Hubertus, San Cassiano, in svolgimento dal 17 al 20 gennaio nel suggestivo scenario dell'Alta Badia.
La prima edizione dell'evento vede l'incontro di trenta chef provenienti da tutto il mondo per promuovere il rispetto del territorio e della sostenibilità ambientale anche in tema di eno-gastronomia.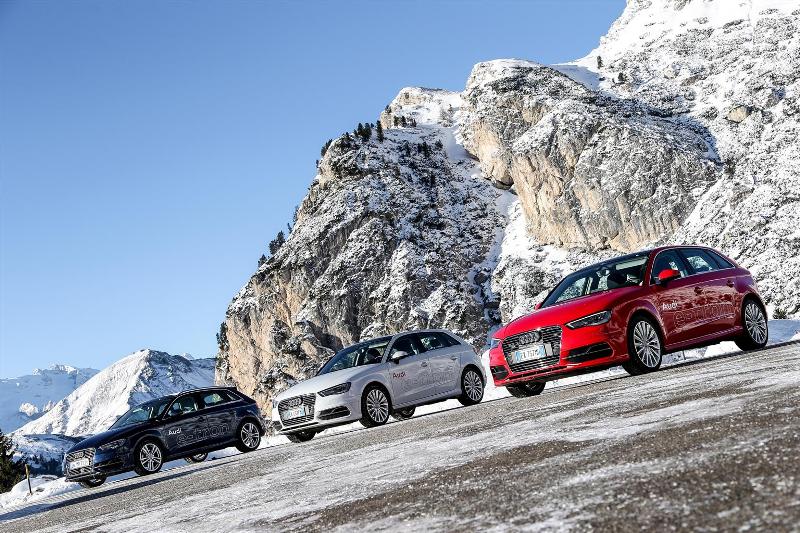 L'utilizzo sostenibile delle risorse naturali sarà il tema su cui si confronteranno i protagonisti del settore, con l'obiettivo di portare al centro dell'attenzione l'educazione al consumo responsabile delle nuove generazioni.
Proprio l'attenzione alla qualità e l'approccio sostenibile alle risorse hanno portato Audi a sposare l'iniziativa, facendo di questa affinità uno strumento di comunicazione dei valori del Marchio.
All'appuntamento in Alta Badia, Audi è presente con una flotta di A3 Sportback e-tron, la prima automobile dei quattro anelli con tecnologia ibrida plug-in, studiata per offrire performance e divertimento al volante, nel massimo rispetto dell'ambiente.
Grazie all'abbinamento di un efficiente motore a benzina da 1.4 litri e di un potente motore elettrico alimentato da batterie al litio ricaricabili attraverso la comune rete elettrica, infatti, la A3 Sportback e-tron offre un'elevata efficienza. Con la sola propulsione elettrica, l'auto percorre fino a 50 km raggiungendo una velocità massima di 130 km/h.
Quando i due motori lavorano in sinergia, invece, la potenza massima di 204 CV permette performance sportive, con accelerazione da 0 a 100 km/h in 7,6 secondi e velocità massima di 222 km/h, mentre il consumo medio combinato è di soli 1,5 l/100 km.
Le batterie delle vetture saranno mantenute in carica presso l'Audi e-hub, una struttura studiata per la ricarica simultanea delle automobili, che rappresenta un'interpretazione avanguardistica di una possibile stazione di ricarica elettrica urbana.
A completare la presenza dei quattro anelli tra le vette dolomitiche, la gamma di modelli a trazione integrale quattro è stata messa a disposizione dei partecipanti per gli spostamenti quotidiani tra le location che hanno ospitato la manifestazione e in direzione dei numerosi touch point Audi sul territorio, tra cui l'Hotel Rosa Alpina, il rifugio Moritzino, l'Hotel Ciasa Salares e il risto-lounge L'Got di Corvara.
Con questa nuova iniziativa, Audi torna a scegliere gli scenari montani nella stagione invernale quali luoghi d'eccellenza in cui dare forma ai propri valori, proseguendo così l'impegno che da diversi anni la vede presidiare il territorio italiano con iniziative di grande fascino e attraverso la creazione di vere e proprie "home of quattro".
no images were found