Audi e-tron Hub e la Costa Smeralda: una partnership all'insegna del futuro della mobilità
All'aeroporto di Olbia, l'avveniristica stazione Audi e-tron Hub per la ricarica elettrica a disposizione del pubblico fino al 31 agosto
Una flotta di Audi Q7 e-tron e Audi A3 e-tron a disposizione del pubblico per test drive
L'Audi Italian Sailing League al via nelle acque di Porto Cervo
Audi conferma la propria presenza in Costa Smeralda, rinnovando una vicinanza col territorio all'insegna dell'eccellenza
Fonte: Audi Italia
Verona, Italia. 8 Luglio 2016. All'appuntamento estivo con la Home of quattro in Costa Smeralda, Audi supporta il complesso aeroportuale di Olbia con un infrastruttura al servizio della mobilità sostenibile.
Di fronte alla zona degli arrivi dell'aeroporto, infatti, è entrata in funzione la struttura Audi e-tron Hub, un'interpretazione avanguardistica di una possibile stazione di ricarica elettrica urbana, che consentirà a tutti i possessori di vetture elettriche la ricarica gratuita delle batterie.
L'aeroporto Geasar di Olbia, inserito quest'anno nella short list dei migliori aeroporti europei nella categoria sino a 5 milioni di passeggeri come punto di riferimento sui temi della eco-sostenibilità e delle politiche ambientali, ospita la struttura Audi con 4 colonnine di ricarica a 380 volts a disposizione di coloro che possiedono auto elettriche e desiderano ricaricare i propri mezzi.
L'Audi e-tron Hub è aperta al pubblico fino al 31 agosto con una flotta di due A3 e-tron e di due Audi Q7 e-tron, a disposizione dei Clienti su prenotazione su www.eventi.audi.it.
La Audi A3 e-tron, la compatta ibrida della Casa di Ingolstadt, e la Q7 e-tron, il primo ibrido plug-in al mondo con motore V6 TDI e trazione quattro, sono studiati per offrire performance e divertimento al volante, nel massimo rispetto dell'ambiente. La tecnologia ibrida plug-in concilia il meglio di due mondi: i vantaggi di un motore a combustione e quelli di un motore elettrico.
La Q7 e-tron 3.0 TDI quattro, ultima nata dalla tecnologia e-tron, definisce nuovi standard nel suo segmento unendo la propulsione a ciclo Diesel con la modalità elettrica plug-in e la trazione integrale quattro. Una vettura in grado di coniugare funzionalità, dinamismo, versatilità nell'uso quotidiano e sicurezza in ogni situazione.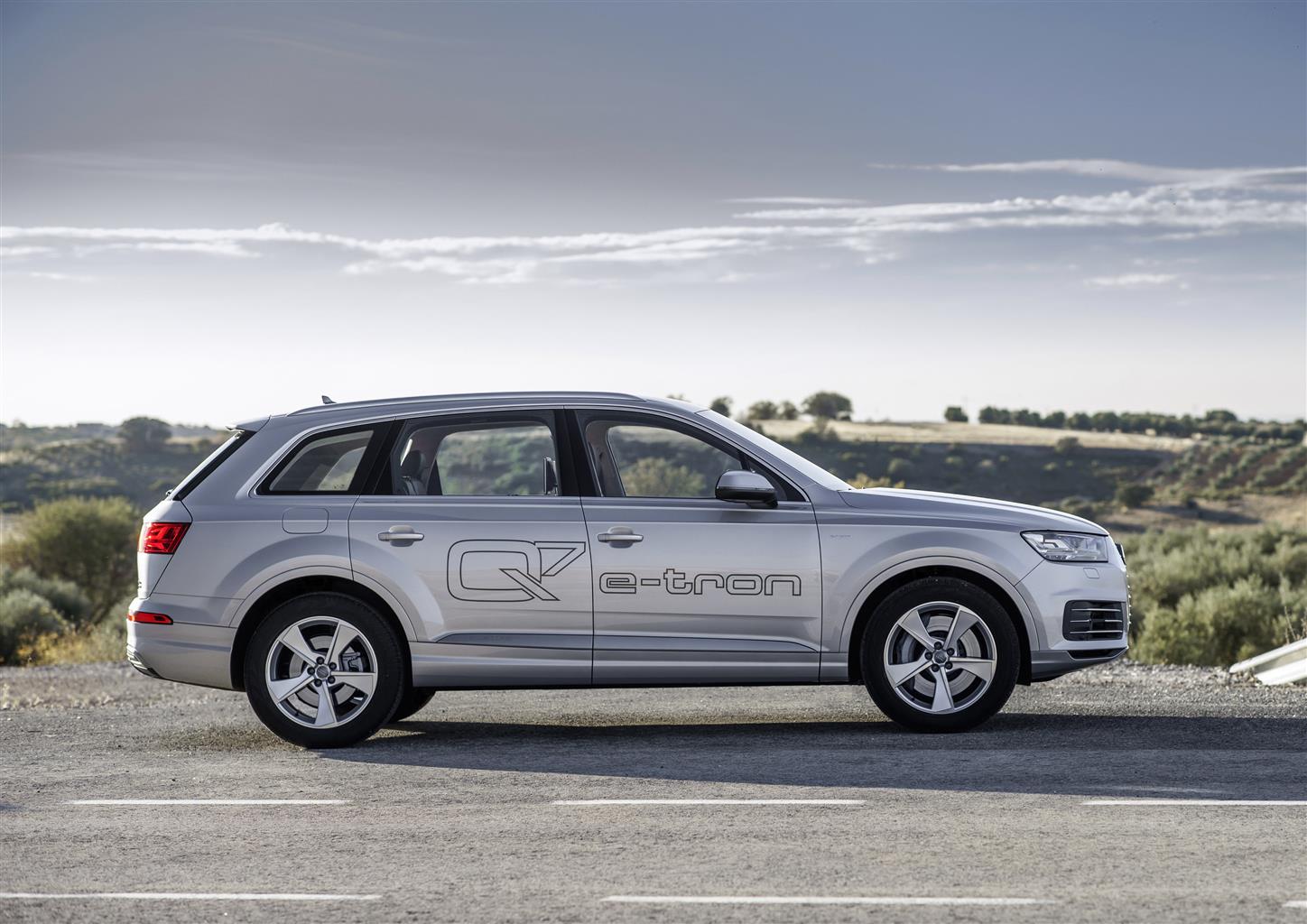 Ma la presenza Audi sul territorio della Sardegna passa, anche attraverso i servizi offerti da una flotta di 65 vetture. Per tutta la stagione estiva saranno disponibili sia per i test drive di Clienti e appassionati sia per i servizi di courtesy car tra i touch point sul territorio che definiscono la Home of quattro estiva del marchio Audi: Hotel Pitrizza, Pevero Golf Club, Hotel Cala di Volpe, Hotel Romazzino, Cervo Hotel, Marina di Porto Cervo, Consorzio Costa Smeralda, Yacht Club Costa Smeralda e ovviamente l'aeroporto di Olbia Costa Smeralda Geasar e l'aviazione generale Eccelsa Aviation.
La presenza del brand Audi si concretizza inoltre a fianco dello Yacht Club Costa Smeralda con l'Audi Italian Sailing League, il nuovo avvincente format previsto dall'8 al 10 luglio, durante il quale, per la prima volta, 34 team italiani a bordo dell'imbarcazione da regata monotipo J70 gareggeranno per difendere il proprio guidone e qualificarsi per la finale di settembre della Sailing Championship League, della quale Audi è Official Partner. Si tratta di un evento di elevata risonanza che si svolge in un contesto altamente competitivo ed entusiasmante, nato proprio dalla sinergia fra Audi e lo YCCS e che regalerà momenti di grande sportività.
Le regate veliche di risonanza internazionale e di elevata professionalità che si svolgono nelle acque di Porto Cervo, con la loro continua ricerca di performance ed efficienza, e gli ambienti raffinati dello Yacht Club Costa Smeralda dove la cura del dettaglio e la ricercatezza sono di casa rappresentano una sintesi esperienziale dei valori espressi dalla Casa dei quattro anelli.
no images were found

.