Intensi preparativi per la 24 Ore di Le Mans (giugno 18/19): i due Audi R18 compiono un totale di 138 giri durante la giornata di test ufficiali a Le Mans.
Chilometri di prova importanti per Audi a Le Mans
Fonte: Audi Motorsport
Le Mans, Francia. 6 Giugno 2016. Audi si prepara per la gara più dura dell'anno – la 24 Ore di Le Mans. Il tracciato di gara lungo 13,629 chilometri viene chiuso solo per la giornata di test e la settimana di gara.
"Per questo motivo è ancora più importante utilizzare questo tempo in modo produttivo. Abbiamo iniziato la giornata di test con i programmi dettagliati ", ha detto il capo di Audi Motorsport Wolfgang Ullrich.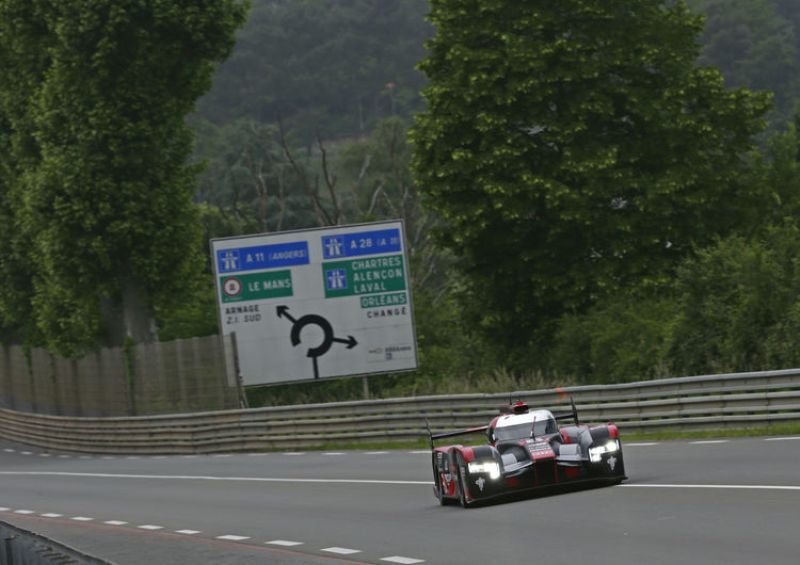 I due Audi R18 hanno completato in totale 138 giri in Francia. Ciò equivale a 1.881 chilometri. Lucas di Grassi (BR), che inizia con Loïc Duval (F) e Oliver Jarvis (GB), ha registrato un tempo per un giro di 3m 21.375s, il tempo più veloce della giornata con il numero di partenza '8'. Il suo vantaggio: 0,895 secondi.
La vettura gemella di Marcel Fässler / André Lotterer / Benoît Tréluyer (CH / D / F) ha perso circa due ore nel pomeriggio a causa del cambio di un ammortizzatore sull'asse anteriore ed è finita quarta.
"Tuttavia, abbiamo raggiunto alcuni obiettivi importanti e siamo già a buon punto con il set-up delle nostre macchine da corsa," ha detto il Dott Ullrich.
La settimana della corsa inizia per Audi il 13 giugno con le verifiche tecniche nel centro della città di Le Mans, la gara di 24 ore inizia il 18 giugno.
In English
Audi completes 1,800 test kilometers at Le Mans
Intensive preparations for the 24 Hours of Le Mans (June 18/19): the two Audi R18 spooled off a total of 138 laps during the official test day at Le Mans.
Valuable test kilometers for Audi at Le Mans
Source: Audi Motorsport
Le Mans, Francia. 6th June 2016. Audi is prepared for the toughest race of the year – the 24 Hours of Le Mans. The 13.629 kilometer long race track is only closed off for the test day and race week.
"For this reason it's even more important to use this time productively. We started the test day with detailed programs," said Head of Audi Motorsport Dr. Wolfgang Ullrich.
The two Audi R18 completed a total of 138 laps in France. This equates to 1,881 kilometers. Lucas di Grassi (BR), who starts with Loïc Duval (F) and Oliver Jarvis (GB), set a 3m 21.375s lap to record the fastest time of the day with the start number '8'. His advantage: 0.895 seconds.
The sister car of Marcel Fässler/André Lotterer/Benoît Tréluyer (CH/D/F) lost about two hours in the afternoon due to changing a damper on the front axle and finished fourth.
"Nevertheless, we achieved some important targets and are already well advanced with the set-up of our race cars," said Dr. Ullrich.
The race week begins for Audi on June 13 with technical scrutineering in the Le Mans city center, the 24-hour race starts on June 18.
no images were found

.
Modifica galleria