Audi R18 vince con Lucas di Grassi / Loïc Duval / Oliver Jarvis
Il 16° successo di Audi in una gara del Campionato Mondiale Endurance FIA (WEC)
106 ° vittoria nelle auto sport LMP del marchio dei quattro anelli
Fonte: Audi Motorsport
Spa, Belgio. 7 Maggio 2016. Audi ha vinto il secondo turno insolitamente duro del FIA World Endurance Championship (WEC) a Spa-Francorchamps. A temperature superiori a 25 gradi centigradi, alla fine solo due delle sei vetture sportive ibride da tutti i produttori che avevano iniziato la gara sono riusciti a finirla in pista in Belgio. La vittoria con un vantaggio di due giri è stata celebrata da Lucas di Grassi / Loïc Duval / Oliver Jarvis (BR / F / GB) a seguito di una gara impeccabile nella loro Audi R18.
Gli spettatori in Belgio hanno assistito ad un'emozionante gara del WEC da molto tempo. In vari momenti della gara di 6 ore, ciascuno dei tre marchi è stato in testa con un chiaro vantaggio, almeno una volta, ma il caldo e una gara ricca di azione hanno preso il loro tributo. Sotto gli occhi di Matthias Müller, Presidente del Consiglio di Volkswagen AG Management, e il Dr. Stefan Knirsch, Membro del Consiglio di AUDI AG per lo sviluppo tecnico di gestione, l'Audi Sport Team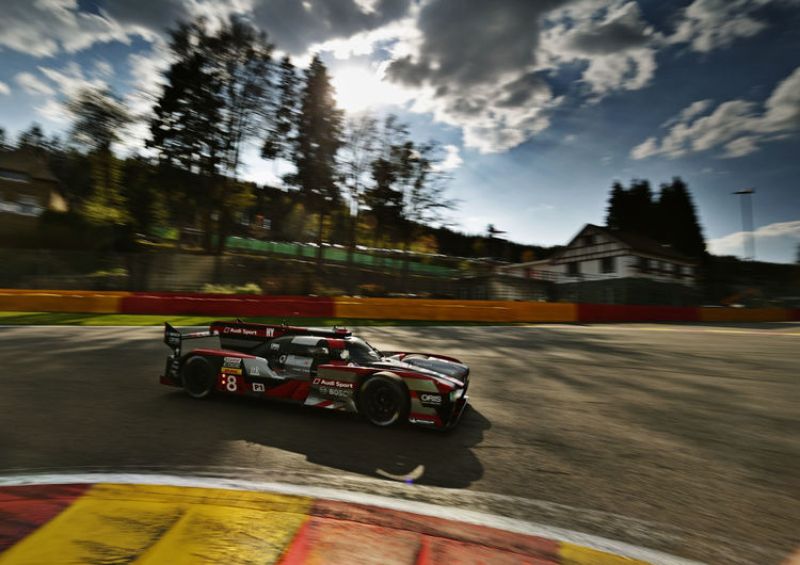 Joest è stata la squadra di maggior successo. Lucas di Grassi ha iniziato la gara nella vettura numero '8' prima che il suo compagno di squadra Loïc Duval, seguito da Oliver Jarvis, abbiano preso volante. Dopo sei ore di gara con diversi periodi di bandiera gialla, numerose sanzioni sportive, incidenti e difetti tecnici, il trio ha festeggiato la sua prima vittoria congiunta. Di Grassi era contento del suo primo trofeo da vincitore con Audi, mentre Jarvis aveva già vinto uno e Duval aveva ottenuto quattro vittorie con la vettura Sport di Audi.
"Oggi, i piloti, il team e la tecnologia hanno dovuto dimostrare le qualità di resistenza reali", ha detto il capo di Audi Motorsport Wolfgang Ullrich. "Sono molto felice per la prima vittoria congiunta conquistata da Lucas, Loïc e Oliver. Sincere congratulazioni per la loro performance impeccabile. "
E' stato il 106esimo successo LMP di Audi in totale a partire dalla stagione 2000.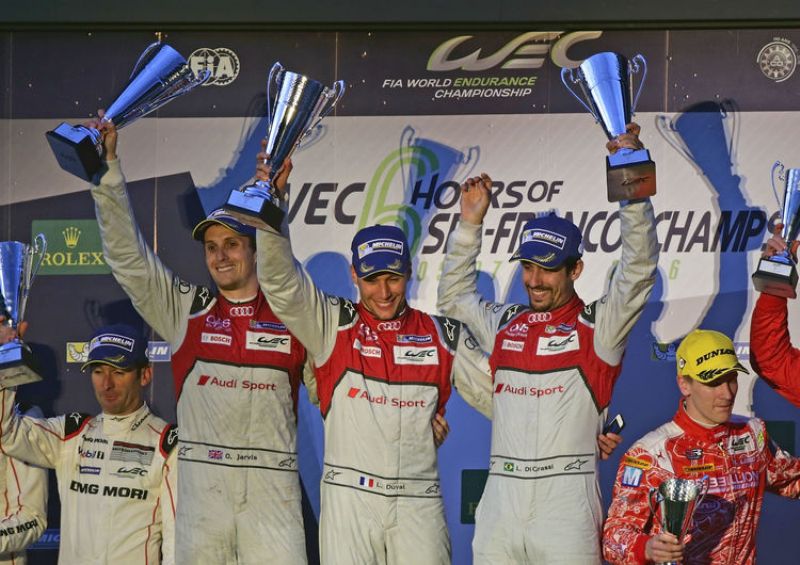 La vettura gemella numero '7' non ha avuto alcuna possibilità in questa occasione dopo che Marcel Fässler / André Lotterer / Benoît Tréluyer (CH / D / F) hanno subito diverse battute d'arresto. In un duello, Tréluyer è passato su un cordolo così forte che il pavimento della vettura si è danneggiato ed ha dovuto essere cambiato. Dopo che la macchina ha trascorso 14m30s ai box per questa sostituzione, i condotti dell'aria hanno dovuto essere puliti in una fase successiva ed è costato ancora più tempo. Quando Marcel Fässler ha toccato una macchina davanti a lui, la squadra ha dovuto cambiare il cofano della sua auto da corsa. Inoltre, l'auto numero '7' ha ricevuto una penalità drive-through per questo incidente. Alla fine, il trio ha combattuto nella sua gara in pista per arrivare alla fine in quinta posizione. Di conseguenza, Audi ha segnato 40 punti nella classifica costruttori.
Il prossimo impegno per Audi Sport nel WEC sarà il giorno di test a Le Mans il 5 giugno. Lì, la squadra sta andando a preparare la 18esima partecipazione di Audi nella gara di 24 ore che si terrà il 18 e il 19 di Giugno di quest'anno .
Classifica Finale
1 Di Grassi / Duval / Jarvis (Audi R18) 160 giri
2 Dumas / Jani / Lieb (Porsche) -2 giri
3 Imperatori / Kraihamer / Tuscher (Rebellion) -4 giri
4 Heidfeld / Piquet / Prost (Rebellion) -5 giri
5 Fässler / Lotterer / Tréluyer (Audi R18) -5 giri
6 Rossiter / Trummer / Webb (CLM-AER) -9 giri
7 Lapierre / Menezes / Richelmi (alpino) -9 giri
8 Cumming / Dalziel / Derani (Ligier-Nissan) -9 giri
9 Bradley / Merhi / Rao (Oreca-Nissan) -9 giri
10 Albuquerque / Gonzalez / Senna (Ligier-Nissan) -9 giri
In English
Audi celebrates first WEC victory this season at Spa
Audi R18 wins with Lucas di Grassi/Loïc Duval/Oliver Jarvis
Audi's 16th race success in FIA World Endurance Championship (WEC)
106th LMP sports car victory of the brand with the four rings
Source: Audi Motorsport
Spa, Belgium. 7th May 2016. Audi has won the unusually tough second round of the FIA World Endurance Championship (WEC) at Spa-Francorchamps. In temperatures above 25 degrees centigrade, in the end only two of the six hybrid sports cars from all manufacturers that had started finished at the front of the field in Belgium. Victory with a two-lap advantage was celebrated by Lucas di Grassi/Loïc Duval/Oliver Jarvis (BR/F/GB) following an impeccable race in their Audi R18.
The spectators in Belgium witnessed the most thrilling WEC round in a long time. At various times of the 6-hour race, each of the three brands was leading with a clear advantage at least once, but the heat and an action-packed race took their toll. Under the eyes of Matthias Müller, Chairman of the Management Board of Volkswagen AG, and Dr. Stefan Knirsch, Member of the Management Board of AUDI AG for Technical Development, Audi Sport Team Joest was the most successful squad. Lucas di Grassi started the race in car number '8' before his teammate Loïc Duval, followed by Oliver Jarvis, took over the cockpit. After six hours of racing with several yellow periods, numerous sports penalties, accidents and technical defects in the field, the trio celebrated its first joint victory. Di Grassi was pleased about his first-ever winners' trophy with Audi, whereas Jarvis had previously scored one and Duval even four sports car victories with Audi.
"Today, the drivers, the team and the technology had to show real endurance qualities," said Head of Audi Motorsport Dr. Wolfgang Ullrich. "I am very happy about the first joint victory clinched by Lucas, Loïc and Oliver. Sincere congratulations on their impeccable performance." It was Audi's 106th LMP success in total since the 2000 season.
The number '7' sister car had no chance on this occasion after Marcel Fässler/André Lotterer/Benoît Tréluyer (CH/D/F) suffered several setbacks. In a duel, Tréluyer drove over a kerb so hard that the damaged underfloor had to be changed. After the car spent 14.30 minutes in the pits for this to be replaced, the air ducts had to be cleaned at a later stage, which cost further time. When Marcel Fässler touched a car in front of him, the team had to change the hood of his race car. In addition, number '7' received a drive-through penalty for this incident. In the end, the driver trio battled its way forward to position five overall. As a result, Audi scored 40 points in the manufacturers' classification.
The next commitment for Audi Sport in the WEC will be the test day at Le Mans on June 5. There, the squad is going to prepare for Audi's 18th participation in the 24-hour race that will be held on June 18 and 19 this year.
Race results
1 Di Grassi/Duval/Jarvis (Audi R18) 160 laps
2 Dumas/Jani/Lieb (Porsche) –2 laps
3 Imperatori/Kraihamer/Tuscher (Rebellion) –4 laps
4 Heidfeld/Piquet/Prost (Rebellion) –5 laps
5 Fässler/Lotterer/Tréluyer (Audi R18) –5 laps
6 Rossiter/Trummer/Webb (CLM-AER) –9 laps
7 Lapierre/Menezes/Richelmi (Alpine) –9 laps
8 Cumming/Dalziel/Derani (Ligier-Nissan) –9 laps
9 Bradley/Merhi/Rao (Oreca-Nissan) –9 laps
10 Albuquerque/Gonzalez/Senna (Ligier-Nissan) –9 laps
no images were found