Nuova ala anteriore crea unica identità visiva
Fonte: Formula E
Londra, Regno Unito. 28 luglio 2016. L'auto di Formula E avrà un audace nuovo look per il FIA Formula E Championship 2016/17, grazie all'introduzione di una splendida nuova ala anteriore.
La nuova ala a due livelli rende la monoposto completamente elettrica più aggressiva e diversa da qualsiasi altra auto da corsa in tutto il mondo.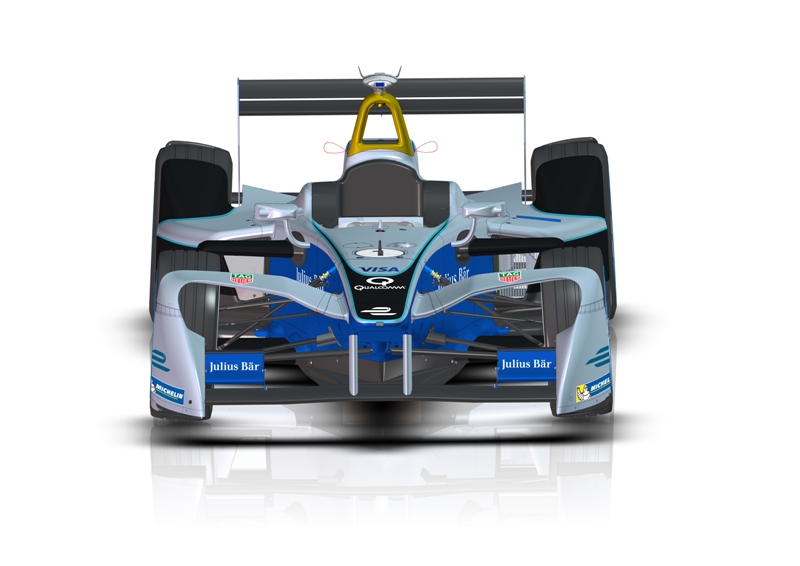 Alejandro Agag, CEO di Formula E, ha detto:
"La Formula E si propone di essere diversa, e questa nuova ala anteriore crea un look che è diverso da ogni altra macchina. Penso che questa sia una grande aggiunta alla nostra macchina e inoltre sottolinea il fatto che questo è un campionato moderno, lungimirante, che sta adottando un approccio completamente diverso da tutte le altre serie di corse. "
Il Presidente della FIA Jean Todt, ha detto:
"Il FIA Formula E Championship non è solo un grande ambiente in cui sviluppare un propulsore completamente elettrico con le nuove tecnologie per le batterie, ma è anche una piattaforma per la sperimentazione di soluzioni innovative quando si tratta di progettare vetture monoposto da corsa."
Il campione in carica di Formula E Sebastien Buemi (Renault e.Dams), ha aggiunto:
"Mi piace l'aspetto della nuova ala anteriore – sembra un più futuristico, e dall'interno della vettura si può vedere la parte superiore dell'ala, così visivamente per il pilota c'è anche un piccolo cambiamento. Vogliamo che la Formula E si distingua per un aspetto diverso e per essere diversa, e la nuova ala è un buon modo di mostrare che lo è. Non credo che ci sia un impatto troppo grande sull'aerodinamica, questo non è nella filosofia di questo campionato – ma è un buon modo per mostrare lo sviluppo visivo a Hong Kong per l'inizio della terza stagione ".
La prima uscita pubblica per l'auto di Formula E con il nuovo look sarà nella prova collettiva di apertura a Donington Park il 23 agosto.
In English
Bold new look for Formula E car
New front wing creates unique visual identity
Source: Formula E
London, UK. July 28 2016. The Formula E car will sport a bold new look for the 2016/17 FIA Formula E Championship, thanks to the introduction of a stunning new front wing.
The new two-tier wing makes the fully-electric single-seater look more aggressive and unlike any other racing car in the world.
Formula E CEO Alejandro Agag, said:
"Formula E aims to be different, and this new front wing creates a look that's different to every other car out there. I think this is a great addition to our car and further emphasises the fact that this is a modern, forward-thinking championship that is taking a completely different approach to all other racing series."
FIA President Jean Todt, said:
"The FIA Formula E Championship is not just a great environment in which to develop a completely electric powertrain with new battery technologies, but it is also a platform for experimenting with innovative solutions when it comes to designing single-seater racing cars."
Reigning Formula E champion Sebastien Buemi (Renault e.Dams), added:
"I like the look of the new front wing – it looks a little bit more futuristic, and from inside the car you can see the top part of the wing, so visually for the driver there is also a small change. We want Formula E to look different and be different, and the new wing is a good way of showing that. I don't think it will make too big of an impact on aero which isn't in the ethos of this championship – but it's a good way to show visual development heading to Hong Kong for the start of season three."
The first public outing for the new-look Formula E car will be at the opening group test at Donington Park on August 23.
no images were found

.