Volvo Cars lancia un appello all'industria automobilistica per la standardizzazione della ricarica delle auto elettriche
Fonte: Volvo Car Corporation
Goteborg, Svezia. 10 Marzo 2016. Stando alle affermazioni di Peter Mertens, Senior Vice President Ricerca & Sviluppo di Volvo Car Group, la Casa svedese ritiene che l'industria automobilistica globale debba battersi per l'introduzione di una infrastruttura standardizzata per la ricarica delle automobili elettriche.
Per sostenere questa campagna in favore di uno standard globale per la ricarica delle auto elettriche, Volvo Cars ha deciso di appoggiare la Charging Interface Initiative, un consorzio di stakeholder che è stato fondato allo scopo di affermare il Sistema di Ricarica Combinato (CCS – Combined Charging System) sviluppato da questi ultimi come potenziale standard per la ricarica dei veicoli alimentati a batterie.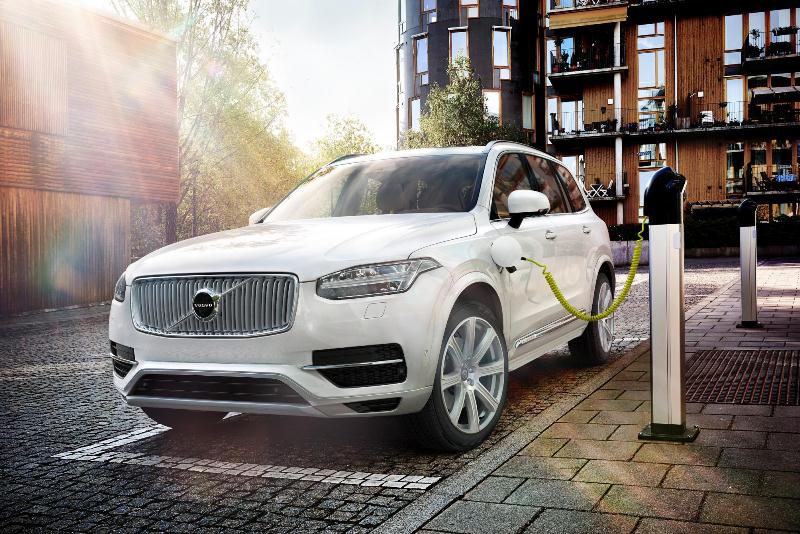 Volvo Cars è una delle principali Case costruttrici di automobili ibride con sistema plug-in e si propone di offrire una variante ibrida plug-in per ciascun nuovo modello introdotto nell'ambito del suo piano di rinnovamento dell'intero portafoglio di prodotti nei prossimi anni. La Casa svedese introdurrà un veicolo completamente elettrico nel 2019, basato sulla sua architettura di prodotto modulare SPA.
Al fine di consolidare la crescente popolarità dei veicoli elettrici e garantire la piena accettazione della tecnologia da parte dei clienti, Peter Mertens sostiene che è necessaria un'infrastruttura di ricarica semplice, standardizzata, rapida e con estensione globale.
"Ci rendiamo conto che il passaggio alle automobili completamente elettriche è già in corso ed è reso possibile dai progressi fatti nella tecnologia delle batterie, dalla riduzione dei costi e dalla graduale realizzazione di un'infrastruttura di ricarica," ha spiegato Peter Mertens. "Tuttavia, sebbene siamo pronti dal punto di vista tecnologico, l'infrastruttura non è ancora sufficiente. Per far sì che l'ansia legata all'autonomia di percorrenza venga superata, serve sviluppare con urgenza un sistema di ricarica standardizzato a livello globale."
Il sistema CCS, in grado di offrire opzioni di ricarica sia normale sia rapida, fa sì che l'auto elettrica diventi un'opzione sempre più pratica e comoda soprattutto nei contesti urbani, che si rivelano ideali per l'uso dei veicoli elettrici.
Il sistema abbina la ricarica mono-fase a quella rapida trifase, utilizzando corrente alternata a max. 43 kW oltre che la ricarica a corrente continua a max. 200 kW, con la possibilità di arrivare fino a 350 kW in futuro – e tutto all'interno di una singola unità.
La Charging Interface Initiative è attualmente impegnata nella definizione dei requisiti per l'elaborazione degli standard relativi alla ricarica e del certificato d'uso da parte delle Case automobilistiche di tutto il mondo.
"Siamo lieti di sostenere questa causa e di essere coinvolti nella definizione degli standard per i sistemi di ricarica dei veicoli elettrici. La mancanza di uno standard in quest'area rappresenta uno dei principali ostacoli all'aumento della quota di mercato dei veicoli elettrici," ha puntualizzato Mertens.
Volvo Cars, che vanta un'esperienza di oltre 40 anni nella ricerca e nello sviluppo di veicoli elettrici, è una delle Case automobilistiche leader nel segmento delle vetture ibride plug-in grazie alla sua tecnologia Twin Engine. Già oggi, una Volvo XC90 su cinque è venduta con propulsore ibrido plug-in T8 Twin Engine.
"La nostra tecnologia Twin Engine garantisce le basse emissioni, la silenziosità, la comodità e le prestazioni tipiche di un'auto esclusivamente elettrica, abbinate all'autonomia di percorrenza di un motore convenzionale. Offre già oggi i vantaggi dell'elettrificazione," ha aggiunto Mertens.
In English
Volvo Cars calls on automotive industry to standardise electric car charging
Source: Volvo Car Corporation
Gotheborg, Sweden. 10 March 2016. Volvo Cars believes the global automotive industry should strive towards the introduction of a standardised charging infrastructure for electric cars, says Dr Peter Mertens, the company's Senior Vice President for Research & Development.
To support this drive towards a global standard for electric car charging, Volvo Cars has decided to throw its weight behind the Charging Interface Initiative, a consortium of stakeholders that was founded to establish their Combined Charging System (CCS) as the standard for charging battery-powered vehicles.
Volvo Cars is one of the leading makers of plug-in hybrid cars and will offer a plug-in hybrid variant of every new model as it replaces its entire product portfolio in the coming years. It will introduce a fully electric vehicle by 2019, based on its modular SPA vehicle architecture.
In order to cement the increasing popularity of electric vehicles and ensure that customers fully embrace the technology, Dr Mertens argues that a simple, standardised, fast and global charging infrastructure is needed.
"We see that a shift towards fully electric cars is already underway, as battery technology improves, costs fall and charging infrastructure is put in place," said Dr Mertens. "But while we are ready from a technology perspective, the charging infrastructure is not quite there yet. To really make range anxiety a thing of the past, a globally standardised charging system is sorely needed."
The Combined Charging System, which will offer both regular and fast-charging capabilities, makes electric car ownership increasingly practical and convenient – especially in urban environments, which are ideal for electric vehicles.
It combines single-phase with rapid three-phase charging, using alternating current at a maximum of 43 kilowatts (kW), as well as direct-current charging at a maximum of 200 kW and the future possibility of up to 350 kW – all in a single system.
The Charging Interface Initiative is currently in the process of drawing up requirements for the evolution of charging-related standards and certification for use by car makers around the globe.
"We are very happy to support and be involved in the setting of standards for electric vehicle charging systems. The lack of such a standard is one of the main obstacles for growing electric vehicles' share of the market," said Dr Mertens.
Volvo Cars, which has a rich heritage of research and development in electric vehicles stretching back more than 40 years, is one of the leading car makers in the field of plug-in hybrids with its Twin Engine technology. Already now, one in five of all Volvo XC90s sold is a T8 Twin Engine plug-in hybrid.
"Our Twin Engine technology offers the low emissions, silence, convenience and performance of a pure electric car, combined with the range of a conventional powertrain. It offers the benefits of electrification already today," added Dr Mertens.
no images were found

.