WEC Prologo 2016
Prima gara della nuova Audi R18
Audi Sport Team Joest in griglia di partenza con due squadre piloti
Fonte: Audi Motorsport
Ingolstadt, Germania e Silverstone, Gran Bretagna. 11 Aprile 2016. Audi inizierà alla sua quinta stagione nel FIA World Endurance Championship (WEC) il 17 aprile sulla pista di 5.891 chilometri a Silverstone nei pressi della città di Northampton, nel Regno Unito, dove il marchio sarà a contestare la gara inaugurale della stagione con due nuove auto da corsa LMP1.
Le 6 Ore di Silverstone è un classico del calendario delle vetture sport internazionali. Dal 2012, la gara è stata parte della FIA WEC. In precedenza, Audi aveva ottenuto il successo sul circuito ricco di tradizione con le sue auto da corsa LMP tre volte e una volta con le vetture Super Touring. Alla manifestazione dello scorso anno, gli appassionati di corse di resistenza hanno assistito ad una competizione emozionante, quando i piloti Audi ed i loro rivali si sono superati diverse volte al giro. Alla fine, il marchio dei quattro anelli ha vinto. Marcel Fässler / André Lotterer / BenoîtTréluyer (CH / D / F) sono stati i piloti più veloci lo scorso aprile, tagliando il traguardo con 4,6 secondi di vantaggio a seguito di una gara al cardiopalma.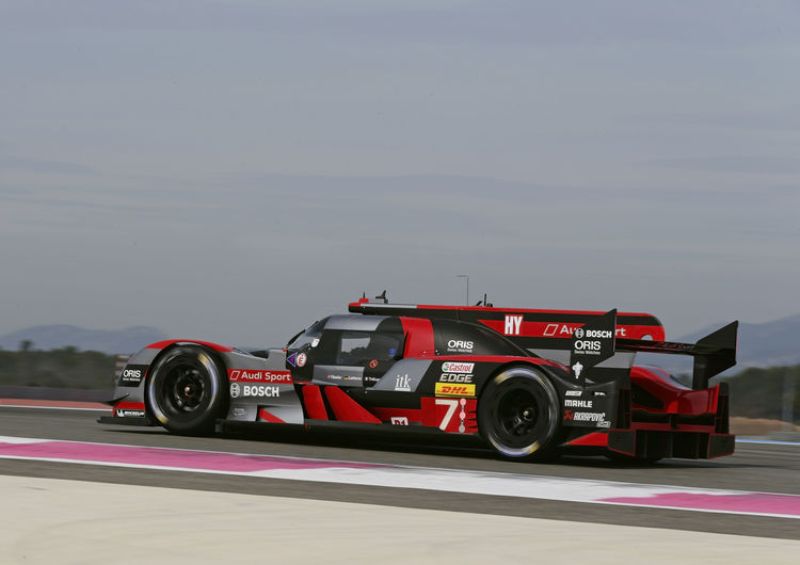 Domenica prossima, le vetture sportive ibride di Audi, Porsche e Toyota si incontreranno di nuovo in uno schieramento di 33 partecipanti in totale.
"Le carte sono state rimescolate quest'anno", dice il capo di Audi Motorsport Wolfgang Ullrich. "Tutti i produttori saranno sulla griglia di partenza con le nuove auto da corsa. L'Audi R18 non ha praticamente un solo bullone in comune con il suo predecessore. Nessuno sa ancora i nuovi punti di forza. L'apertura della stagione a Silverstone sarà la prima valutazione per scoprire dove ognuno si trova".
Audi ha ottimizzato molte aree della sua macchina da corsa LMP1. Il V6 TDI della R18 deve funzionare con circa il dieci per cento in meno di carburante. Eppure, Audi intende rimanere un concorrente potente grazie a una migliore efficienza. Con il nuovo sistema ibrido e circa 1.000 CV di potenza in uscita del sistema, la nuova R18 mette più energia in pista di tutti i suoi predecessori. L'aerodinamica, la monoscocca e la sospensione sono nuove, così come molti sistemi nella macchina da corsa, come l'idraulica centrale. L'obiettivo finale è quello di ottenere la massima efficienza combinata con elevate prestazioni – come richiesto dalle normative. La R18 elabora ora il 50 per cento in più di energia ibrida rispetto al suo predecessore, per riporla in una batteria per la prima volta.
Accanto i vincitori dello scorso anno, Fässler / Lotterer / Tréluyer, nella vettura numero "7", Lucas di Grassi / LoïcDuval / Oliver Jarvis (BR / F / GB) sono in competizione nella vettura numero "8" dell'Audi Sport Team Joest. Per Oliver Jarvis, Silverstone è una gara di casa – vive a Burwell, a 130 chilometri di distanza dalla pista.
Audi ha un rapporto speciale con il Regno Unito e il mercato automobilistico britannico. Nell'arco di un decennio, il marchio ha più che raddoppiato le sue consegne e nel 2015 ha aggiunto un altro cinque per cento. Nel 2015, Audi ha consegnato 166,817 unità nel Regno Unito, più che mai.
Il primo dei nove turni del FIA WEC prenderà il via Domenica 17 aprile, alle 12:00 (13:00 CEST).
In English
Season opener for Audi at Silverstone
WEC Prologue 2016
First race of the new Audi R18
Audi Sport Team Joest on grid with two driver squads
Source: Audi Motorsport
Ingolstadt, Germania and Silverstone, UK. 11th April 2016. Audi will start to its fifth season in the FIA World Endurance Championship (WEC) on April 17. On the 5.891-kilometer track at Silverstone near the UK town of Northampton, the brand will be contesting the season opener with two new LMP1 race cars.
The Silverstone 6 Hours is a classic on the international sports car calendar. Since 2012, the race has been part of the FIA WEC. Previously, Audi had been successful on the tradition-steeped circuit with its LMP race cars three times and once with the super touring cars. At last year's event, endurance racing fans witnessed a thrilling competition, as the Audi drivers and their rivals overtook each other several times per lap. In the end, the brand with the four rings won. Marcel Fässler/André Lotterer/BenoîtTréluyer (CH/D/F) were the fastest drivers last April, crossing the finish line with a 4.6-second advantage following a nail-biting race. Next Sunday, the hybrid sports cars from Audi, Porsche and Toyota will be meeting again in a field of 33 participants in total.
"The cards have been reshuffled this year," says Head of Audi Motorsport Dr. Wolfgang Ullrich. "All the manufacturers will be on the grid with new race cars. The Audi R18 practically has not a single bolt in common anymore with its predecessor. Nobody knows the new relative strengths yet. The Silverstone season opener will be the first assessment of where everyone stands."
Audi has optimized many areas of its LMP1 race car. The R18's V6 TDI engine has to run with about ten percent less fuel. Still, Audi intends to remain a powerful contender due to better efficiency. With the new hybrid system and around 1,000 hp of system output, the new R18 puts more power on track than any of its predecessors. Aerodynamics, the monocoque and the suspension are new, as well as many systems in the race car such as central hydraulics. The ultimate objective is to achieve maximum efficiency combined with high performance – as required by the regulations. The R18 now processes 50 percent more hybrid energy than its predecessor, storing it in a battery for the first time.
Alongside last year's winners, Fässler/Lotterer/Tréluyer, in car number "7," Lucas di Grassi/Loïc Duval/Oliver Jarvis (BR/F/GB) are competing in car number "8" for Audi Sport Team Joest. For Oliver Jarvis, Silverstone is a home round – he lives in Burwell, 130 kilometers away from the race track.
Audi has a special relationship with the United Kingdom and the UK automobile market. Within the space of a decade, the brand more than doubled its deliveries there and in 2015 added another five percent. In 2015, Audi delivered 166,817 units in the UK, more than ever before.
The first of nine FIA WEC rounds will start on Sunday, April 17, at 12:00 (13:00 CEST).
no images were found

.