Fonte: Audi Motorsport
Ingolstadt e Monaco di Baviera, Germania. 28 Novembre 2015. Il marchio dei quattro anelli entra nella stagione sportiva 2016 con la più potente ed efficiente macchina da corsa che Audi abbia mai costruito.
La nuova Audi R18 ha celebrato la sua anteprima mondiale in occasione della Audi Sport Finale presso il Training Center di Monaco di Baviera Audi lo scorso sabato.
Nel DTM, Audi ha optato per la continuit… con gli stessi piloti della passata stagione.
In GT racing, la nuova Audi R8 LMS si trova ad affrontare la sua prima stagione completa di corse.
Per l'Audi Sport TT Cup 2016 si sono presentati 125 candidati per le 20 macchine disponibili.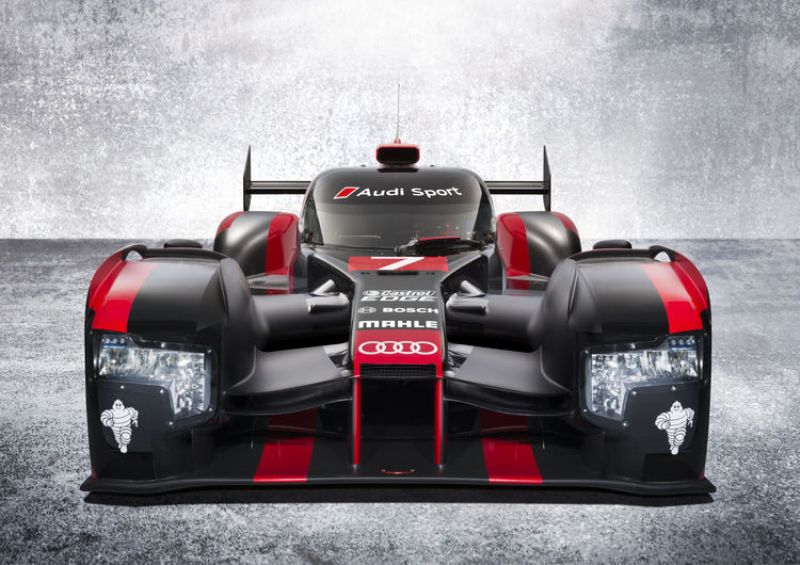 Audi Sport ha radicalmente ridisegnato l'Audi R18 per la stagione 2016. La macchina da corsa LMP1 che compete nelle 24 Ore di Le Mans e nel FIA World Endurance Championship (WEC) presenta un'aerodinamica innovativa, rappresenta la fase successiva nel design leggero e ha un sistema ibrido modificato con batterie agli ioni di litio per l'immagazzinamento dell'energia, oltre a un efficiente ed ottimizzato motore TDI.
"Con la nostra nuova Audi R18, stiamo impostando un segnale chiaro: Audi continua spingere nel mondo dei motori, deliberatamente basandosi su TDI – con la tecnologia di maggior successo nell'efficienza automobilistica del mondo con il quale torner… a Le Mans", dice il capo di Audi Motorsport Wolfgang Ullrich.
Nel 2016 il FIA World Endurance Championship (WEC) che avrà inizio a Silverstone (Gran Bretagna) il 17 aprile, Audi Sport Team Joest schiererà due nuove vetture Audi R18.
Nell'interesse della massima efficienza dei costi, Audi e la sua sorella di gruppo Porsche, hanno entrambi accettato di competere nella 24 Ore di Le Mans, evento culmine della stagione WEC, con solo due invece delle recenti tre auto.
"Siamo orgogliosi di essere in grado di rappresentare ancora una volta il marchio Audi nel 2016 con un vasto impegno nel motorsport", afferma Wolfgang Ullrich. "La nuova Audi R18 segna un importante passo che ci aspettiamo sia molto competitivo a Le Mans e nel WEC. Nel DTM, abbiamo già avuto la macchina più forte nel 2015. Questo è quello che vorremmo costruire. Inoltre, la forte domanda per la nuova Audi R8 LMS è altrettanto gratificante come i tanti giovani talenti che sono interessati alla Audi Sport TT Cup "
In English
Audi R18 celebrates world premiere in Munich
Source: Audi Motorsport
Munich, and Ingolstadt, Germany. 28 November 2015. The brand with the four rings will be entering the 2016 motorsport season with the most powerful and efficient race car Audi has ever built. The new Audi R18 celebrated its world premiere on the occasion of the Audi Sport Finale at the Audi Training Center Munich on Saturday.
In the DTM, Audi has opted for continuity with an unchanged driver line-up. In GT racing, the new Audi R8 LMS is facing its first full racing season.
For the 2016 Audi Sport TT Cup, 125 candidates have applied for the 20 available entries.Audi Sport has fundamentally re-designed the Audi R18 for the 2016 season.
The LMP1 race car that competes in the Le Mans 24 Hours and in the FIA World Endurance Championship (WEC) features innovative aerodynamics, represents the next stage in lightweight design and has a modified hybrid system with lithium-ion batteries for energy storage, plus an efficiency-optimized TDI engine.
"With our new Audi R18, we're setting a clear signal: Audi continues to put the pedal to the metal in motorsport, deliberately relying on TDI – the world's most successful automotive efficiency technology – at Le Mans," says Head of Audi Motorsport Dr. Wolfgang Ullrich.
In the 2016 FIA World Endurance Championship (WEC) that will start at Silverstone (Great Britain) on April 17, Audi Sport Team Joest will be fielding two new Audi R18 cars.
In the interest of maximum cost efficiency, Audi and its Group sister brand Porsche, have both agreed to each compete in the Le Mans 24 Hours, the WEC season's pinnacle event, with only two instead of the most recent three cars.
"We're proud about being able to again represent the Audi brand in 2016 with such an extensive commitment in motorsport," says Dr. Wolfgang Ullrich. "The new Audi R18 marks a major step that we're expecting a lot of at Le Mans and in the WEC. In the DTM, we already had the strongest car in 2015. That's what we'd like to build upon. Plus, the high demand for the new Audi R8 LMS is equally gratifying as the many young talents that are interested in the Audi Sport TT Cup."
no images were found