Fonte: Formula E
Londra, Gran Bretagna. 7 Agosto 2015. Andretti ha annunciato oggi una nuova partnership con sede nel Regno Unito, il fornitore di assicurazione e riassicurazioni globale Amlin.
"Non potrei essere più entusiasta dei piani per la seconda stagione del team Andretti Formula E", ha detto il proprietario del team Michael Andretti. "Amlin ha fatto un grande lavoro di costruzione del proprio marchio attraverso diverse piattaforme e ha dimostrato una grande passione per i motori; non vediamo l'ora di vedere ciò che il nuovo rapporto ci può portare".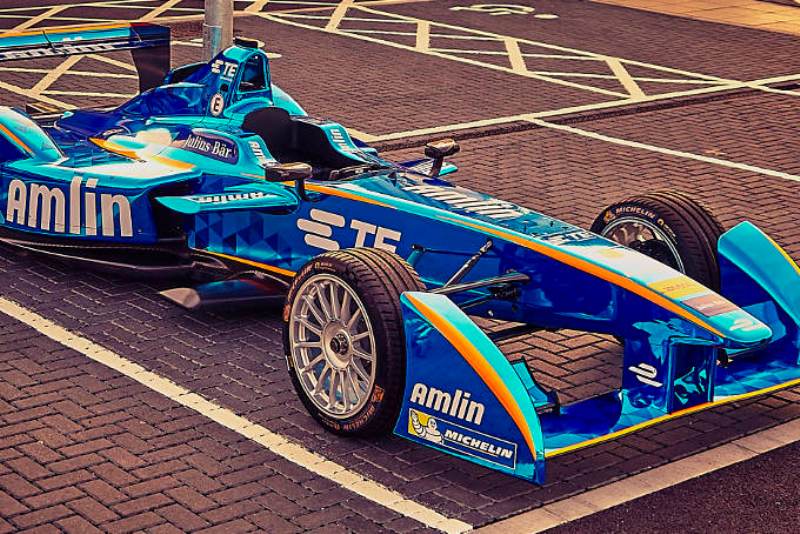 L'accordo vede Amlin come nuovo sponsor primario in un 'accordo pluriennale', con il CEO Amlin Charles Philipps che ha commentato:
"Amlin e Andretti si sono affrettati a individuare il potenziale della Formula E. Entrambe le organizzazioni sono guidate da dati e tecnologia focalizzata, significa che guardiamo molto più avanti anche alle prossime stagioni. La forza globale di Amlin nell'analisi dei dati e la nostra visione a lungo termine del business si adatta bene con questa serie e combinato con il pedigree eccellente di Andretti Motorsport significa che non vediamo l'ora di iniziare un fantastico paio di anni".
Inoltre, il team ha anche annunciato di estendere il suo rapporto con TE Connectivity – leader mondiale nella produzione di cavi e sensori. Come con Amlin, la partnership vedrà i due a collaborare sulle nuove auto Andretti ATEC-01 del Team Andretti di Formula E, che si muove verso un campionato aperto nella stagione 2015/2016.
"Le soluzioni di connettività e di sensori di TE sono state in ogni auto di Formula E nella stagione inaugurale", ha detto Amy Shah, Chief Marketing Officer di TE Connectivity. "Siamo impegnati a far avanzare le tecnologie che sono intelligenti, sicure, verdi e connesse. Questa serie ha il potenziale per influenzare e creare tecnologie sostenibili, di prossima generazione che si estendono al di là del motorsport. Siamo orgogliosi di ampliare il nostro rapporto con l'organizzazione Andretti, una squadra che condivide la nostra passione per l'ingegneria avanzata e l'innovazione".
I test ufficiali di pre-stagione prenderanno il via lunedi, con il primo dei sei giorni di test a Donington Park nel Leicestershire.
In English
Andretti announces season two plans
Source: Formula E
London, United Kingdom. August 7th, 2015. Andretti has today announced a new partnership with UK-based, global insurance and reinsurance provider Amlin.
"I couldn't be more excited about Andretti Formula E's season two plans," said team owner Michael Andretti. "Amlin has done a great job building their brand across various platforms, and has shown a passion for motorsport; we look forward to what the new relationship can bring."
The deal sees Amlin become the primary sponsor in a 'multi-year alignment', with Amlin CEO Charles Philipps commenting:
"Amlin and Andretti were quick to spot the potential of Formula E. Both organizations are data driven and tech-focused, meaning there is much to look forward to over the coming seasons. Amlin's global strength in data analysis and our long-term view of business means fits well with this series and combined with Andretti's excellent motorsport pedigree means we are looking forward to a fantastic few years."
In addition, the team have also announced it is to extend its relationship with TE Connectivity – a global leader in connectivity and sensor solutions. As with Amlin, the partnership will see the two collaborate on Andretti's new Andretti ATEC-01 car as the Formula E series moves to an open championship for the 2015/2016 season.
"TE's connectivity and sensor solutions powered every Formula E car in its inaugural season," said Amy Shah, Chief Marketing Officer of TE Connectivity. "We are committed to advancing technologies that are smart, safe, green and connected. This series has the potential to influence and create sustainable, next-generation technologies that extend beyond motorsport. We are proud to expand our relationship with the Andretti organization, a team that shares our passion for advanced engineering and innovation."
Official pre-season testing gets underway on Monday with the first of six test days at Donington Park in Leicestershire.
no images were found

.