Fonte: Formula E
Long Beach, California. USA. 19 Marzo 2015. Gli studenti di Long Beach State University hanno avuto uno speciale incontro con il CEO Formula E Alejandro Agag.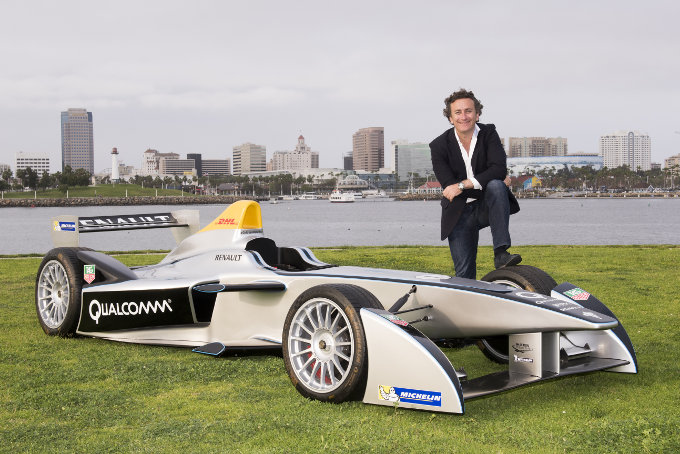 In vista della sesta gara del FIA di Formula E Championship che si terrà sulle strade iconiche di Long Beach, Agag ha parlato dello sviluppo della serie da un'attuale idea originale di competizione e concorrenza globale.
"Due anni fa, non c'erano le automobili, le squadre, eravamo senza sponsor e senza circuiti. Long Beach sarà la nostra seconda città in America e siamo molto concentrati sull'approccio diverso al motorsport che è aperto alle famiglie e che contribuirà a sviluppare la prossima generazione di appassionati di motorsport", ha detto Agag.
Per concludere l'incontro, Agag ha risposto durante quasi 40 minuti alle domande formulate dagli studenti che andavano dallo stato generale del settore del motorsport a domande tecniche delle sfide della progettazione e dell'alloggiamento della batteria della vettura di Formula E.
Ha detto:
"Si poteva vedere nella nostra prima gara molto chiaramente l'importanza della nostra attenzione al design del vano batteria. Ci fu un incidente spettacolare nel giro finale ma soprattutto il pilota è stato perfettamente sicuro e poi, la batteria indicava ancora valori normali".
Agag ha concluso parlando di come l'obiettivo della Formula E va oltre la pista.
"Formula E è il futuro – non solo vogliamo essere il futuro del motorsport, ma cambiare radicalmente il modo in cui il pubblico vede i veicoli elettrici".
Il Long Beach ePrix si svolgerà il sabato 4 Aprile con ingresso gratuito per i fan.
In English
Agag addresses students in Long Beach
Source: Formula E
Long Beach, California. USA. March 19, 2015. Students at Long Beach State University received a special guest lecture with Formula E CEO Alejandro Agag.
Ahead of round six of the FIA Formula E Championship on the iconic streets of Long Beach, Agag spoke about the development of the series from an original idea to today's global racing competition.
"Two years ago, there were no cars, no teams, no sponsors and no circuits. Long Beach will be our second city in America and we are very much focused on a different approach to motorsport that is open to families and creating the next generation of motorsport fans," said Agag.
To wrap up the class, Agag took nearly 40 minutes of questions from the students that ranged from the overall state of the business of motorsport to technical questions about the unique challenges of designing the battery housing of the Formula E car.
He said:
"You could see in our first race very clearly the importance of our attention to the design of the battery housing. There was a spectacular crash in the final lap – most importantly the driver was perfectly safe – but afterwards, the battery still indicated normal readings".
Agag concluded by talking about how the focus of Formula E goes beyond the track.
"Formula E is the future – we not only want to be the future of motorsport but fundamentally change how the public sees electric vehicles".
The Long Beach ePrix takes place on Saturday April 4 with free admission for fans.
no images were found