Fonte: Acciona
Salta, Argentina. 10 Gennaio 2016. Acciona, il veicolo 100% EcoPowered ha completato la settima tappa del Rally Dakar per arrivare con successo a Salta (Argentina) dopo aver gareggiato per tutta una settimana difficile segnata dalle difficoltà lungo il percorso: le condizioni climatiche estreme e mutevoli di Argentina e l'altitudini degli stadi boliviani.
Si tratta di una pietra miliare per il veicolo elettrico, che è la creazione di Acciona, una infrastruttura spagnola di acqua, servizi e società di energia; la partecipazione al Rally Dakar dimostra l'affidabilità e la competitività delle energie rinnovabili contro i combustibili fossili, anche negli ambienti più ostili. Il primo successo è stato già raggiunto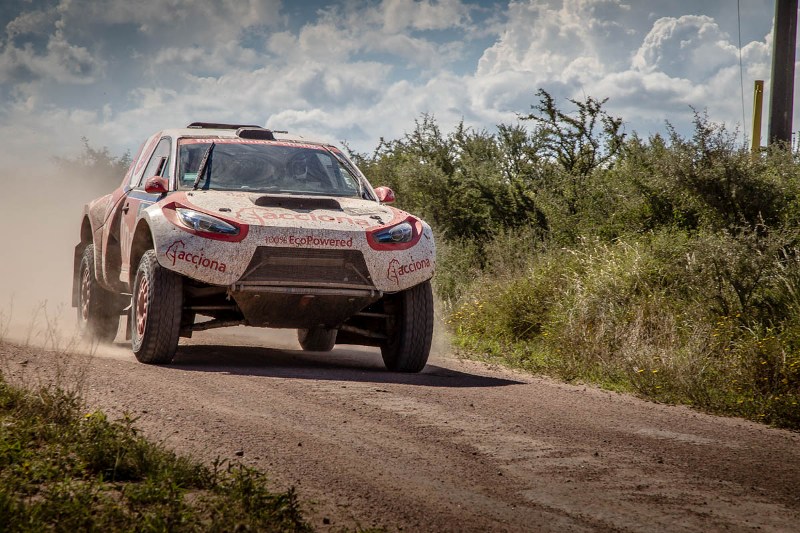 al termine della OiLibya Rally in Marocco; una prova con punti nel calendario della FIA, che è stata in gran parte tenutasi nel deserto del Marocco a Zagora.
Per questa nuova sfida, sono stati apportati miglioramenti rispetto la passata edizione, riducendo il peso del veicolo del 40% e incorporando 8 pacchi batterie più potenti, oltre a un cambio sequenziale e trazione 4×4.
Al volante di Acciona troviamo Ariel Jaton, che dice:
«la Dakar è sempre difficile, ma il nostro lavoro sta pagando. Le prestazioni del veicolo sono ideali e il duro lavoro di tutta la squadra, giorno e notte, in condizioni impossibili, è semplicemente incredibile. D'altra parte, è eccitante che gli spettatori riconoscano il progetto e ci applaudano quando ci vedono passare".
Ariel è accompagnato dal copilota Gastón Scazzuso, che aggiunge;
"Ogni tappa è una sfida diversa e inaspettata, non si sa mai che cosa troveremo lungo la strada. Non importa quanto ci si prepara, ma ci sono sempre situazioni a rischio davanti alle quali bisogna avere la forza di prendere decisioni in frazioni di secondo".
A seguito del giorno di oggi di riposo a Salta, domani avreà inizio la seconda metà della Dakar 2016, che si conclude il prossimo sabato 16 gennaio a Rosario.
In English
The ACCIONA, at the halfway point of the Dakar Rally 2016
Source: Acciona
Salta, Argentina. January 10th 2016 – The Acciona 100% EcoPowered has completed the seventh stage of the Dakar Rally by successfully arriving in Salta (Argentina) after competing throughout a challenging week marked by difficulties along the way: Argentina's extreme and changing climatic conditions and the high altitudes of the Bolivian stages.
It's a milestone for the 100% electric vehicle, which is the creation of Acciona, a Spanish infrastructure, water, services, and energy company; participation in the Dakar Rally demonstrates the reliability and competitivity of renewable energies when up against fossil fuels, even in the most hostile environments. This was already achieved upon completing the OiLibya Rally in Morocco; a points trial on the FIA calendar that was in large part held in the Moroccan desert of Zagora.
For this new challenge, improvements were made to last year's edition, reducing the vehicle's weight by 40% and incorporating 8 packs of more powerful batteries, in addition to a sequential gearshift and 4×4 traction.
At the wheel of the Acciona we find Ariel Jatón, who says:
"the Dakar is always tough, but our work is paying off. The vehicle's performance is ideal, and the whole team's hard work, day and night, in impossible conditions, is simply incredible. On the other hand, it's exciting that spectators recognise the project and applaud us for seeing it through."
Ariel is accompanied by co-pilot Gastón Scazzuso, who adds;
"each stage is a different and unexpected challenge, you never know what you are going to find along the way. No matter how much you prepare, high-risk situations always come up that force you to make split-second decisions".
Following today's day of rest in Salta, tomorrow the second half of the Dakar 2016 will begin, culminating next Saturday January 16th in Rosario.
no images were found

.