Fonte: ABT Sportsline
Kempten, Germania. 22 Luglio 2016. Può sorprendere alcuni che un elaboratore di auto si occupi anche di e-mobility, ma ABT Sportsline ha effettivamente fatto questo per un periodo piuttosto lungo.
Hans-Jürgen Abt, CEO di questa rinomata azienda, sottolinea:
"Ci aspettiamo che la mobilità diventi ancora più importante per le persone, sia in privato che per le imprese. Riteniamo inoltre che un certo numero di concetti devono essere anche disponibili".
Il lavoro di Abt nel settore green ha portato alla partecipazione della società alla grande e-flotta per la regione turistica dell'Algovia. E' anche parte del successo a livello mondiale della Formula E, essendo diventata vice-campione del mondo la scorsa stagione, ed ha sviluppato l'ABT eCaddy, con un pacco batteria in grado di scalare le montagne bavaresi in missioni logistiche, per così dire.
Una piattaforma – molti usi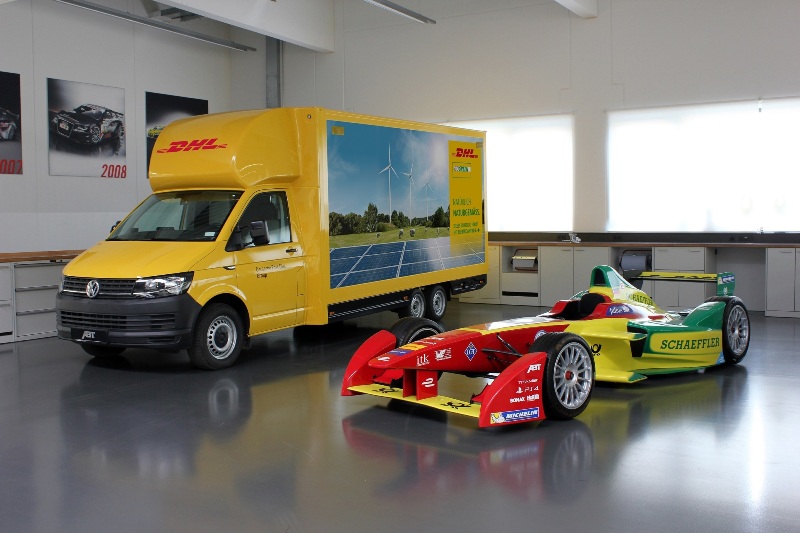 Ciò che è nuovo è il telaio ECAB, una piattaforma per le varie sovrastrutture. Che si tratti di un trasportatore o per i cassoni di fresco o secco, come un compattatore di rifiuti, oppure per il trasporto pacchi o persone,l 'ECAB è una base molto solida, portando 200kg più di ogni modello convenzionale comparabile.
L'ABT ECAB è già omologato dal TÜV ed ha un'autonomia di 120 chilometri. E' quindi un veicolo utilitario ideale nelle città e nei loro dintorni.
I primi test con Deutsche Post Gruppo DHL
Attualmente, dieci eCabs ABT sono in fase di sperimentazione in condizioni di tutti i giorni. Prima ABT Sportsline ha testato i veicoli puramente elettrici a Kempten; ora sono stati presi in consegna da Deutsche Post DHL Group. Questo mezzo è ora dal cliente conducente Bonn HQ, con una sovrastruttura di consegna pacchi, in fase di sperimentazione 24/7 per vedere se si inseriscono nei concetti di una società di logistica. Sia Deutsche Post DHL Group e ABT Sportsline considerano la logistica un campo in cui la mobilità elettrica diventerà molto importante.
Il futuro della mobilità
"L'e-mobility si affermerà sempre di più", afferma Hans-Jürgen Abt e aggiunge: "a condizione che le batterie permettano un'autonomia più ampia e avremo standard comuni. I motori asincroni potrebbero anche essere importanti. Dopo tutto, questi non richiederebbero terre rare, che sono costose e la cui produzione è ecologicamente infondata. In termini commerciali, l'e-mobility ha un senso anche ora. Dopo tutto, il suo uso può essere pianificato e calcolato come nessun altro. È per questo che abbiamo messo a punto sia la eCaddy che la ECAB".
In English
ABT Sportsline unvelied eCaddy to Deutsche Post DHL Group
Source: ABT Sportsline
Kempten, Germany. 22nd July, 2016. It may surprise some that a car enhancer also deals with e-mobility, but ABT Sportsline has actually done that for quite a long time.
Hans-Jürgen Abt, CEO of this renowned company, emphasises:
"We expect mobility to become even more important to people, both privately and for businesses. We also think that quite a number of concepts has to be available here."
Abt's "green" work led to the company's participation in large e-fleet for the Allgäu tourist region. It is also part of the globally successful FIA Formula E, having become vice world champion last season, and developed the ABT eCaddy, with a battery pack to climb the Bavarian mountains on logistic missions, as it were.
One platform – many uses
What is new is the eCab chassis, a platform for various superstructures. Be it a transporter or for cool or dry boxes, as a mobile waste compactor, for parcels or people, the eCab is a very robust basis, carrying 200kg more than any comparable conventional model. The ABT eCab is already TÜV-approved and can travel 120km. It is therefore an ideal utility vehicle in towns and their surroundings.
First tests with Deutsche Post DHL Group
Currently, ten ABT eCabs are being tested in everyday conditions. First ABT Sportsline tested the purely electric vehicles in Kempten; now they have been taken over by Deutsche Post DHL Group.  In this pilot customer's Bonn HQ, and with a parcel delivery superstructure, they are now being tested 24/7 to see if they fit into a logistics company's concept. Both Deutsche Post DHL Group and ABT Sportsline consider logistics a field where e-mobility will become very important.
Mobility's future
"E-mobility is going to catch on," says Hans-Jürgen Abt and adds: "Provided the batteries will allow a wider radius and we will have common standards. An asynchronous drive could also be important. After all, this would not require rare earths, which are expensive and whose production is ecologically unsound. In commercial terms, e-mobility makes sense even now. After all, its use can be planned and calculated like no other. That's why we have come up with both the eCaddy and the eCab."
no images were found

.