Terza gara e terzo trofeo
Fonte: ABT Schaeffler Audi Sport
Punta del Este, Uruguay. 19 dicembre 2015. A volte un secondo posto può anche sentirsi come una vittoria: con il suo decimo podio nella 14esima gara di Formula E, Lucas di Grassi del Team ABT Schaeffler Audi Sport non solo ha esteso una serie impressionante, ma si candida anche con fermezza nella lotta per il titolo della serie di corse elettriche. Un elemento del successo è stata la sosta ideale nei pits dai meccanici.
Lucas di Grassi rimane uno dei principali protagonisti della Formula E: il brasiliano è l'unico pilota ad aver ottenuto un trofeo in tutte e tre le gare di questa stagione. In seguito al secondo posto della gara di apertura a Pechino e la vittoria a Putrajaya, di Grassi ha ancora un altro secondo posto nella sua gara di casa virtuale in Uruguay. Ora è ad un solo punto dal leader del campionato Sébastien Buemi dal Team ufficiale Renault. Nella classifica a squadre, l'unica squadra tedesca in griglia è anche al secondo posto dietro la squadra francese.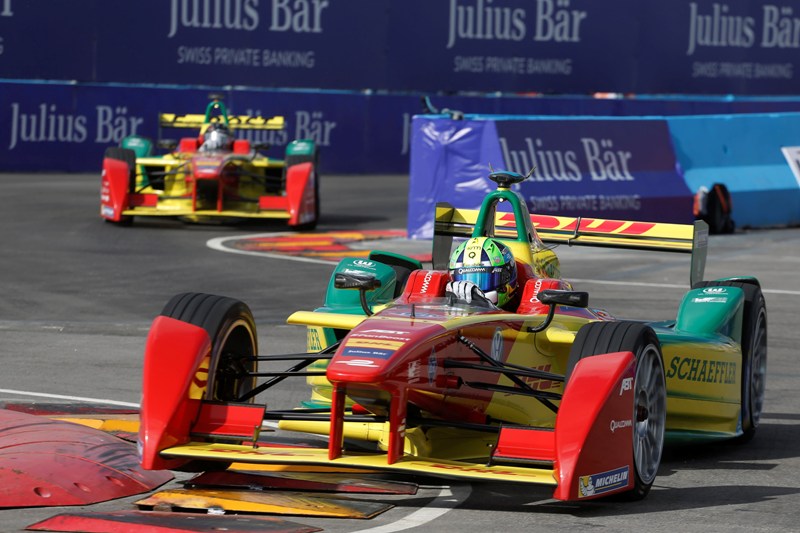 Dopo un inizio mediocre e un po' di svariate lotte nella prima metà di gara è arrivato il momento dei i pit-stop, durante il quale i piloti devono scambiare l'auto, che si sarebbe rivelata come la resa dei conti per la gara di Punta del Este. Il sudamericano è entrato quando era in quarta posizione prima di tornare in pista in seconda. Il tempo di pit-stop minimo obbligatorio era di 59 secondi e di Grassi ha avuto una sosta perfetta di 59.2 secondi.
"Posso contare al cento per cento sui miei ragazzi ai box. Il trofeo oggi dovrebbe prendere il posto d'onore nel laboratorio a Kempten", ha detto Lucas di Grassi dopo la gara. Tuttavia, i suoi occhi sono fissi rivolto al futuro: "La Renault e Sébastien Buemi sono i favoriti che abbiamo bisogno di battere. Ma potremo farlo seguendo loro senza sosta ed essendo pronti a balzare se fanno il minimo errore. E' stata un pieno di dura azione la gara di oggi. Il pit-stop è stato fondamentale, e la squadra ha fatto il miglior lavoro nel paddock sotto pressione".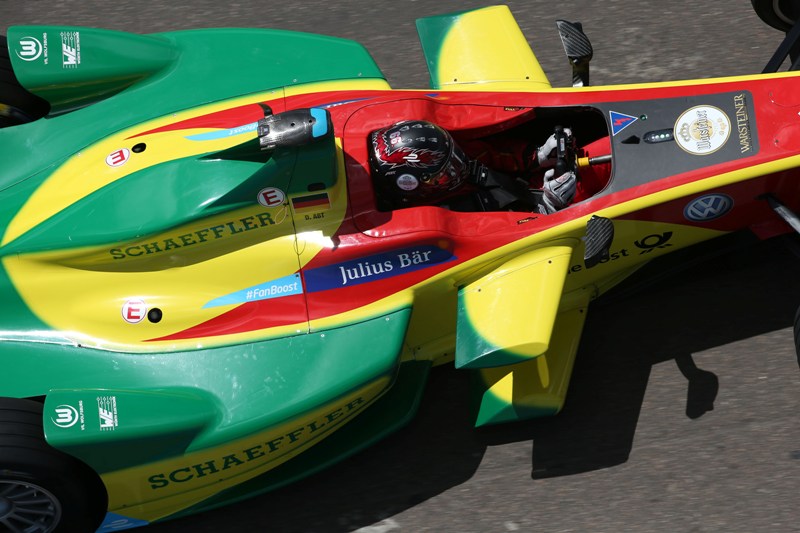 Il compagno di squadra Daniel Abt ha iniziato la gara dalla settima posizione ed è finito ottavo dopo 33 giri intorno alla pista di 2.785 chilometri. Ad un certo punto, sembrava che l'unico pilota tedesco in pista potesse segnare la sua strada verso la parte alta a fianco di di Grassi. Tuttavia, il contatto con il muro gli è costato diverse posizioni.
"Ho fatto una buona partenza e stavo correndo nel gruppo di testa. Dopo il piccolo incidente mi sono concentrato su portare i punti a casa e ho scelto di non prendere alcun altro rischio".
Hans-Jürgen Abt vede la gara che si è svolta in alte temperature estive direttamente sulla costa atlantica in Sud America positiva.
"Ovviamente vogliamo sempre vincere, ma oggi festeggeremo questo secondo posto come una vittoria", ha detto il team boss. "La squadra ha dimostrato ancora una volta che ha nervi d'acciaio e può festeggiare il Natale con orgoglio. Sì abbiamo perso la testa della classifica – ma questo è niente più che un breve singhiozzo dopo la terza gara".
In English
ABT Schaeffler Audi Sport continues top form
Source: ABT Schaeffler Audi Sport
Punta del Este, Uruguay. 19 December 2015. Sometimes a second place can also feels a victory: with his tenth podium finish in the 14th Formula E race, Lucas di Grassi from Team ABT Schaeffler Audi Sport not only extended an impressive series, but also firmly established himself in the title battle for the electric racing series. One element of the success was the perfect pit stop by the mechanics.
Lucas did Grassi remains one of the main protagonists in Formula E: the Brazilian is the only driver to have claimed a trophy in all three races this season. Following second place at the opener in Peking and victory in Putrajaya, di Grassi took yet another second place at his virtual home race in Uruguay. He lies only one point behind current championship leader Sébastien Buemi from the factory Renault team. In the team classification, the only German team on the grid is also second behind the French squad
After a mediocre start and some scrapping in the first half of the race, the pit stops, during which the drivers must swap cars, would prove to be the showdown for the race in Punta del Este. The South American peeled down pit lane in fourth position before returning to the track in second place. The mandatory minimum pit stop time is 59 seconds – di Grassi required a perfect 59.2 seconds.
"I can rely one hundred per cent on my guys in the pits. The trophy today should take pride of place in the workshop in Kempten," said Lucas di Grassi after the race.

Nevertheless, his eyes are fixed firmly on the future: "Renault and Sébastien Buemi are the favorites who need beating. But will be hounding them relentlessly and will be ready to pounce if they make the smallest error. It was a tough, action packed race today. The pit stop was crucial, and the team did the best job in the paddock under pressures."
Team mate Daniel Abt started the race from seventh and finished eighth after 33 laps around the 2.785-kilometer track. At one stage, it looked as if the only German driver in the field could storm his way to the front alongside di Grassi. However, contact with the wall cost him several positions.
"I made a good start and was running in the leading group. After the small mishap I concentrated on bringing the points home and chose not to take any more risks."
Hans-Jürgen Abt views the race in South America positively, which was held in high summer temperatures directly on the Atlantic coast.
"Obviously we always want to win, but today we'll celebrate this second place like a victory," said the Team Boss. "The team showed once again that it has nerves of steel and can celebrate Christmas proudly. Yes we've lost the championship lead – but this is nothing more than a brief hiccup after the third race."
no images were found