Fonte: ABT Sportsline
Putrajaya, Malesia. 17 Novembre 2014. Finalmente è il momento di correre di nuovo: Il 22 novembre il FIA Formula E Championship terrà la sua seconda gara della stagione a Putrajaya. Dopo il suo trionfo nella manifestazione inaugurale il driver di ABT Lucas di Grassi è in viaggio a Malesia come leader della classifica. Sul circuito cittadino da 2.5 chilometri della città alla periferia di Kuala Lumpur l'unica squadra tedesca con il pilota brasiliano e Daniel Abt intendono alzare la posta.
Si tratta di un vero e proprio eye-catcher. Il massiccio trofeo del vincitore in attesa di visitatori all'ingresso del Centro Motorsport di ABT Sportsline a Kempten pesa poco più di 30 chili – una meritata ricompensa per la vittoria nella gara di apertura della Formula E a Pechino due mesi fa. Il prossimo fine settimana verranno assegnati i prossimi trofei, quindi i team e piloti si affrontano per la seconda di un totale di nove eventi in Malesia, che prende il via di una serie di tre gare nell'arco di sette settimane. La Formula E sta finalmente riprendendo slancio.
Putrajaya, circa mezz'ora di macchina a sud di Kuala Lumpur, è il luogo della seconda gara della serie per le monoposto da corsa elettriche.
Con una lunghezza di 2.560 chilometri del circuito cittadino della città è chiaramente inferiore a quello più recente è stato a Pechino e passa davanti ad un paio di punti di riferimento distintivo. Uno dei luoghi situati vicino alla pista è la residenza ufficiale del primo ministro, il più famoso edificio di Putrajaya.
Il tracciato è stato progettato dall'architetto britannico Simon Gibbons, che ha anche creato il concetto per alcuni degli impianti sportivi dei Giochi Olimpici di Londra 2012.
Daniel Abt e Lucas di Grassi sono in viaggio in Malesia altamente motivati.
Il giovane tedesco ha declinato a malincuore l'opportunità di correre la gara finale della GP2 Series in cui ha gareggiato per la sua seconda stagione di quest'anno. Lucas di Grassi corre nel FIA World Endurance Championship (WEC) come pilota ufficiale Audi.
Nella leggendaria 24 Ore di Le Mans è arrivato quest'anno nel secondo posto.
Per evitare la pioggia dei monsoni temuta nel pomeriggio gli organizzatori hanno stretto la pianificazione.
Per i piloti, la giornata inizierà presto, alle ore 7.45, con la prima sessione di prove libere, seguita dalle qualifiche.
La gara prenderà il via alle 14:00 ora locale (07:00 CET) e coprire 31 giri.
Cosa dicono i driver ed il direttore del team
Hans-Jürgen Abt
"Finalmente, si scende di nuovo in pista con la Formula E! Abbiamo apprezzato molto la nostra vittoria l'evento inaugurale, ma poi ci siamo concentrati sulle prossime gare. La lezione più importante che abbiamo imparato da Pechino è che la Formula E, con il suo programma compatto e superbi driver non perdona anche il più piccolo errore. È per questo che abbiamo esaminato tutti i processi della nostra squadra ancora una volta, analizzato tutti i dati e abbiamo lavorato su molti dettagli – ora siamo tutti pronti a correre di nuovo. Il sistema è impostato per alzare la posta in Putrajaya e aggiudicarci il prossimo trofeo".
Daniel Abt (tedesco, 21 anni, vettura n° 66)
"Ovviamente, non è stata una decisione facile non correre nel finale della GP2 a causa della sovrapposizione. Ma volevo correre in Formula E a tutti i costi. La Malesia è un grande paese e il circuito di Putrajaya un luogo emozionante. La configurazione dispone di svariate curve con combinazioni di tratti lenti e semi-veloce in ogni giro. Questo promette una gara emozionante perché tutti rimarranno vicini. Dopo l'evento inaugurale di Pechino ho ancora qualche affare in sospeso. Ho imparato molto nella gara di apertura ed a Putrajaya vorrei combattere di nuovo per il podio".
Lucas di Grassi (brasiliano, 30 anni, vettura n° 11)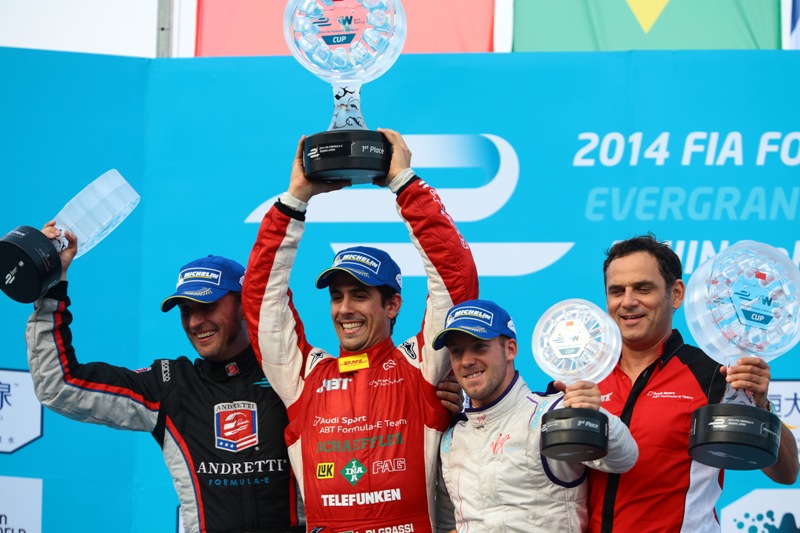 "La Formula E è imprevedibile. Tutti hanno lo stesso materiale, le lacune sono minime e su ogni nuova pista come Putrajaya i rapporti di forza possono essere totalmente diversi di nuovo.
Il nostro obiettivo rimane lo stesso prima di ogni gara: siamo qui per vincere.
E se questo non dovrebbe essere possibile, allora avremmo almeno piacere di finire sul podio e portare a casa punti preziosi.
La nostra vittoria a Pechino è un caro ricordo – ma niente di più.
È per questo che ci stiamo preparando per la Malesia con la stessa concentrazione e stiamo andando a cercare di gestire un week end impeccabile, con tutta la squadra.
Rispetto a Pechino, Putrajaya è più corto e, a prima vista sembra presentare un paio di curve e tratti più impegnativi. Sarà una grande sfida che avremo modo di affrontare presto".
In English
ABT in Formula E: looking forward to event in Malaysia
Putrajaya, Maleysia. November 17, 2014. Finally, it's time to race again: On 22 November the FIA Formula E Championship will hold its second race of the season in Putrajaya. Following his triumph in the inaugural event ABT driver Lucas di Grassi is travelling to Malaysia as the leader of the standings. On the 2.5-kilometre city street circuit on the outskirts of Kuala Lumpur the only German team with the Brazilian and Daniel Abt is set on upping the ante.
It's a true eye-catcher. The massive winner's trophy awaiting visitors at the entrance to the Motorsport Centre of ABT Sportsline in Kempten weighs a little more than 30 kilos – a deserved reward for the victory in the Formula E opening race in Beijing two months ago. Next weekend the next trophies will be awarded, as the teams and drivers are meeting for the second of a total of nine events in Malaysia that kicks off a string of three races within the space of seven weeks. The FIA Formula E Championship is finally picking up momentum.
Putrajaya, about a half hour's drive south of Kuala Lumpur, is the venue of round two of the series for fully electric single-seater racing cars. With a length of 2,560 kilometres the temporary city street circuit is clearly shorter than the one most recently was in Beijing and runs past a few distinctive landmarks. One of the sights located close to the track is the prime minister's official residence, Putrajaya's most famous building. The track was designed by the British architect Simon Gibbons, who also created the concept for some of the sports facilities of the 2012 Olympic Games in London.
Daniel Abt and Lucas di Grassi are travelling to Malaysia highly motivated. The German youngster reluctantly passed up the opportunity of running in the finale of the GP2 Series in which he competed for his second season this year. Lucas di Grassi is running in the FIA World Endurance Championship (WEC) as an Audi factory driver. In the legendary 24-hour race at Le Mans he took second place this year.
To avoid the dreaded monsoon rain in the afternoon the organisers have tightened the schedule. For the drivers, the day will start early, at 7.45 a.m., with the first practice session, followed by qualifying. The race will start at 2 p.m. local time (7 a.m. CET) and cover 31 laps.
Drivers and team director – that's what they say
Hans-Jürgen Abt:
"Finally, Formula E is hitting the track again! We enjoyed our victory in the inaugural event but then concentrated on the next races. The most important lesson we learned from Beijing is that Formula E with its compact schedule and superb drivers doesn't forgive even the smallest mistake. That's why we've reviewed all the processes in our team again, analysed all the data and worked on many details – now we're all fired up about racing again. We're set on upping the ante in Putrajaya and clinching the next trophy."
Daniel Abt (D, 21, #66):
"Obviously, it wasn't an easy decision not to run in the GP2 finale due to the overlap. But I want to keep it rolling in Formula E at all cost. Malaysia is a great country and the circuit in Putrajaya a thrilling track. The configuration features a lot of variety with slow and semi-fast combinations of turns. This promises a thrilling race because the field will remain close together. After the inaugural event in Beijing I've still got some unfinished business. I learned a lot in the opener and in Putrajaya would like to again battle for a podium position.
Lucas di Grassi (BR, 30, #11):
"Formula E is unpredictable. Everybody's got the same material, the gaps are minimal and on a new track like Putrajaya the relative strengths can pan out in a totally different way again. Our aim remains the same before each race: We're set on winning. And if that shouldn't be possible then we'd at least like to finish on the podium and take home valuable points. Our victory in Beijing is a fond memory – but no more than that. That's why we're preparing for Malaysia with the same concentration and are going to try and manage an impeccable weekend with the whole squad. Compared to Beijing, Putrajaya is shorter and at first glance seems to feature a few more demanding turns and sections. It's going to be a great challenge that we've got to adjust to as quickly as possible."
no images were found