Fonte: ABT Schlaeffer Audi Sport
8 Aprile 2016. Con la vittoria e il terzo posto lo scorso fine settimana, Lucas di Grassi e Daniel Abt hanno segnato il miglior risultato di sempre in Formula E per la squadra ABT Schaeffler Audi Sport. In questa intervista, i compagni di squadra parlano delle loro emozioni sul podio, il rapporto speciale che hanno con l'altro e gli obiettivi per le prossime gare della serie di auto elettrica.
Come hai trovato i giorni del successo a Long Beach?
Daniel Abt: "Quando si prende in considerazione che è un po' complicato il viaggio di ritorno a causa di una festa che è durata troppo a lungo – è terribile (ride). Ho ricevuto una quantità incredibile di messaggi; sembra che quasi tutti hanno seguito la gara in un modo o nell'altro. Il feedback fantastico ci ha fatto un mondo di bene. "

Lucas di Grassi: "Ovviamente, il feedback da parte dei tifosi e dei media è stato enorme. Sono felice che siamo riusciti a fare una tale rimonta dopo la gara in Messico. La riabilitazione per tutta la squadra è in me ancora più importante rispetto ai 40 punti, che abbiamo ottenuto insieme".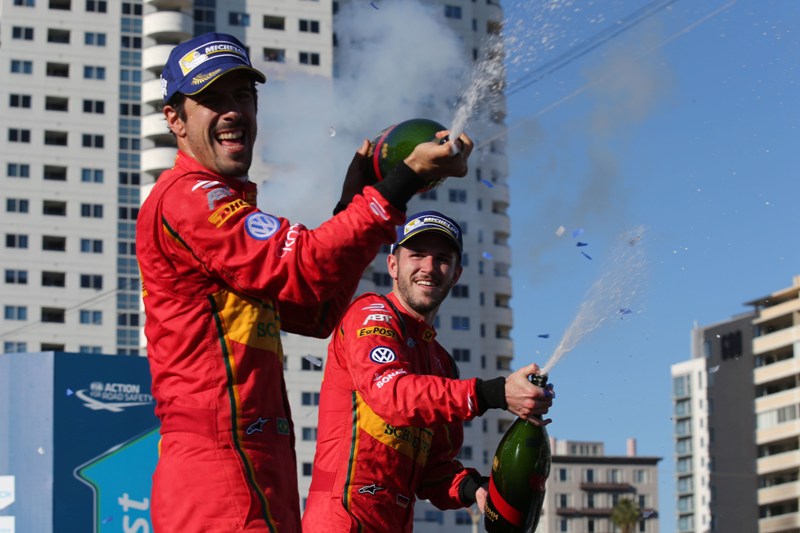 Dopo essere stato squalificato in Messico, quanto è stato difficile per voi di rimanere concentrati e motivati e di non mollare?
Lucas di Grassi: "Le parole 'rinunciare' non esiste per me o per la mia squadra. Naturalmente i giorni dopo il Messico non sono stati facili, ma ho passato molto più tempo a pensare a Long Beach perché mi aspettavo i nostri avversari più forti lì. In realtà volevamo ottenere il meglio di questa gara, che poi si è trasformato in un doppio podio. La porta è ora leggermente socchiusa e ci proponiamo di mantenere la pressione".
Daniel, perché proprio negli Stati Uniti dove finalmente hai vinto un altro trofeo?
Daniel Abt: "Abbiamo semplicemente avuto una giornata senza problemi il giorno della gara al momento giusto: la squadra è stata perfetta, non ho fatto nessun errore e abbiamo anche avuto un po 'di fortuna – tutto semplicemente è andato a posto. Solo quando questo accade si può sperare di vincere un trofeo e degustare lo champagne in Formula E".
Sei salito sul podio insieme al compagno di squadra per la prima volta. Come ti senti?
Daniel Abt: "Semplicemente mega. Abbiamo avuto questo problema nella nostra mente dopo il Messico e avevo segretamente pensato a cosa avremmo fatto in un evento del genere. Ero assolutamente felice che Lucas abbia fatto un rapido recupero del genere".

Lucas di Grassi: "E lo stesso vale per Daniel! Era stato sul punto di finire sul podio per un lungo periodo di tempo, e si spera che sia lui ad essere ora un visitatore regolare ".
Entrambi avete twittato "Più che semplici compagni di squadra" con le foto dal podio. Cosa rende il vostro rapporto così speciale?
Lucas di Grassi: "Non siamo solo compagni di squadra, ma anche amici. Daniel è un bravo ragazzo ed ha molto talento. Ma lui vuole ancora continuare a imparare. Forse arriviamo così bene insieme perché siamo in fasi diverse nella nostra carriera: io posso trasmettere la mia esperienza da Formula 1 o del WEC e lui mi spinge al limite ogni volta. Sono sicuro che vincerà presto in Formula E".

Daniel Abt: "L'amicizia è la parola corretta. La chimica tra di noi è giusta; siamo sulla stessa lunghezza d'onda. Questo vale per il lavoro in pista così come avviene quando scherziamo lontani dal paddock. Lucas è estremamente professionale e continua a spingere la squadra. Ho ancora molto da imparare. E' fantastico che lui sia con noi. "
Lucas, hai ora ricevuto il FanBoost per tre eventi consecutivi. Quanto è importante il sostegno dei fan online e presso il circuito?
Lucas di Grassi: "Daniel, tutta la squadra ed io abbiamo avuto una quantità incredibile di incoraggiamento da parte dei tifosi. Siamo estremamente grati per questo. E' meraviglioso sentire il sostegno anche quando le cose non vanno così bene. I miei ringraziamenti per il FanBoost va a tutti i tifosi, ma soprattutto per il mio amico YouTube Edu, che è particolarmente strumentale con i suoi molti seguaci. Il FanBoost aiuta solo se si è rapido, così come nella manovra decisiva come avvenuto in Messico".
Formula E ora arriva in Europa. Cosa si aspetta dalle prossime gare, tra cui la gara di casa del team a Berlino?
Daniel Abt: "Parigi e Berlino, due momenti clou sono all'orizzonte, ma anche due nuovi circuiti, che nessuno di noi conosce. Continueremo con lo stesso livello di concentrazione e motivazione e facciamo tutto il possibile per finire sul podio di nuovo e preferibilmente insieme".

Lucas di Grassi: "Non dobbiamo dimenticare che abbiamo appena raggiunto la metà della stagione. Renault ha una macchina migliore, ma abbiamo anche visto che è tutta una questione dell'intero pacchetto: la tecnologia, il pilota, la squadra e la strategia. Parigi è un nuovo highlight nel calendario – complimenti a Formula E che è riuscita ad organizzare questa gara nel bel mezzo della città. Sì, è la gara di casa per i nostri amici e concorrenti francesi, ma è anche di alcun interesse per me. Andiamo là a cercare di vincere!"
In English
Abt and di Grassi: "We just fit together perfectly"
Source: ABT Schlaeffer Audi Sport
8 April 2016. With victory and third place last weekend, Lucas di Grassi and Daniel Abt scored the best result ever in Formula E for the ABT Schaeffler Audi Sport squad. In this interview, the team mates talk about their emotions on the podium, the special relationship they have with each other and the goals for the forthcoming races in the electric series.
How did you find the days of the success in Long Beach?
Daniel Abt: "When you take into account a somewhat complicated return trip due to a party that went on too long – then tremendous (laughs). I received an incredible amount of messages; it appears that almost everybody followed the race in some form or another. The fantastic feedback did us all the world of good."

Lucas di Grassi: "Obviously, the feedback from the fans and media was enormous. I'm delighted that we were able to make such a comeback after the race in Mexico. The rehabilitation for the entire team was in my opinion even more important than the 40 points, which we scored together."
After being disqualified in Mexico, how hard was it for you to remain focused and motivated and not to give up?
Lucas di Grassi: "The words 'to give up' do not exist for me or my team. Of course the days after Mexico weren't easy, but I spent a lot more time thinking about Long Beach because I expected our rivals to be stronger there. Actually we only wanted to get the best out of the event there, which then turned into a double podium finish. The door is now slightly ajar and we aim to keep up the pressure."
Daniel, why was it the USA where you finally won another trophy?
Daniel Abt: "We simply had a trouble free race day at the right moment: the team was perfect, I didn't make any mistakes, and we also had a bit of luck – everything simply fell into place. Only when this happens can you hope to win a trophy and taste the champagne in Formula E."
You mounted the podium together with your team mate for the first time. How did you feel?
Daniel Abt: "Just mega. We actually had this fixed in our minds for Mexico and had secretly thought about what we would do in such an event. I was absolutely delighted that Lucas made such a rapid recovery."

Lucas di Grassi: "And the same goes for Daniel! He had been on the brink of finishing on the podium for a long time, and hopefully he'll now be a regular visitor."
You both tweeted "More than just team mates" with the photos from the podium. What makes your relationship so special?
Lucas di Grassi: "We aren't just team mates, but also friends. Daniel is a good guy and very talented. But he still wants to keep learning. Perhaps we get on so well together because we are at different stages in our careers: I can pass on my experience from Formula 1 or the WEC and he pushes me to the limit every time. I'm sure he will win soon in Formula E."

Daniel Abt: "Friendship is the correct word. The chemistry between us is just right; we are on the same wavelength. This goes for working on the track just as it does when joking around away from the paddock. Lucas is extremely professional and keeps pushing the team. I still have a lot to learn. It's great that he is with us."
Lucas, you have now received the FanBoost for three consecutive events. How important is the fans' support online and at the circuit?
Lucas di Grassi: "Daniel, the entire team and I get an incredible amount of encouragement from the fans. We are extremely grateful for this. It's wonderful to feel the support even when things don't go so well. My thanks for the FanBoost go to all the fans, but especially to my YouTube friend Edu who is particularly instrumental with his many followers. The FanBoost only helps if you are quick as well – as with the decisive manoeuvre in Mexico."
Formula E now comes to Europe. What do you expect from the forthcoming races, including the team's home race in Berlin?
Daniel Abt: "With Paris and Berlin, two absolute highlights are on the horizon, but also two new tracks, which none of us know. We'll continue with the same level of concentration and motivation and do everything in our power to finish on the podium again and preferably together."

Lucas di Grassi: "We should not forget that we have only just reached the half way stage of the season. Renault has a better car, but we have also seen that it's all about the entire package: technology, driver, team, strategy. Paris is a new highlight on the calendar – congratulations to Formula E that it managed to organize this race in the middle of the city. Yes, it is the home race for our French friends and competitors, but that is of no interest to me. Let's go there and try to win!"
no images were found

.