Giorno di test per Le Mans 2016
Dieci anni di TDI nella 18esima partecipazione Audi a Le Mans
Wolfgang Ullrich: "Grande rispetto per i rivali"
Due auto Audi R18 con squadre piloti esperti sulla griglia
Fonte: Audi Motorsport
Ingolstadt, Germania e Le Mans, Francia. 10 Giugno 2016. Mai prima d'ora Audi fatto tanto per così poco: nella sua 18esima partecipazione a Le Mans dal 1999, Audi ha meno energia di carburante a sua disposizione rispetto al passato – e meno rispetto ai suoi concorrenti, come specificato dalla normativa. Ancora, la nuova vettura sportiva Audi R18 LMP è quella che lotterà per il primo posto il 18 e 19 Giugno grazie alla notevole efficienza. 13 volte Audi ha vinto la gara di 24 ore fino ad oggi e quest'anno la classica endurance sarà probabilmente dura come mai prima d'ora.
"Abbiamo già visto quanto grandi sono le sfide di quest'anno nel Campionato Mondiale Endurance FIA ​​(WEC)", dice il capo di Audi Motorsport Wolfgang Ullrich.

Audi ha incontrato forti avversari, ha vinto il secondo round a Spa (Belgio) con Lucas di Grassi / Loïc Duval / Oliver Jarvis (BR / F / GB) e ha raggiunto il miglior tempo della giornata di test a Le Mans il 5 giugno con di Grassi. "Tuttavia, sarebbe prematuro trarre conclusioni chiare da questo per la gara di Le Mans. Abbiamo rispetto per i nostri forti avversari", dice il Dott Ullrich.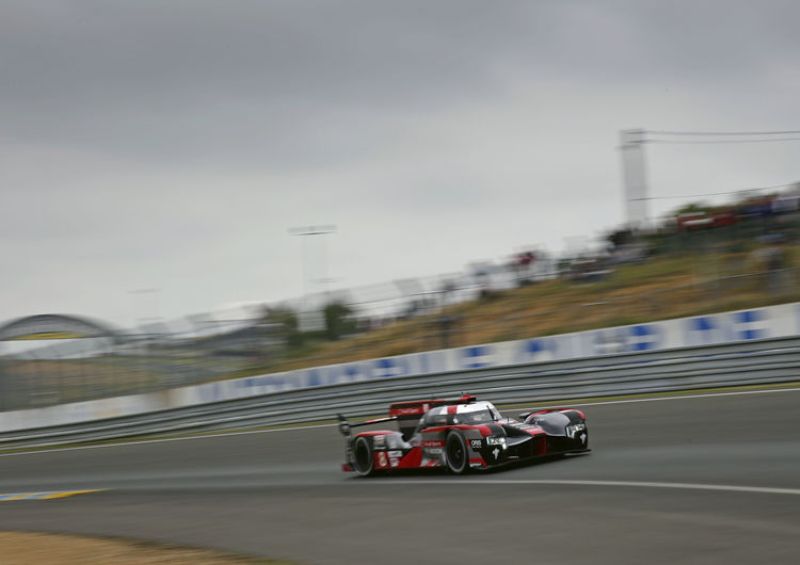 Ciascuno dei tre produttori in lotta per la vittoria assoluta con le loro vetture sportive ibride è già stato leader nel FIA WEC. Le condizioni a Le Mans sono diverse da quelle dei turni del WEC a Silverstone (UK) e a Spa (Belgio). Nessuno può praticare sul circuito di 13,629 chilometri in quanto consiste in gran parte di strade pubbliche ed è chiuso al traffico normale solo per il giorno del test e la settimana di gara. Lucas di Grassi ha raggiunto una velocità media di circa 244 chilometri all'ora nella giornata di test. Audi correrà a Le Mans con particolari di bassa resistenza aerodinamica.
La durata di 24 ore è anche unica nel calendario FIA WEC. In cambio, i concorrenti classificati si aggiudicano il ​​doppio del numero di punti rispetto agli altri turni. La "maratona" a La Sarthe è probabilmente la più prestigiosa gara di durata al mondo. Audi ha vinto un incredibile numero di 13 volte – l'ultima nel 2014, con Marcel Fässler / André Lotterer / Benoît Tréluyer (CH / D / F). Di conseguenza, il marchio premium di Ingolstadt è classificato al secondo posto della lista dei vincitori di tutti i tempi che fu iniziata nel 1923.
Lo schieramento Audi di quest'anno è composto da Fässler / Lotterer / Tréluyer nella vettura numero "7" e di Grassi / Duval / Jarvis in vettura numero "8"
Audi è l'unico marchio di contare su un efficiente propulsore diesel ibrido. Nel 2006, Audi è stato il primo costruttore a vincere le 24 Ore di Le Mans 24 con un motore diesel, ha conquistato otto vittorie con il TDI da allora e stabilito un nuovo record di distanza, nel 2010, che non è stato rotto fino ad oggi. Dieci anni di TDI sono una perfetta occasione per guardare i numeri che riflettono i progressi che sono stati fatti: nel 2006, l'Audi R10 TDI ha un motore V12 TDI con 5,5 litri di cilindrata. Ora, la R18 ha un 4 litri V6 TDI – che utilizza il 46,3 per cento in meno di carburante e l'auto da corsa raggiunge migliori tempi sul giro. Oltre alla catena cinematica costituita da un motore a combustione interna al retrotreno ed un sistema ibrido sul davanti, Audi ha sfruttato il grande potenziale aerodinamico, ha perfezionato la sua leggerezza, ha applicato idee innovative nelle sospensioni, soluzioni di sistema e altri dettagli in realtà, e svolge un ruolo pionieristico nella tecnologia di illuminazione a Le Mans. Con questo, la gara di 24 ore a La Sarthe rimane un laboratorio ideale per testare oggi le tecnologie di domani e, successivamente, renderle disponibili ai clienti di Audi.
In English
24 Hours of Le Mans: Toughest race of the year for Audi
Le Mans Test Day 2016
Ten years of TDI in 18th Audi participation in Le Mans
Dr. Wolfgang Ullrich: "Great respect for rivals"
Two Audi R18 cars with experienced driver squads on grid
Source: Audi Motorsport
Ingolstadt, Germany and Le Mans, France. 10 Giugno 2016. Never before has Audi made so much out of so little: In its 18th Le Mans participation since 1999, Audi has less fuel energy at its disposal than ever before – and less than its competitors, as specified by the regulations. Still, the new Audi R18 LMP sports car is to battle for the top spot on June 18 and 19 thanks to notable efficiency. 13 times Audi has won the 24-hour race to date and this year the endurance classic will arguably be as tough as never before.
"We've already seen how great the challenges are this year in the FIA World Endurance Championship (WEC)," says Head of Audi Motorsport Dr. Wolfgang Ullrich. Audi met with strong rivals, won round two at Spa (Belgium) with Lucas di Grassi/Loïc Duval/Oliver Jarvis (BR/F/GB) and achieved the best time on the test day at Le Mans on June 5 with di Grassi. "However, it would be premature to draw clear conclusions from this for the race at Le Mans. We have great respect for our strong opponents," says Dr. Ullrich.
Each of the three manufacturers battling for overall victory with their hybrid sports cars has already logged leading kilometers in the FIA WEC. Conditions at Le Mans differ from those of the WEC rounds at Silverstone (UK) and at Spa (Belgium). Nobody can practice on the 13.629-kilometer circuit as it largely consists of public roads and is closed to normal traffic only for the test day and the race week. Lucas di Grassi achieved an average speed of nearly 244 km/h at the test day. Audi will be racing at Le Mans with special low-drag aerodynamics.
The duration of 24 hours is unique on the FIA WEC calendar as well. In return, the classified entrants are awarded twice the number of points compared with the other rounds. The "marathon" at La Sarthe is arguably the world's most prestigious endurance race. Audi has won it an amazing 13 times – most recently in 2014 with Marcel Fässler/André Lotterer/Benoît Tréluyer (CH/D/F). As a result, the premium brand from Ingolstadt is ranked in second place of the all-time winners list that was begun in 1923. Audi's line-up this year consists of Fässler/Lotterer/Tréluyer in car number "7" and di Grassi/Duval/Jarvis in car number "8."
Audi is the only brand to rely on a highly efficient diesel hybrid powertrain. In 2006, Audi was the first manufacturer to win the Le Mans 24 Hours with a diesel engine, has clinched eight victories with the TDI since then and set a new distance record in 2010 that has not been broken to date. Ten years of TDI are a perfect occasion to look at numbers reflecting the progress that has been made: In 2006, the Audi R10 TDI had a V12 TDI engine with 5.5 liters of displacement. Now, a 4-liter V6 TDI powers the R18 – it uses 46.3 percent less fuel and the race car achieves better lap times. In addition to the powertrain made up of an internal combustion engine at the rear axle and a hybrid system at the front, Audi has tapped major aerodynamic potential, perfected its lightweight design, converted innovative ideas in the suspension, system solutions and other detailed areas into reality, and plays a pioneering role in lighting technology at Le Mans. With that, the 24-hour race at La Sarthe remains a perfect laboratory for testing technologies for tomorrow today and subsequently making them available to Audi's customers.
no images were found

.